Breaking through empty promises of wealth, power, and success
The world of management and business knowledge is ridden with promises of unique methods, secret tips and tricks and magic formulas that guarantee wealth, power, and success. Unfortunately, this industry has become so saturated that indeed, it is difficult to filter out what works from what doesn't work. People in management positions and many others tend to believe that it is either their year-long experience, or their qualification that makes them experts in their particular domain.
As such, knowledge is not questioned. Without questioning (which is the starting point of critical thinking), however, there is also no progress and no improvement. As such, prevailing problems like inequality at work, unhappiness, stress and burnout, lack of performance, lack of profit etc. are undeniable.
The power of questioning is incredibly mighty. There is significant merit in the scientific realm, even for management. Just like in medicine the world has come to understand the value of basing practice on solid evidence and proof, the world of management must come to acknowledge the benefit of the decades of management research that has been conducted across the globe.
At the same time, knowledge and research alone is not the source of success – the way this knowledge is used, however, can yield undeniable and proven benefits. These may not always be intuitive or show quick results, but they can guarantee that the workforce is content, sustainable, productive, and happy.
From management theory to management practice in daily life
One of the disadvantages of relying on mere theory is the common saying that "there is a grave difference between theory and practice". For us here at CQ Net – Management skills at work!, this is completely true. Applying theories and evidence can work wonders for management issues - science can support decisions, provide a guideline for thinking and action, and even steer strategies.
However, what works in theory and on paper might not always work in practice. Theories cannot look into people, contexts, minds, particularities or unforeseen circumstances. This is why these components are valuable supplements to theory: not only do they feed theory and flesh it out, they also extend theory to practice and make it realistic.
This raises an important point: just like with selling books promising magic solutions to business problems, also science cannot provide all the answers. However, it is a good start and having someone interpret and help apply these insights to a particular situation can be incredibly helpful in yielding the best from a situation.
Taking the best from science and the real world
At CQ Net – Management skills at work!, our mission is to combine the best of scientific knowledge on management with real happenings from day-to-day life in organizations. On the one hand, we believe that the basis science can give us allows us to work with what has been proven to work in various contexts. We believe in theories and assumptions that have held true over decades and across disciplines.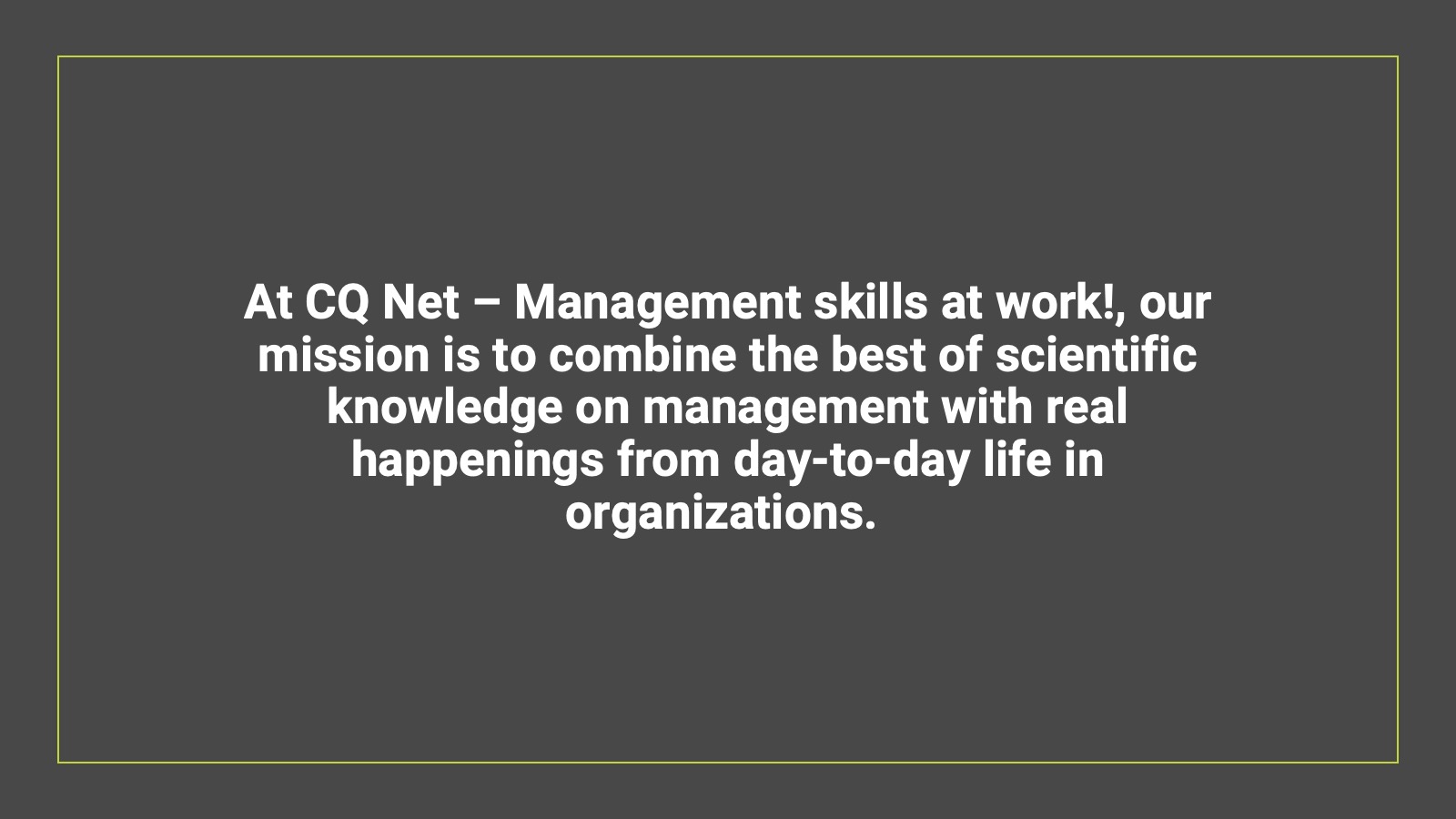 At the same time, we believe that a theory is only as good as its implementation. Therefore, instead of merely regurgitating theories and introducing them, our business model is to break down and simplify complex, scientific concepts and to help you understand and apply them to make your management practice better and more successful.
We cannot promise that you will get rich – however, we can promise that you can yield those benefits that scientific research from across the disciplines has shown repeatedly. Benefits do not need to be big, strategic all-fit-one solutions. They refer for example to leadership styles, guides on how to cope with stress, ideas on how to manage teams or solve conflicts, or how to best communicate in large groups.
We want to make a positive change in the world of work by empowering every person to be the best version of themselves they can be. In a world where many do not have access to management knowledge or do not believe they have use for it in the first place, we offer guidance, information, support and most of all - encouragement.
Management skills concern everyone. The knowledge of how they work and how to implement them properly should be available for everyone. This is why it is our mission to provide the highest quality of management knowledge so that you can learn valuable skills for today and for the future.
The power of evidence-based management
Our approach rests on evidence-based management: this means that the resources we offer are built on the available scientific evidence, which has been critically acclaimed and put together for easy-understanding by our in-house researchers and practitioners.
Evidence-based management involves using multiple sources of information and empirical evidence as a means of attaining results. Most importantly, basing management (and other) decisions on evidence reduces errors in judgement.
One of the best examples for the use of evidence in practice is medicine: knowing the doctor knows the science behind what he/she is doing is indeed a factor leading to better results, to less intuitive and more data-driven behavior, and to more trust from patients.
Building on this, we review and distil the material available to provide comprehensive overviews of where science stands. We do this in order to play a part in providing the world with fact-based information, rather than information that is otherwise motivated.
Shifting paradigms, offering resources, and supporting change
In the section below, let us take a look at how CQ Net – Management skills at work! works and how we live up to our promise. To best explain how our idea works, let us imagine you are trying to build a house. The house, in this case, is a metaphor for management skills you want to learn about: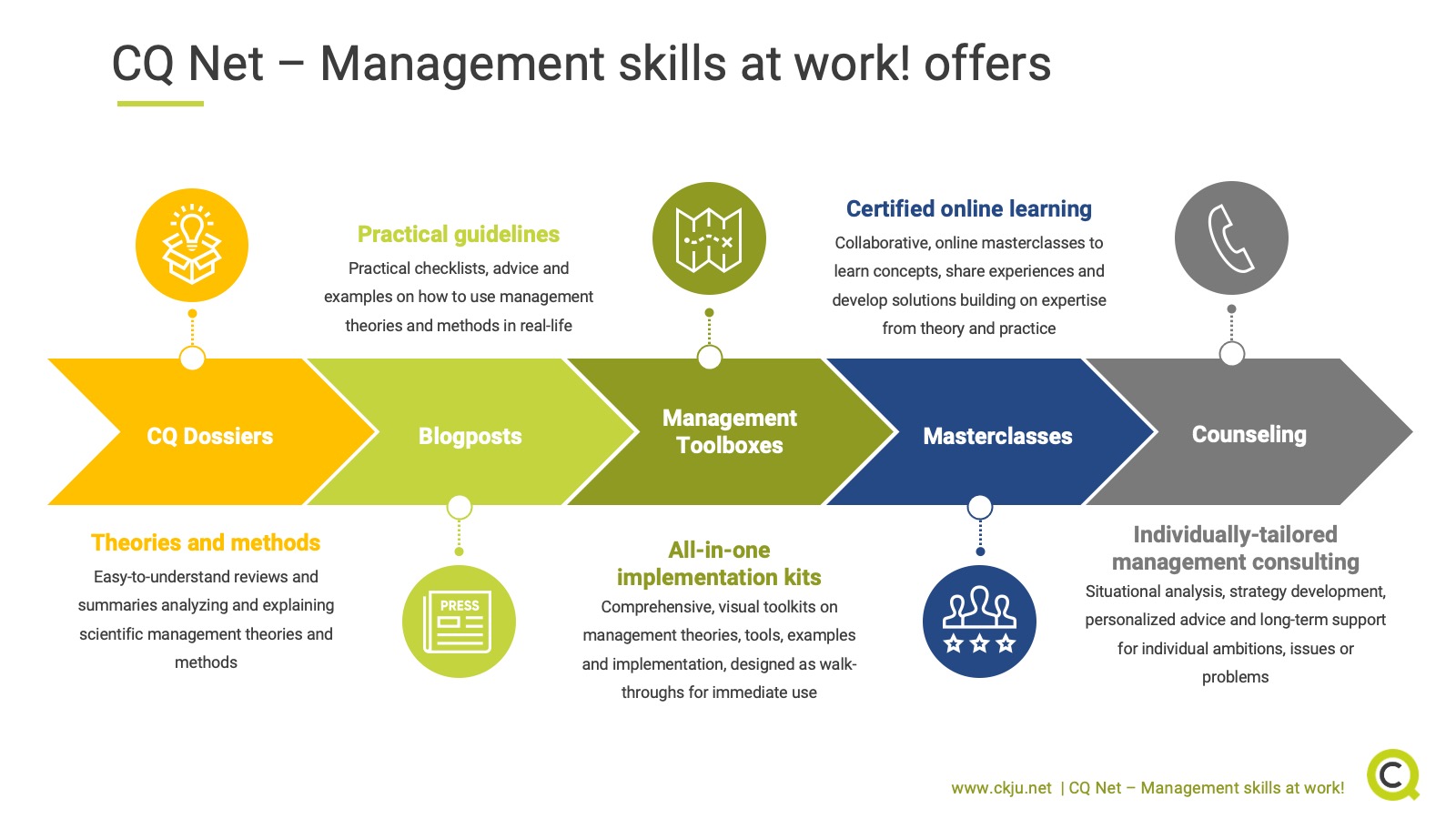 CQ Dossiers: management tools explained
Imagine you are building a house. The first thing you need is a set of tools. Our CQ Dossiers are relevant summaries and important points taken from evidence-based theories. In other words, we distil year's worth of scientific knowledge on management skills and break them down into concepts and methods, which we explain to you in a scientific, yet easy-to-understand form. This way, you are equipped with background knowledge and understanding about concepts, where they come from, and why they matter.
CQ Dossiers are tools that we want to familiarise you with. To name some prominent examples: transformational leadership, performance management, or team conflict management are all key methods that have a vast scientific background and well-established facts about them that you should know about as a first step on your journey to learning truly sustainable skills.
Blogposts: providing a practical guideline for implementation
Let us come back to the idea of building a house. After having a set of tools, you need a practical guide on what to do with the tools. After all, simply having a set of methods or concepts at your disposal does not mean you know how to use them. What is missing is a step-by-step guide, or user manual, on how to use the tools, in which circumstances they are useful, and what to do when.
Our blogposts, which we regularly post, seek to provide you with practical advice on how to implement those tools we introduce to you in our CQ Dossiers. You will find plenty of posts called "a practical guideline to…", which are step-by-step manuals on how to move from understanding concepts in theory to implementing and realising them in practice. We take real-life scenarios and show you how to apply tools so that you don't need to piece it together yourself.
Management toolboxes: a comprehensive collection of knowledge, tips and tricks
Sometimes, a mere practical guideline is not enough to build a whole house and you want to understand more about the hows and whys about what you are doing. For this purpose, we have devised so-called management toolboxes. As the name says, these mix the tools and methods with practical advice and provide a more comprehensive, in-depth guide on concepts, their interlinkages, their relevance, and their ideal implementation.
These management toolboxes are particularly useful if you are not familiar with a subject – like leadership or agility – and wish to move from zero to hero quickly. Starting from basic knowledge, the toolboxes include broad explanations, key examples, case studies, implementation tips and methods that help integrate newly learned concepts into day-to-day life.   
Management masterclasses: learning management skills online with others
Let us assume that it is not tools you need, but simply more background knowledge and how to build the house. There is hardly a better way to teach something than to hold a class about it. Our management masterclasses are 90-minute online courses that provide you with information, but also with room for discussion, elaboration, and collective learning.
CQ in our name stands for collaboration quotient, which can be described as the added value of having many minds combine and share experiences, questions, and ideas to ultimately derive at a better outcome than a single mind alone could have done. Our masterclasses do exactly this: we meet in class, discuss concepts, share experiences, raise questions, and collectively work on reaching the best state of knowledge we can. After a masterclass you are equipped not only with a certificate, but also with all around expertise on a topic that helps you take the first step into making a change.
Counseling offers: individual career and management consulting
Finally, let us assume you don't want to build the house alone. You would rather have someone help you and walk you through your particular idea and the best way to make it real. We are fully aware that the entire domain of management, business and work is not easy and sometimes, unexpected problems arise. Our management counseling offers were developed to help target specific and particular issues with individually tailored advice and guidance.
In our counseling services, we offer not only an experts' opinion and know-how (either from a scientist, a practitioner, or both), but also devise a plan together with you on how to best realise your intended goal. Whether it is solving a problem or guiding you how to best use a particular practice. We do this to the best of our collective scientific and practical knowledge, offering a unique solution to a unique problem. Whether you have problems at work or simply want to have an individual session in which we go through your personality traits and evaluate how to best use them, we have you covered.
One range of services for many purposes
Management skills are not only skills confined to those at the management level. On the contrary, management skills are highly transferable abilities and know-how that almost everyone employs on a daily basis in their work life. Regardless of industry, position or qualification – management skills are fundamental building blocks of a successful future.
As accessing and learning these skills is not possible for everyone equally, we have taken it upon ourselves to offer a range of services that equip you not only with the skills, but also with background knowledge, expertise on implementation, and an awareness for why this is important.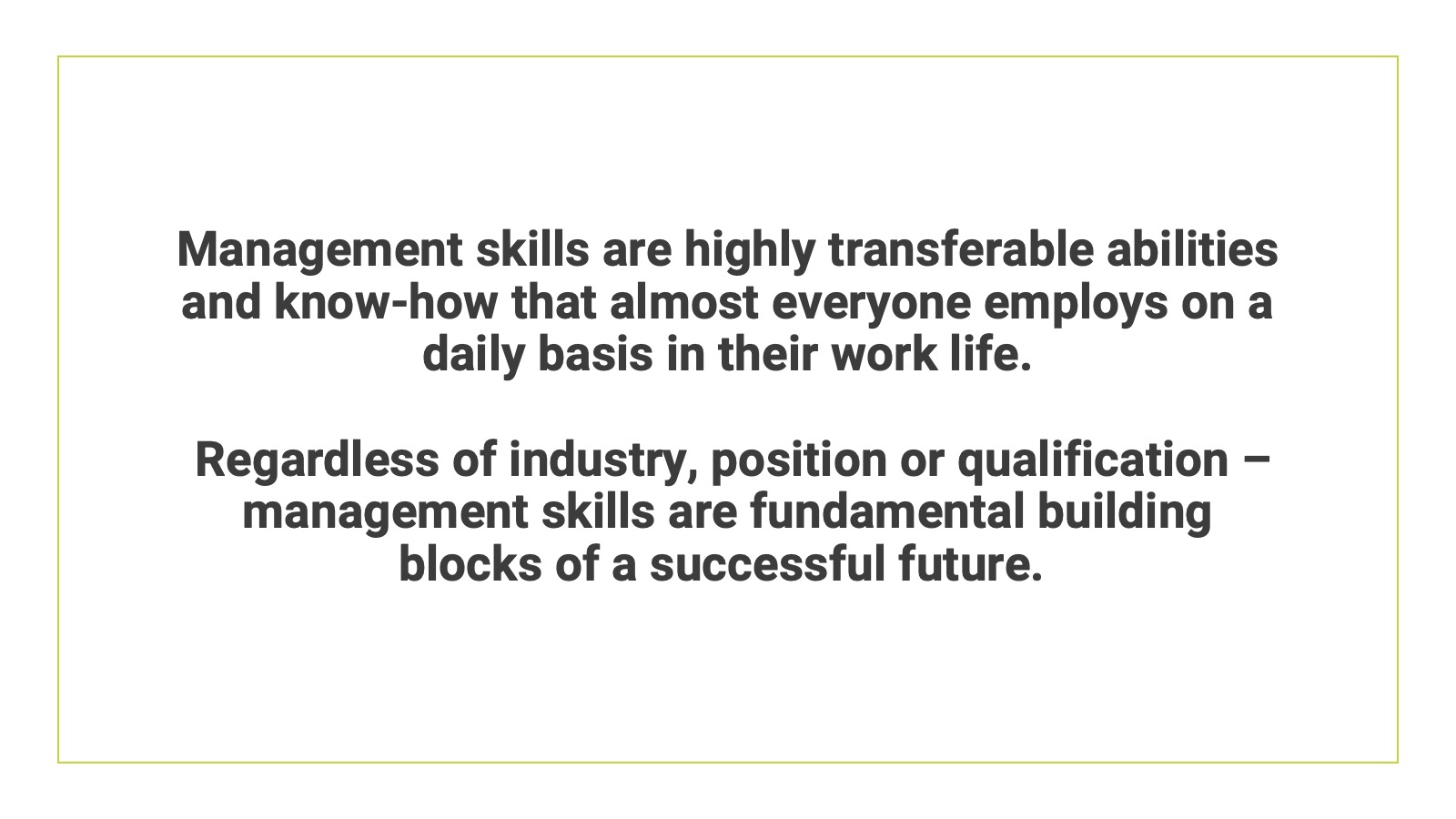 Our offers are affordable and high-quality, meaning that we do not want you to pay exorbitant amounts of money to then sell you a fad or a theory that promises so solve everything. On the contrary: we want you to find resources, to ask questions, to be critical and to improve how you conduct business. In our view, a qualified workforce leads to better outcomes and these outcomes have benefits for everyone involved.
Get started on your management journey today
We truly hope that you will find something that suits you among our services. We constantly expand our range of products to serve your needs and hope that we can spark your interest and talent in management skills.
Tags
:
Management Trends
,
Professional development

Wanda works as a researcher at a human rights institute in Austria. She holds an MSc in Political Sociology from the London School of Economics and Political Science, and is currently finishing an MSc in Social Justice and Community Action at the University of Edinburgh. Her research interests revolve around political behaviour, civil society, and organisational sociology. Wanda describes herself as a wanderluster, curious mind and revolutionary at heart!