Michael Vodia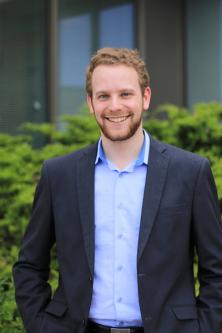 noi is both an evidence-based HR practitioner and professional marketer. He is the Head of Marketing for ScienceForWork and AdvancePro Technologies, and the Co-Founder of Northmark Talent, an Organizational Psychology consulting firm based in Toronto, Canada. 
Michael, why is it time to consider an evidence-based approach in HR?
I think we would benefit a more evidence-based approach to just about everything, and the more important the area the greater the urgency. Few things have helped human beings move forward more than evidence-based reasoning, and HR as a discipline has the pieces in place to benefit greatly.  
When it comes to management, people overestimate the accuracy of their intuitions, perhaps because we're used to interacting with people instinctively. In fact, studies have shown that HR professionals may miss more than they realize when operating without evidence.  
An evidence-based approach, as applied to HR, has the potential to improve the lives of working people by helping companies create an environment that maximizes their satisfaction and performance, which ultimately benefits everyone.  
What makes Evidence-based HR different compared to the established HR practices in organizations?
We all make decisions based on evidence, but evidence-based HR differs from established HR in an important way: the intentional process of filtering out the noise to make better decisions. In my experience, evidence used in typical HR environments tends over-emphasize personal experience and often lacks a certain amount of objectivity.
Here's a fun list of alternatives to evidence-based management that we might see in companies, courtesy of Rob Briner: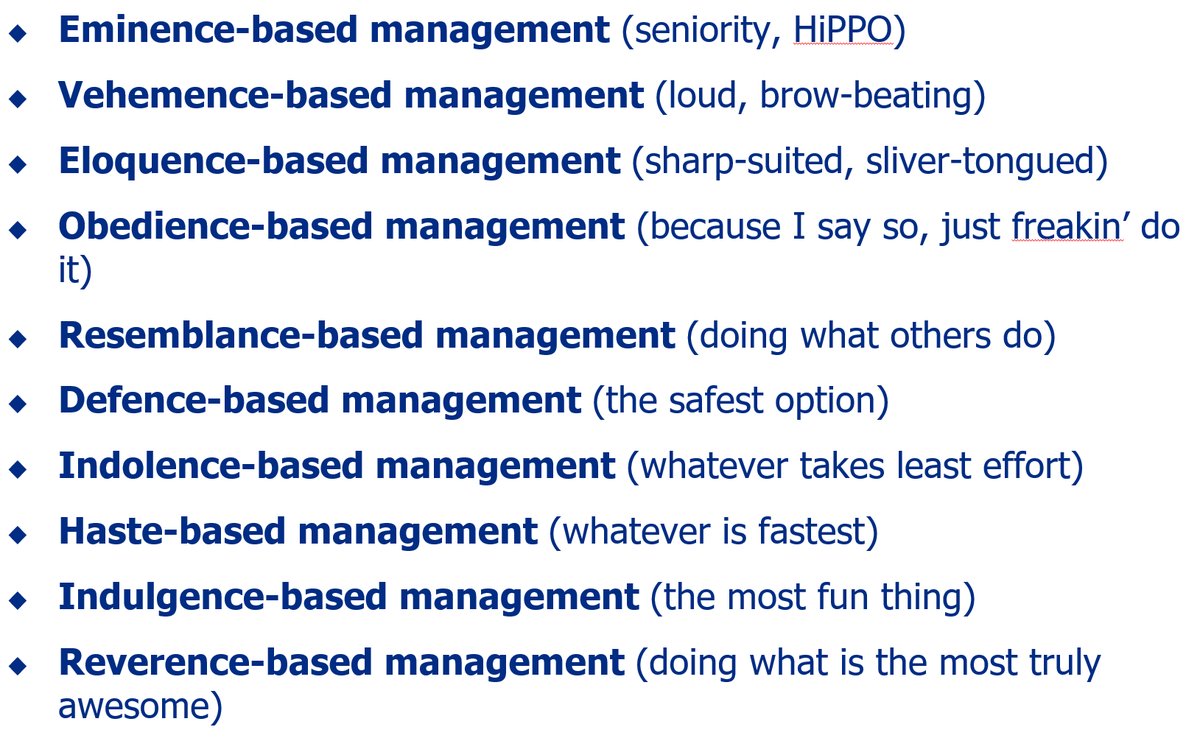 As Rob has referenced, organizational problems are often identified by the intuition of the HIPPO (Highest Paid in the Office), accepted as fact, and then acted upon quickly, without much opposition or evaluation. The more I've been exposed to businesses, the more I've come to appreciate how prevalent this really is.
For example, I know of a major telecommunications company that invested many millions of dollars to convert their headquarters into an open-concept design without properly identifying the problem they were trying to solve, weighing the merits of alternative solutions, or considering if research supported this practice. Ironically, they had formed a People Analytics department by the time the project was done and asked them to measure the outcomes. You can imagine how pleasant a position it must be to basically be used to rubber-stamp a project that's already been done! 
What is the benefit of evidence-based HR for managers and professionals in terms of organizational performance?
As it pertains to management decisions, evidence-based practice can help you create effective practices in many areas that impact performance, like hiring, compensation, change management and more. This can have an impact not only in the types of solutions you choose to employ to help with performance issues, but even to how you identify and frame the problem to begin with. This can be an underestimated source of waste and misery in organizations.
Here's an example. Let's say that you're a manager who's noticed a lack of engagement amongst your more junior employees. They seem to not want to go the extra mile, they aren't team players, and they have one foot out the door. "Man", you say to yourself, "what can I do to motivate these millennials"? 
Now, if you were to consult the literature on generational differences, you would know that the latest meta-research offers little substantive evidence to support the idea that generational differences are related to work outcomes like performance. Rather, a far more plausible explanation for the differences you're seeing is simply age differences, and related contextual factors like pay and job stability. 
Perhaps this seems like a small distinction, but let's break it down and see where it could lead:
"How can I improve the performance of my millennials?"
Assumption: We're dealing with a group of people that are share specific qualities and values that are unique to other generations. 
Therefore: What worked for Boomers and Gen X won't work for them, and we need to go back to the drawing board to come up with a new intervention. This is a unique problem that requires a unique solution.
Solution: You spend an inordinate amount of money to install pool tables and beanbag chairs in your office, or, worse yet, hire a consultant who's an "expert" in "bridging the generation gap" to help you. 
Outcome: Your solutions ultimately don't have the desired impact and you've wasted precious resources: time, money and probably your credibility.
"How can I improve the performance of my younger employees?"
Assumption: We're dealing with a population that are, at their core, the same as any other at their age. But this is by no means a new challenge.
Therefore: We can consider that perhaps there are contextual factors at play here affecting younger employees differently than older ones. We have a wealth of experience and literature to draw upon to find a solution.
Solution: You take an evidence-based approach to implement effective organizational practices. You gather and relevant information gathered from stakeholders, experts, organizational data and, of course, research. You make a decision based on this evidence, measure its impact and adjust as needed.
Outcome: You create tangible, measurable performance improvements.
As this imaginary scenario illustrates, framing problems based on false assumptions can lead us to solutions that ultimately do little to address them. Taking a step back and looking at the evidence from the beginning makes a huge difference!
What are the biggest myths in the area of HR that prevent organizations to develop to the next level from your point of view?
I think that the biggest myth that holds companies back from taking the next step is the amount skill and time needed to implement an evidence-based approach. As with anything, there is a sliding scale for how deep you go. But every step you take will have an impact. More evidence-informed decisions can be made using the resources you already have at your disposal and having team of data scientists isn't really a "must have". 
The more important the decision is, the more important it is to follow evidence-based practices. And the reality is that important managerial decisions don't happen overnight as it is, so taking a little more time to get it right seems like a good investment to me.
How could an HR team in a medium-sized company implement evidence-based management in their daily business?
For a great jumping-off point in Evidence-based Mangement, I highly recommend the new release from the Center for Evidence-Based Management (CEBMa), "Evidence-Based Management", which provides practical examples and a readily-applied conceptual foundation. Whether you're in a startup or a large corporation, there are steps you can take to make more evidence-based decisions.
To me, the foundation of moving towards an evidence-based approach is to think critically and question the assumptions we make in assessing organizational problems and their proposed solutions. By making this part of your culture you make a critical leap: you take the decision-making process out of its black box and invite others to take part. In this way, faulty reasoning caused by cognitive biases, heuristics and other factors can be more easily identified. The process also becomes more democratized, and you've given space for others to voice their opinions and be considered. So just this small step can have a big impact on the quality of your decisions. 
What is ScienceforWork and how do you support managers and professionals to implement evidence-based HR?
ScienceForWork is an organization of evidence-based practitioners from around the world who volunteer their efforts to make research more accessible to executives and HR professionals. 
The focus of our efforts to this point has been to provide trustworthy Evidence Summaries on topics that address common HR challenges. From teamwork to hiring to leadership, we identify and translate the most reliable research available, and make it accessible and usable by using plain English, engaging infographics and sharing practical takeaways for practice. 
In addition to our Evidence Summaries, we offer training and workshops on evidence-based HR, and we've also started offering Rapid Evidence Assessments, where we provide a review of the scientific literature to help companies solve pressing management challenges. Our early REAs have shown great results, and I think that many other companies, large and small, can benefit from this service.
Tags
:
Critical thinking
,
Evidence-based HR
,
Evidence-based Management
,
Evidence-based practices

Markus is a senior management counselor with CQ Net - Management skills at work! He combines more than 15 years hands-on leadership experience from the private sector with in-depth knowledge in the area of people and organizational development. Markus holds a MSc in Organizational Behaviour and a Doctoral Degree in Management.