Management skills are highly transferable, lucrative and beneficial. They are useful beyond employer-employee relations.
What is management? Why is it useful?
There are countless definitions of management. These range from the definition of the founder of modern management theory, Peter Drucker ("Management is a multi-purpose organ that manages business and manages managers and manages workers and work") to the father of modern management, Henri Fayol ("Management is to forecast, to plan, to organize, to command, to coordinate and control activities of others"). The idea of management is hard to pin down – it spans from academia into the real world, and there is no universally accepted definition, outline of activities, scope of responsibility, or blue-print how (or what/whom) to manage.
However, we do know that there are certain abilities and skills that are commonly brought into connection with management: these include decision-making, resource allocation, networking, planning, controlling, leadership, communication, learning and development, strategy, and much more. These abilities and skills are goal-oriented and results-driven - mastered by those we admire.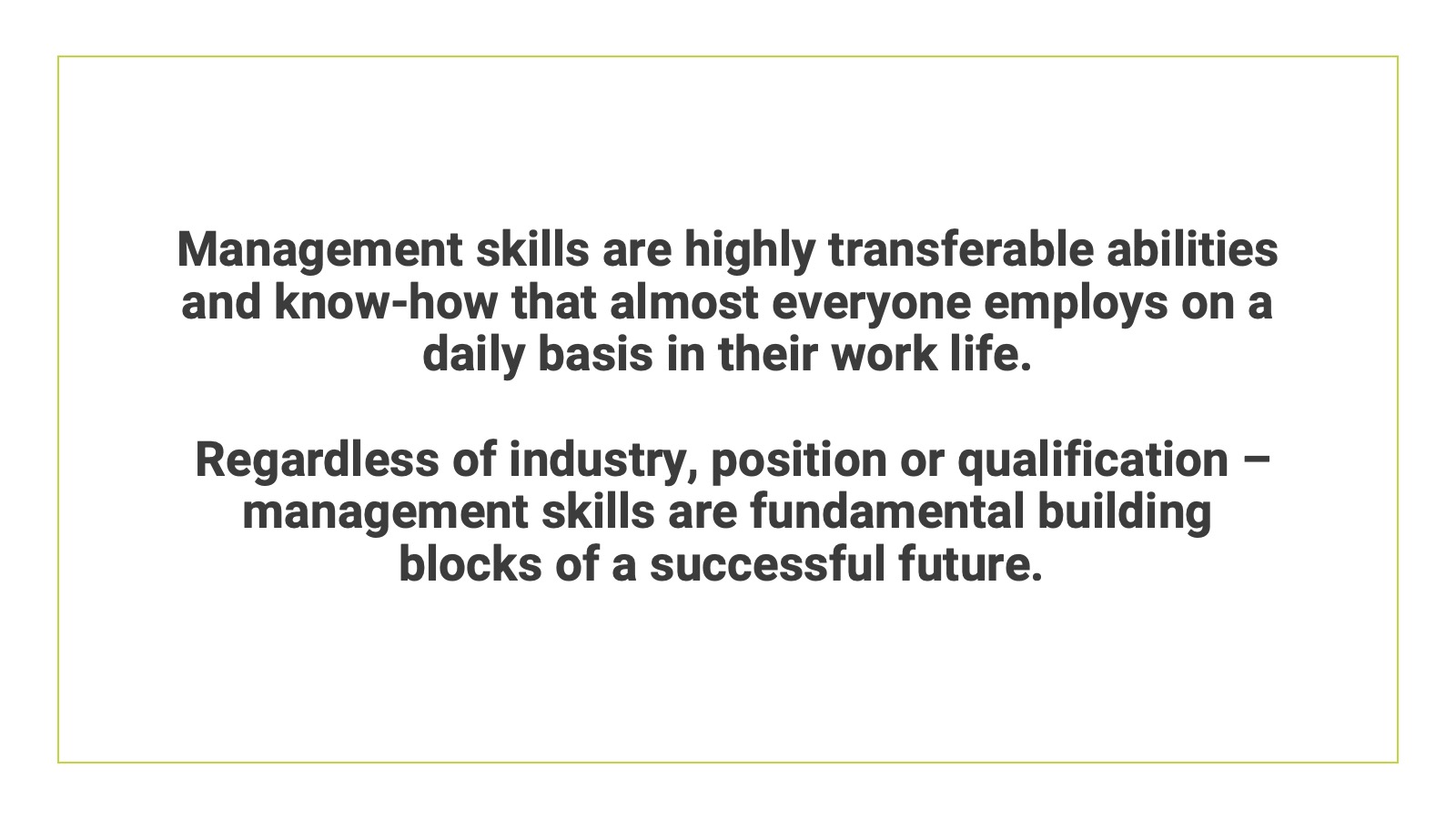 Did you know that these skills are also highly applicable outside the world of business and big money? Even though we might not realize it, many of us already use management skills in our daily lives, in our jobs, in our relationships. All the more reason to improve them!
While you may already possess many skills, it's important to note that committing to gaining management skills is not only beneficial for you personally or professionally, but it is also likely to help you financially on the long run. As you will see below, the abilities outlined are truly timeless and arguably also somewhat common sense. 
Management skills are highly transferable, lucrative and beneficial. They are useful beyond employer-employee relations.
It is commonly agreed upon that management skills are highly transferable. This means that they do not only apply to one particular kind of job or activity, but provide useful abilities you can make use of in other areas as well. This is why they never become outdated - at the same time, it's also why you should consider investing into improving them. Networking or presentation skills are good examples, next to the ability to work under deadlines or being able to coordinate efforts to accomplish goals. See for yourself:
Teamwork
Leadership
Entrepreneurship
Conflict management
Negotiation
Strategic thinking
Project management
Time management
Adaptability
Communication
Here are the top 10 management skills to help you reach your goals and shine:
Teamwork
Why it matters? The ability to work in a team provides for new and different perspectives, helps motivation, and reduces pressure. Ultimately, a team is a great learning opportunity and might open up doors you did not even know existed. In the world of work, teams are increasingly being relied on as a tool to increase organizational effectiveness and performance. Are you wondering how you can improve your teamwork skills? Get comfortable with some of the most effective team management concepts such as team-efficacy and team mental models. Both concepts have a strong track record when it comes to improving team effectiveness and can be easily applied in daily business.
Leadership
Why it matters? Investing in leadership means investing in your ability to help bring out the best in yourself and in others. Good leaders are not only forerunners of ideas, but can act as persuasive and encouraging mentors who can help others go beyond their expectations. How to become a leader? There are plenty of different leadership approaches available. Consider transformational leadership as a starting point.
Entrepreneurship
Why it matters? Entrepreneurial skills are tools that help you turn a vision into reality. Consider start-ups and their founders: more often than not, entrepreneurs are pragmatic and optimistic, charming communicators who are not afraid to think outside the box and put something new into the world. As the late Steve Jobs famously said: "stay hungry, stay foolish".
Conflict management
Why it matters? It is natural for people to disagree in all kinds of settings - and they will. Disagreement is normal and healthy, but only when managed properly. Learning some de-escalation strategies and taking time to understand different perspectives can go a long way, no matter your position.
Negotiation
Why it matters: An old saying goes "nothing in life comes free", meaning we need to work for what we wish to achieve. A large part of this is being able to state what you want in a persuasive, respectful manner - a skill that is useful in all spheres of life, not only in politics. Negotiation skills range from being able to listen to finding compromise in a fair and professional way. 
Strategic thinking
Why it matters: You don't need a fully fleshed-out strategy to be strategic - on the contrary, strategic thinking is an ongoing process of "strategizing". Think of chess: when playing, you are likely to plan ahead, be bold but intentional, and constantly improve your tactic depending on what you learn. To win at the game, you need to prioritize, consider some possible scenarios, and make a decision based on the best evidence available. 
Project management
Why it matters: Any endeavor that is limited in time and has a particular goal can be considered a project (like learning new skills, getting promoted, building a house…). Project management skills help you define, plan, organize, lead and control. You can reach your goals away from chaos, with a plan, while tracking progress, being strategic with your resources, and learning from failure.
Time management
Why it matters: Time management does not only mean being on time (which is a great skill leaving a long-lasting good impression!). Learning to make the most of your time without procrastination (surprisingly) makes you have more time, avoid frustration, and feel more fulfilled. Bonus: you can re-invest your time into things you really care about. 
Adaptability
Why it matters: Nobody knows everything and it is often helpful to be aware of that, especially in a world that is changing rapidly. If you are willing to take a new path and try something completely different without giving up on your ideals, you are always up-to-date and never stop learning. This is also a good starting point for innovations.
Communication
Why it matters: Effective communication skills can probably be considered a fundamental life skill. It may not be possible to perfect the ability to convey information, but working on it can help personal relationships, improve your confidence, and really, really boost your career.
Management skills help you achieve the maximum of what you want to accomplish.
As you can see, management skills are not only straight-forward, but apply to many spheres of life: be it to relationships, life-planning, NGO activities, working towards a promotion... Essentially, they correspond to the three-fold typology by Robert Katz, comprising technical skills (techniques and processes), conceptual skills (abstract ideas, analytics, creativity) and human or interpersonal skills (interact with and work effectively with people). If you want to improve yourself, it can help to focus on these three skill groups and balance them out.
Management skills help independence, broaden your horizon and often help people become clearer about what they really want to achieve. Whether you are a manager or someone who has no relationship to management at all, management skills will help you unlock your potential.
How can you improve your management skills?
There are various ways to improve your management skills. One of the easiest ways is self-study. You can read business books and scholarly articles about the management skills most important to you.
We at CQ Net – Management skills at work! provide you the full range of high-quality management knowledge. From self-study, management masterclasses to management counseling, we combine the best of scientific knowledge on management with real happenings from day-to-day life in organizations. Check out the world's first management skill webshop!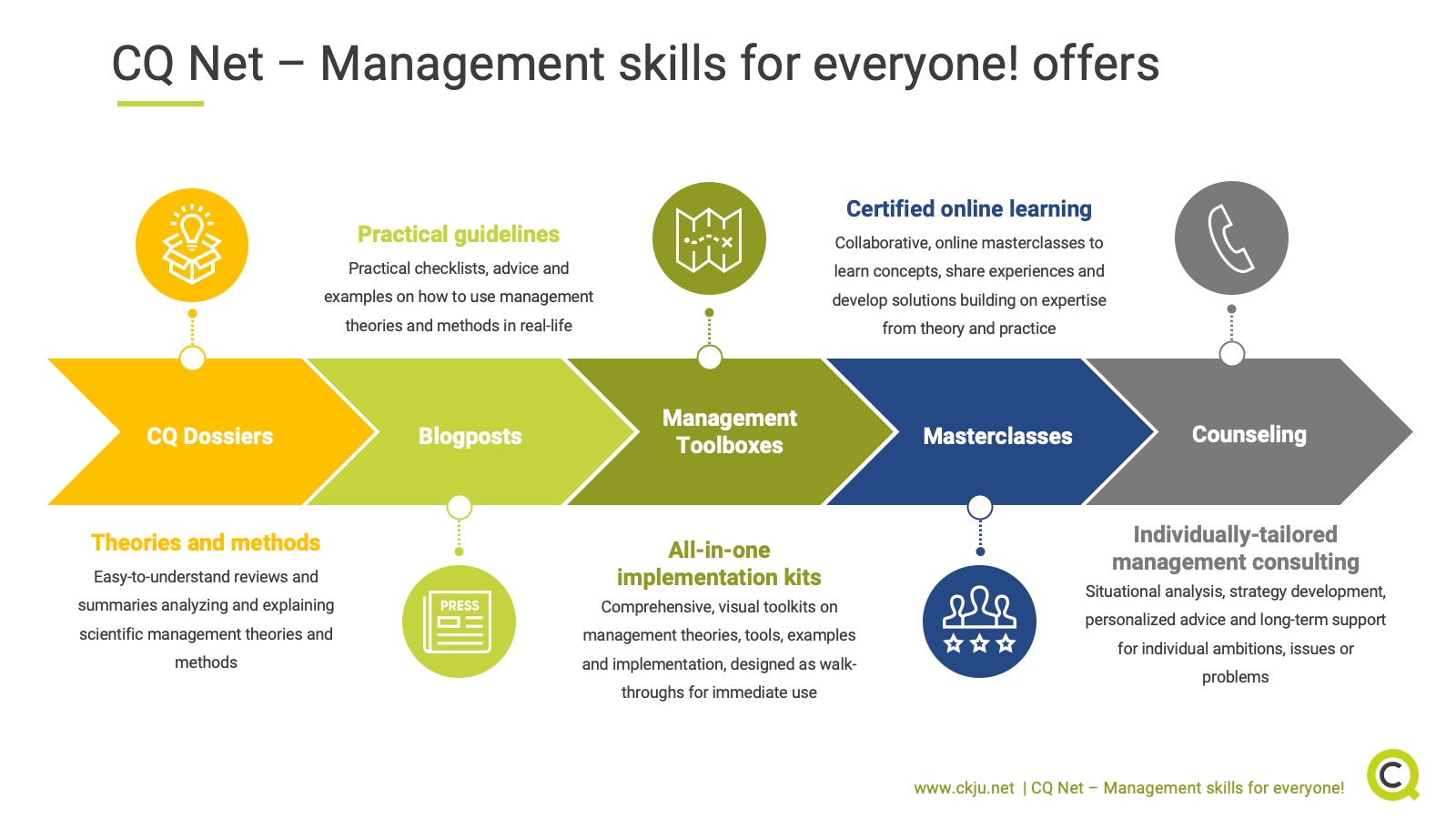 Tags
:
Management development
,
Management Trends

Wanda works as a researcher at a human rights institute in Austria. She holds an MSc in Political Sociology from the London School of Economics and Political Science, and is currently finishing an MSc in Social Justice and Community Action at the University of Edinburgh. Her research interests revolve around political behaviour, civil society, and organisational sociology. Wanda describes herself as a wanderluster, curious mind and revolutionary at heart!