Narcissism has received attention because individuals with narcissistic personality are often nominated as leaders by groups or are perceived as having leadership qualities during employment interviews (Paulhus, 1998). This blog describes narcissism and narcissistic leadership as well as provides recommendations on how to identify and deal with narcissistic leaders.
What is narcissism and narcissistic leadership?
Narcissistic individuals tend to be arrogant, self-absorbed, feel entitled and are hostile. They exhibit a high degree of self-love, believing that they are special and entitled to praise and admiration. However, this exterior is characterized by a shallow self-concept as they tend to view others as inferior to themselves often being insensitive and hostile towards others (Judge et al., 2009). They tend to interpret information with a self-serving bias and their decisions lean towards enhancing their own reputation rather than for the good of others.
Narcissists seek social status through dominant behavior.
Narcissism is associated with significant interpersonal problems and narcissists have a negative impact on others (Ogrodniczuk, Piper, Joyce, Steinberg, & Duggal, 2009). The research suggests that highly narcissistic individuals seek out social status via dominant behavior, are highly attuned to the behavior of others that threaten their own status and will respond aggressively if their status is threatened; this aggression helps regulate the self, their interpersonal field, and affect (Wright, Hopwood & Simms, 2015).
Narcissism and narcissistic leadership can be measured.
Scientific research on narcissism is mainly drawn from the clinical psychology field and focuses on Narcissistic Personality Disorder (NPD), which is the term used in the Diagnostic and Statistical Manual of Mental Disorders (DSM-5) and focuses on several criteria including a grandiose sense of self-importance, fantasies of unlimited success, power, brilliance, beauty, belief that one is "special' and unique, requires excessive admiration, a sense of entitlement, interpersonally exploitative behavior, lack of empathy, being envious of others, or believing that others are envious of oneself, and arrogant behaviors.
Measuring narcissism in the workplace is grounded in the measurement work pursued by Raskin and Hall (1979) through the Narcissistic Personality Inventory (NPI). This measure is intended for normal or sub-clinical populations who are borderline narcissists but do not meet all the criteria to be fully diagnosed with NPD. Narcissism within organizational science is measured as a personality trait rather than a mental illness.
What is the effect of narcissism on organizational effectiveness?
There are many negative consequences of leader narcissism for organizations mainly because they lack concern for others. They do view themselves as transformational leaders but this view is not reciprocated by others. In fact, there is typically a misfit between how narcissists view their own leadership qualities and the impressions of those around them (Judge et al, 2006); this is also true for narcissistic CEOs so narcissism is present in all levels of management.
Narcissistic leadership can undermine performance management systems.
This lack of self-awareness is troubling for performance management systems when leaders tend to over-estimate their own performance and these ratings are not aligned with other ratings.
Narcissistic leadership is related to counterproductive work behavior.
There is also evidence that narcissistic leadership has a negative effect on followers' emotions and behaviors  (Braun, 2017), and team collaboration (Nevicka et al., 2011). A meta-analytic review found that narcissism was also related to counterproductive work behavior (CWB) (O'Boyle et al., 2012).
It is possible to identify narcissists in the workplace.
One of the problems with narcissists is that they perform well during job interviews and receive favorable ratings from interviewers, even those who are experienced and trained raters. One reason for this is because interviews are ideal social situations for narcissists because they allow them to boast to create a favorable impression, although these favorable impressions are often short-lived (Paulhus, 1998). These favorable impressions are most likely to occur when interviewers' initial impressions make them susceptible to biases.
Narcissists tend to dress well, display friendlier facial expressions, and are more self-assured in their body movements than non-narcissists (Back et al., 2010). It is unfortunate that most narcissists are identified after they have been in the organization through reports about their destructive behavior. This makes it even more important to identify narcissists in the selection and recruitment stage.
Good human resource management practices can help prevent narcissists from reaching positions of power.
One important way that organizations can identify narcissists is through implementing strong selection tests that focus on the criteria for the position rather than the attributes of the candidates. Structured interviews are useful in forcing interviewers to find evidence that the candidate has competencies required for the position. Organizations that perform well can also ensure that personnel with narcissistic traits are not considered for key positions in the organization.
Overall, it is important that organizations focus on job performance rather than the likeability of employees across human resource practices such as selection, training and performance management. In the long term, narcissists tend not to be good performers even though they consider themselves to be above average so a focus on key performance criteria is essential in ensuring that narcissists do not rise to the top.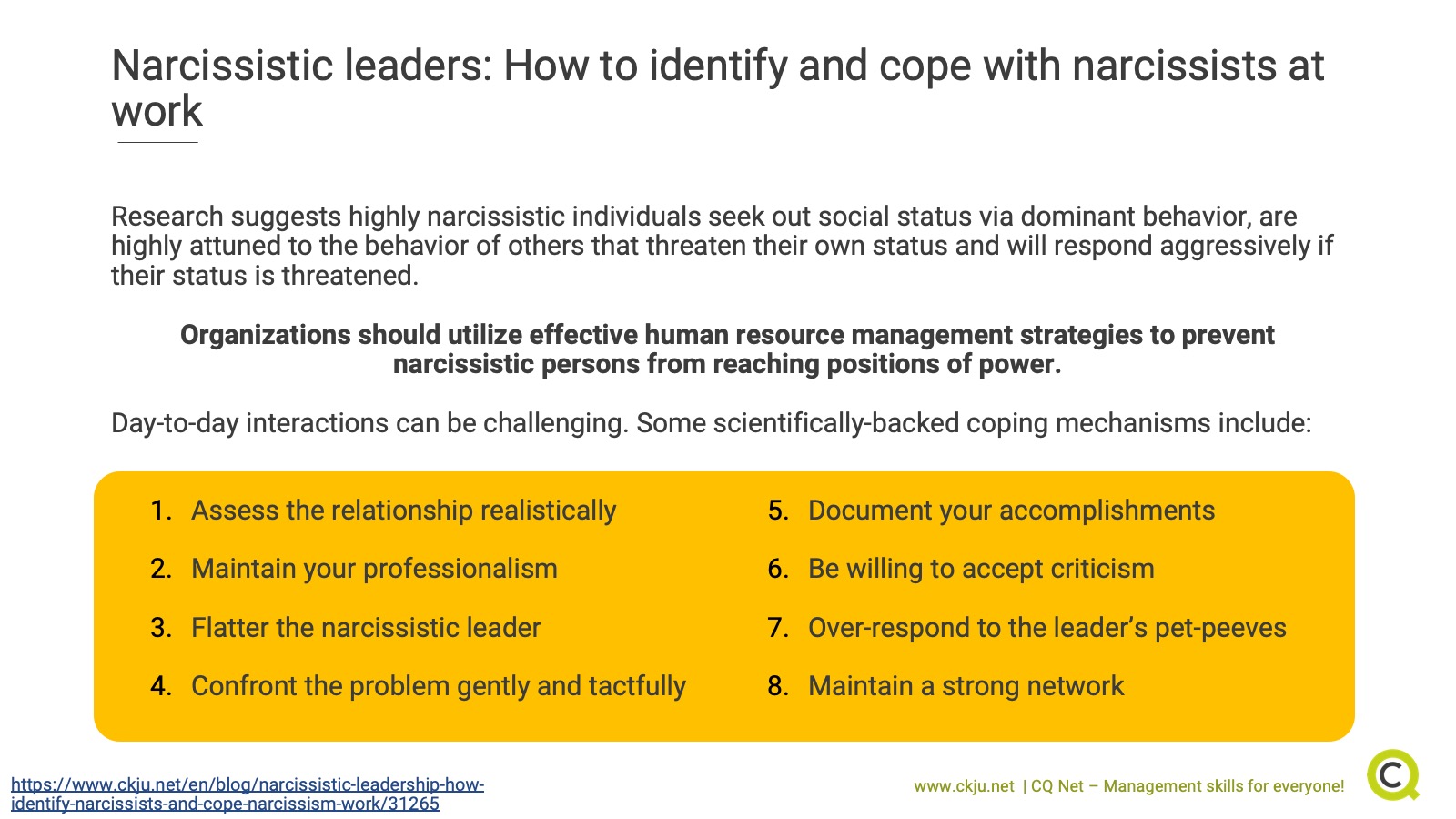 What are some strategies for dealing with narcissists at the workplace?
In dealing with narcissists in the workplace, DuBrin (2012) suggests several coping strategies. These include:
assessing the relationship realistically,
maintaining your professionalism,
flattering the narcissistic manager,
confronting the problem gently and tactfully,
documenting your accomplishments,
being willing to accept criticism,
over responding to the manager's pet peeves,
and maintaining a strong network.
The Gray Rock Method: keeping your head down and blending into the landscape
The Gray Rock Method is also a way for dealing with narcissistic managers. It is used in situations where the individual is not able to avoid the narcissist so can be useful in the workplace, where the employee is forced to work with a narcissistic manager. It involves several behaviors to use in response to narcissistic behavior with the name originating from the idea that the target needs to keep their head down like a grey rock and blend into the landscape.
When this occurs, the toxic person moves onto someone else to obtain what they want. The behaviors include speaking with a neutral voice, giving short, unemotional answers to questions, talking about boring or inconsequential subjects, not engaging with the abuser's taunts, not making eye contact with the narcissist, not giving away personal information, and not displaying any interest in the narcissist. It is not an easy method and takes practice and preparation and only works if the narcissist is not aware that you are using this method.
Narcissistic leaders at work are dysfunctional and destructive
In closing, research shows that individuals with narcissistic personality traits can be destructive in the workplace. There is empirical evidence that they undermine workplace relationships and have a negative impact on organizational effectiveness. It is important that organizations utilize effective human resource management strategies to ensure that narcissistic individuals are not promoted to positions of power.
References and further reading
Back, M.D., Schmukle, S.C., & Egloff, B. (2010). Why are narcissists so charming at first sight? Decoding the narcissism-popularity link at zero acquaintance. Journal of Personality and Social Psychology, 98, 132-145.
Braun, S. (2017). "Leader Narcissism and Outcomes in Organizations: A Review at Multiple Levels of Analysis and Implications for Future Research". Frontiers in Psychology. 8: 773.
Brunell, A. B., Gentry, W. A., Campbell, W.K., Hoffman, B.J., Kuhnert, K.W., & Demarree, D. (2008). Leader emergence: The case of the narcissistic leader. Personality and Social Psychology Bulletin, 34, 1663–1676.
DuBrin, A. J. (2012). Narcissism in the Workplace: Research, Opinion and Practice
Hogan, R., & Hogan, J. (2001). Assessing leadership: A view from the dark side. International Journal of Selection and Assessment, 9, 40–51.
Judge, T., Piccolo, R., & Kosalka, T. (2009). The bright and dark sides of leader traits: A review and theoretical extension of the leader trait paradigm. The Leadership Quarterly, 20, 855–875.
Kippenberger, T. (1997). The dark side of leadership: What drives people to become leaders? The Antidote, 2, 11–13.
Morf, C. & Rhodewalt F. (2001). Unraveling the paradoxes of narcissism: a dynamic self- regulatory processing model. Psychological. Inquiry, 12, 177–196.
Nevicka, B., Femke, S., Ten Velden, Annebel, H., De Hoogh, A., & Van Vienen, E. (2011). Reality at Odds With Perceptions: Narcissistic Leaders and Group Performance. Psychological Science, 22(10), 1259–1264.
O'Boyle, J., Forsyth, E., Banks, D., George, C., & McDaniel, M. (2012). A meta-analysis of the Dark Triad and work behavior: A social exchange perspective. Journal of Applied Psychology, 97, 3, 557-579.
Ogrodniczuk, J. S., Piper, W. E., Joyce, A. S., Steinberg, P. I., & Duggal, S. (2009). Interpersonal problems associated with narcissism among psychiatric outpatients. Journal of Psychiatric Research, 43, 9, 837-42.
Paulhus, D. L. (1998). Interpersonal and intrapsychic adaptiveness of trait self-enhancement: A mixed blessing. Journal of Personality and Social Psychology, 74, 1197-1208.
Paulhus, D. L., & Williams, K. (2002). The dark triad of personality: Narcissism, Machiavellianism, and Psychopathy. Journal of Research in Personality, 36, 556–568.
Raskin, R. N., & Hall, C. S. (1979). A narcissistic personality inventory. Psychological Reports, 45(2), 590.
Wright, A. G. C., Stepp, S. D., Scott, L. N., Hallquist, M. N., Beeney, J. E., Lazarus, S. A., & Pilkonis, P. A. (2017). The effect of pathological narcissism on interpersonal and  affective processes in social interactions. Journal of Abnormal psychology, 126(7), 898-910. 
Wright, A.G., Hopwood, C. J., & Simms, L. J. (2015). Daily Interpersonal and Affective Dynamics in Personality Disorder, Journal of Personality Disorders, 29, 4, 503-25.
Tags
:
Dark traits
,
Employee selection
,
Leadership
,
Narcissism
,
Performance management
,
Toxic leadership
Annette was born in England and now lives in the United States. She has a PhD in Industrial and Organizational Psychology and has taught at several institutions. Annette has published in several journals, including Journal of Applied Psychology, Personnel Psychology, Human Resource Development Quarterly, and Organizational Research Methods. She worked in the public and private sector for many years, primarily as a management trainer.