Digital transformation is not about technology, but about people and organisational changes required to harness its power.
What will the future of management be like?
The unprecedented technological changes are disrupting the business landscape, revolutionizing how things are done and what things are done. The change is not only constant but also exponential, both in terms of speed and the scope. These transformations result in
a radical change in the business environment
a new division of labour
changes in organisational structure to facilitate the new workflow and support innovation
changes in the broader environment: the emerging trend of platform economy where technology is connecting people of all backgrounds and capabilities
Preparing for the future of management requires the transformation of people, organizations
The technology-enabled, vast, connected, and intelligent digital world is moving at breathtaking speed, and business stakeholders will need to rapidly and dramatically evolve their leadership skills to lead organisations and people into this complex and uncertain future. Digital transformation will soon make the way we work almost unrecognizable to today's leaders and managers. Maybe counter-intuitively, digital transformation is not about technology, but about people and organisational changes required to harness its power. It's about changes to organisational dynamics and how work gets done (Kane et al., 2019).  Management and management skills should therefore be at the heart of this digitalization.
Technology-fueled changes in the business environment will drive far-reaching changes in organisations' structures, systems, and leadership styles (Weill & Woerner, 2018). In the digital economy, it may prove insufficient to merely tweak those existing management practices that once proved successful.
Reinventing the principles of management or polishing up old practices?
Management academics have argued for almost two decades that new circumstances, such as globalisation, global turbulence, technological change, and hyper-competition, ask for new models of organisation and new theories of management, some of them calling for a new management paradigm altogether (Grant, 2008). There are two somewhat competing academic streams that disagree about whether management needs to be reinvented altogether, or whether it is enough to adapt existing practices to better fit the VUCA world.
Management needs a new paradigm for every aspect of organizational practice
There is a line of research that claims that current management practices are based on an outdated 20th-century management paradigm and that it is management innovation, rather than operational innovation, product innovation, or strategy innovation, that will bring the ultimate competitive advantage (Hamel, 2007). This calls for a complete overhaul of management principles and practices and the emergence of a whole new management paradigm.
Management practices need to adapt to better deal with complexity
Other scholars are not convinced of the need for a new management paradigm, as they don't find evidence that the necessary adaptations will require a new paradigm, nor that 21st-century management will be based on distributed innovation and participative decision making. This line of research also argues that the history of management confirmed that most revolutionary initiatives that were based on participative, engaging, and democratic management proved to be failures due to difficulties of reconciling participation and democracy with efficiency and customer orientation (Grant, 2008).
Instead, they argue that the future of management is more likely to be based on the extension of existing management principles and practices to embrace higher levels of complexity. These changes will call for different leadership styles and approaches to decision making, but not the wholesale dismantling of existing management practices or their underpinning principles (Grant, 2008).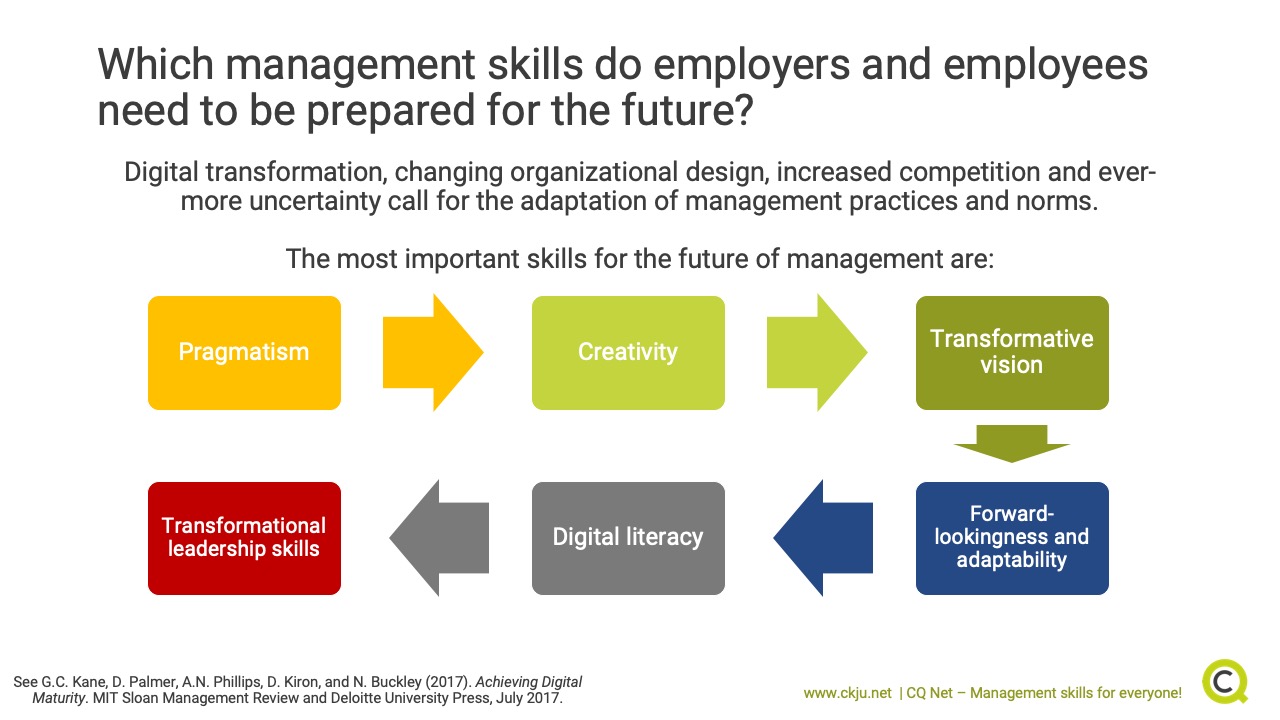 The future of management relies on flexibility, adaptation and pragmatism
Whether we need a complete re-invention of management principles or not is open for academic debate. However, what can be said for certain is that management practices and norms must adapt to the fast-changing environment that is spreading through every pore of economy and society.
Even researchers who argue that management innovations may not amount to a new management paradigm altogether still acknowledge that it is plausible that the idea of management innovation may possess a unique capacity to create difficult-to-duplicate advantages (Grant, 2009). Birkinshaw, Hamel and Mol (2009) also posit that management innovation not only enables technological innovation, but is also one of the most vital sources of competitive advantage.
Management innovation means using technology to help transform organizations
Management innovation refers to the employment of technology to come up with a novel approach to the transformation of a company's organisational design, practices, and processes.  What results from this is improved performance, as reflected in increased innovation, productivity, and competitiveness (Birkinshaw, Hamel & Mol, 2008). Management innovation explains a substantial degree of the variability of innovation performance of firms, thus emphasizing that active stimulation of management innovation will be crucial to improve the competitiveness of firms (Volberda, Van Den Bosch & Cornelis, 2013).
Innovation must be rooted in organizational fabric and culture to be sustainable
However, the extent to which management innovation is the source of sustainable advantages over simply imitating competitors depends on the extent to which it embeds into the company's systems and culture. Management innovations that can be encapsulated within a technique or procedure, like the balanced scorecard, can be imitated easily (Grant, 2008). Practices and innovations that are diffused throughout the company and embedded in the culture cannot be imitated easily.
What makes the future of management different from management today?
Organizational design is evolving
A recent study conducted by the Massachusetts Institute of Technology (MIT) explored what factors business executives identify as being the most important differences between the digital and traditional organizational environment (see Kane et al., 2019). 
Over 20.000 executives took part in the study: it was found that the speed of change and creativity are at the top of the list. The departure away from hierarchical management structures towards the flatter structures and the concept of shared or distributed leadership will gain traction as the pressure for companies to be more agile and innovative builds. Indeed, digitally maturing organisations, or those that are progressing on their digital transformation journey, encourage distributed leadership and a healthy appetite for experimentation (Kane et al., 2017).
The future of management is defined by flat hierarchies, shared competences, and agility
This does not mean, however, that there will be no managers, rather that everyone will be a manager in a sense.  How will that affect organisations? Somewhat counter-intuitively, flatter, democratised systems of self-management will not decrease the demand for leadership but rather increase it. In the future, organisations will not be focusing development efforts on a limited number of high potentials only, but on a wider front of employees. As a consequence, management skills won't be important for CEOs and executives only, but for almost all employees in the future.
Managerial work and managerial skills are evolving
Technology will challenge managers to reconsider their roles and to redefine their operating principles. Research finds that automation will shift focus from coordination and control to judgment work, such as strategy and innovation, collaboration, people and community, dramatically cutting the time managers spend on coordination and control from more than 50% to 25% (Accenture, 2015). Hybrid intelligence, the combination of human and artificial intelligence will play an important role in the future of management. With the newly found time, people-to-people interactions and relationships are becoming increasingly important.
Fostering community, collaboration and interpersonal relations is vital for innovation
What makes a good manager is a complex question, but two themes stood the test of time ever since Ohio state study in the '50s:
care for people, or so-called consideration; and
care for tasks, so-called initiating structure (Judge, Piccolo & Ilies, 2004).
Interpersonal and judgment skills become vital as technology evolves. Leaders must combine traditional and new skills to guide their organisations into the complex future effectively.
A four year study conducted by MIT in collaboration with Deloitte, comparing what companies get right and what they get wrong about digital transformation, found that what really helps companies excel in today's VUCA world is implementing changes on the human side of the business — whether that means a new organisational design, new talent models, or adopting new leadership skills (Kane, 2019). Managers must evolve how they learn and lead in order to adapt and excel.
New leaders must have a vision, look ahead and adapt to emerging trends
In their study, Kane et al. (2017) found that the most important managerial skill is transformative vision. It encapsulates the ability to predict markets and trends, make optimal business decisions, and solve tough problems in turbulent times.
The second most important skill is being forward-looking, which includes having a clear vision, sound strategy, and foresight. It's the ability to act upon the observed trends.
Digital literacy is vital as it supports the first two skills and also enables managers to recognise both the benefits and limitations of technology. Adaptability also helps the first two skills. 
Granted, most of the skills found by Kane et al. (2017) were desirable even before the disruption. Transformative vision or being forward-looking never hurt a leader. However, what is new is the urge for these skills – while once some of them may have been "nice to have," now they are "a must." 
How can employers, employees prepare for the future of management?
One solution is to have ongoing continuing education sessions with the organisation's formal leadership, guided by facilitators with profound digital knowledge. This may look like something that many in Silicon Valley call "zoom-in/zoom-out" strategizing, where executives imagine what the industry or market will look like in five or ten years and then outline the moves that the organisation needs to make in shorter-term, say 12 to 18 months, in order to get there (Kane et al., 2017).
Other solutions are in-house or online training in specific skills as well as formal continuing education as offered by CQ Net - Management skills for everyone!. What is also beneficial, and is gaining increasing popularity, is the so-called "cross-generational reverse mentoring programme". Unlike traditional mentoring, where a senior-level employee mentors a junior-level employee, reverse mentoring means pairing people from different generations, where each of them acts as the mentor and the mentee simultaneously. They both learn from each other.
Organizations must invest in people power, flexibility and learning
Technology is changing the way we live and work. The key to thriving under the disruptive forces of digitalization will not be found in algorithms, yet it is so easy to jump to the conclusion that you battle the technology-driven threats with – more technology. This is what Kane et al. (2019) call the Technology Fallacy.
Technology is a tool, not a goal in itself. It is the driving force behind organizational changes that are changing their design and how things are done. We are moving from more rigid management, based on imposing decisions, mechanistic thinking, and control to the management based on guidance and coaching, empowerment, and support, with more spontaneous and flexible structures.
Managers who are equipped with general digital skills and key non-technical skills such as transformative vision, forward looking and decisiveness will thrive in the digital age together with their organizations. However, let's not lose from sight that a broader range of employees needs to be equipped with leadership skills as the new flatter structures will result in leadership dispersion. Leadership will no longer be a matter of chosen few, but about all employees.
References and further reading
Accenture (2015).The Impact of Cognitive Computing in Management Study. Retrieved from https://www.accenture.com/us-en/insight-promise-artificial-intelligence
Araujo C. (2019). The 'future of work' in the digital era may not be what you think. CIO. Retrieved from https://www.cio.com/article/3332203/the-future-of-work-in-the-digital-era-may-not-be-what-you-think.html
Birkinshaw J., Hamel G. and Mol M.J. (2008). Management Innovation. Academy of Management Review, Vol. 33, No. 4, 825–845
G.C. Kane, D. Palmer, A.N. Phillips, D. Kiron, and N. Buckley (2017). Achieving Digital Maturity. MIT Sloan Management Review and Deloitte University Press, July 2017.
Grant R. (2008). The Future of Management: Where is Gary Hamel Leading Us? Long Range Planning 41
Hamel G. (2012).The Why, What, and How of Management Innovation. Harvard Business Review. Retrieved from http://dialogos.com/files/5814/4189/3036/The_Why_What_and_How_of_Mgmt_Innovation-Hamel-HBR.pdf
Judge, T. A., Piccolo, R. F., & Ilies, R. (2004). The Forgotten Ones? The Validity of Consideration and Initiating Structure in Leadership Research. Journal of Applied Psychology, 89(1), 36-51.
Kane (2019). How to Survive Digital Disruption. MIT Sloan Review. Retrieved from https://sloanreview.mit.edu/audio/how-to-survive-digital-disruption/
Kane G. C., Phillips A. N., Copulsky J.R. and Andrus G. R. (2019). The Technology Fallacy. The MIT Press, MA Cambridge
Kane G. C., Phillips A. N., Copulsky J.R. and Andrus G. R. (2019). How Digital Leadership Is(n't) Different. MIT Sloan Review. Retrieved from https://sloanreview.mit.edu/article/how-digital-leadership-isnt-different/
Khosravi P., Newton C., and Rezvani A. (2019). Management innovation: A systematic review and meta-analysis of past decades of research. European Management Journal. Retrieved from https://www.researchgate.net/publication/331835127_Management_innovation_A_systematic_review_and_meta-analysis_of_past_decades_of_research
Murphy, Wendy. (2012). Reverse Mentoring at Work: Fostering Cross-Generational Learning and Developing Millennial Leaders. Human Resource Management. 51. 10.1002/hrm.21489.
Volberda, H.W. & Van Den Bosch, Frans & Heij, Cornelis. (2013). Management Innovation: Management as Fertile Ground for Innovation. European Management Review. 10. 10.1111/emre.12007.
Weill P. and Woerner S. (2018). Why Companies Need a New Playbook to Succeed in the Digital Age. MIT Sloan Management Review. Retrieved from https://sloanreview.mit.edu/article/why-companies-need-a-new-playbook-to-succeed-in-the-digital-age/
Tags
:
Digital age
,
Management development
,
Management Trends
Aleksandra works as a finance professional while studying towards her Ph.D. degree in finance. After studies at Oxford University, she obtained her MSc from the London School of Economics. Passionate about all things finance, her research interest revolves around FinTech and AI. She enjoys writing about everything that occupies her curious mind, usually finance and business-related. Her mission is to spread knowledge for the public good, and she's committed to making the world a better place through financial education. Avid runner and nature lover.