Organizational agility can't be enacted. You need to work both on the structural and behavior level to enable your team or organization to be agile.Dr. Markus Nini
Where does organizational agility come from?
In its core agility is a decision-making and decision-implementation framework. It has its origin in cybernetics, biology and physics, and was first introduced in the military by John Boyd. However, the basic principles underlying agility have been around for a much longer time. For instance, ancient Chinese military strategist Sun Tzu already applied agile principles in his seminal work "The Art of War", which dates back to 5th century BC.
How does organizational agility work?
The easiest way to understand how organizational agility works is by taking a look at the Observe, Orient, Decide and Act loop, also referred to as OODA-loop. Introduced by John Boyd in 1976, the OODA-loop describes how any living organism interacts with its environment to achieve its goals (Enck, 2012). It states that organisms that are exposed to similar environments go through the OODA-loop faster and are more competitive than their slower counterparts. Why is this the case? Because they can adjust to their environment quicker and can thus also come up with more viable actions to shape the environment in their interest. Therefore, competing organisms are outmaneuvered and finally outperformed. This is precisely what constitutes an agile approach.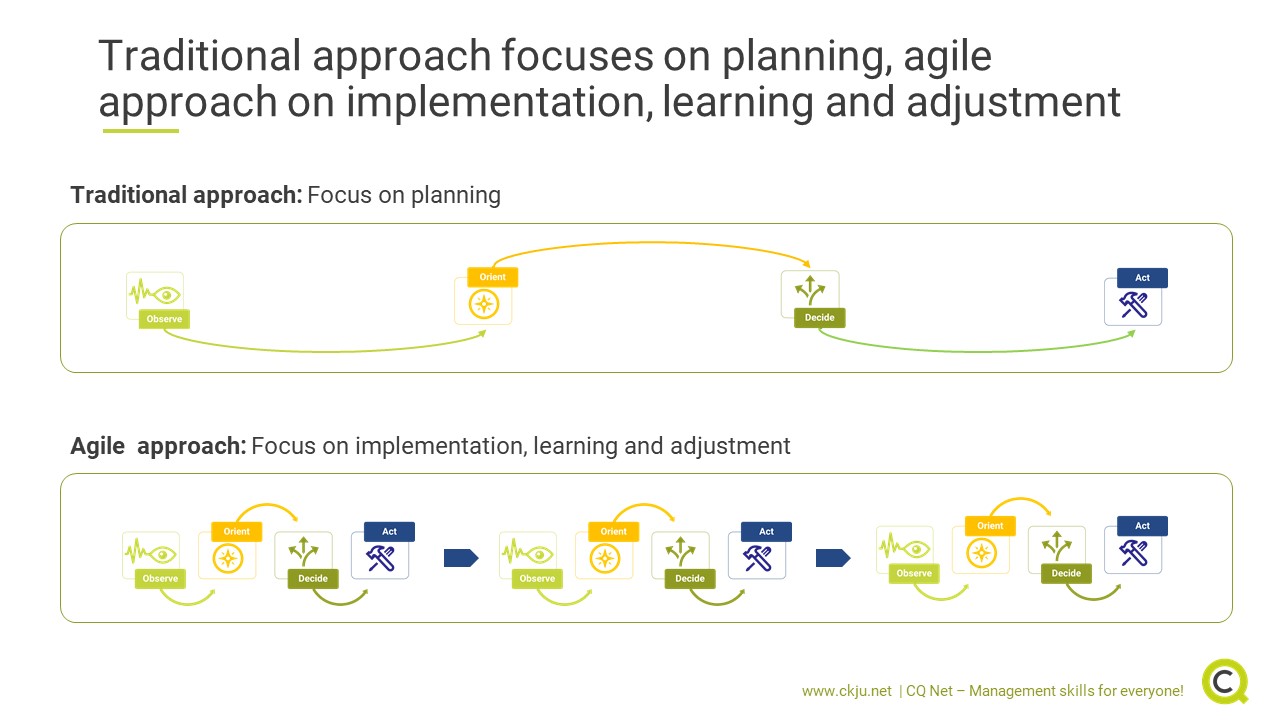 Why is organizational agility important in management?
It does not make a difference whether we talk about organisms, teams, departments, organizations, companies or any other entity that is exposed to a particular environment and wants to shape it. It also does not make a difference whether we talk about agility in project management, product development, leadership, operations, marketing or any other business function.
Organizational agility is a universal management concept you as a professional should have in your management toolbox, ready for application. However, it does not make sense to strive for organizational agility in general. Whether an agile approach really adds value or is just a burden depends on a set of factors we will have a look at in this article. In addition, there is no one way to implement organizational agility. Depending on your specific situation it makes sense to consider different flavors of organizational agility.
To be agile or not: The objective-environment matrix
The two most important elements that determine whether an agile approach adds value or not are on the one hand the objective you want to achieve, and on the other hand the environment you are exposed to. You can use these two dimensions to create an objective-environment matrix as shown in the picture below.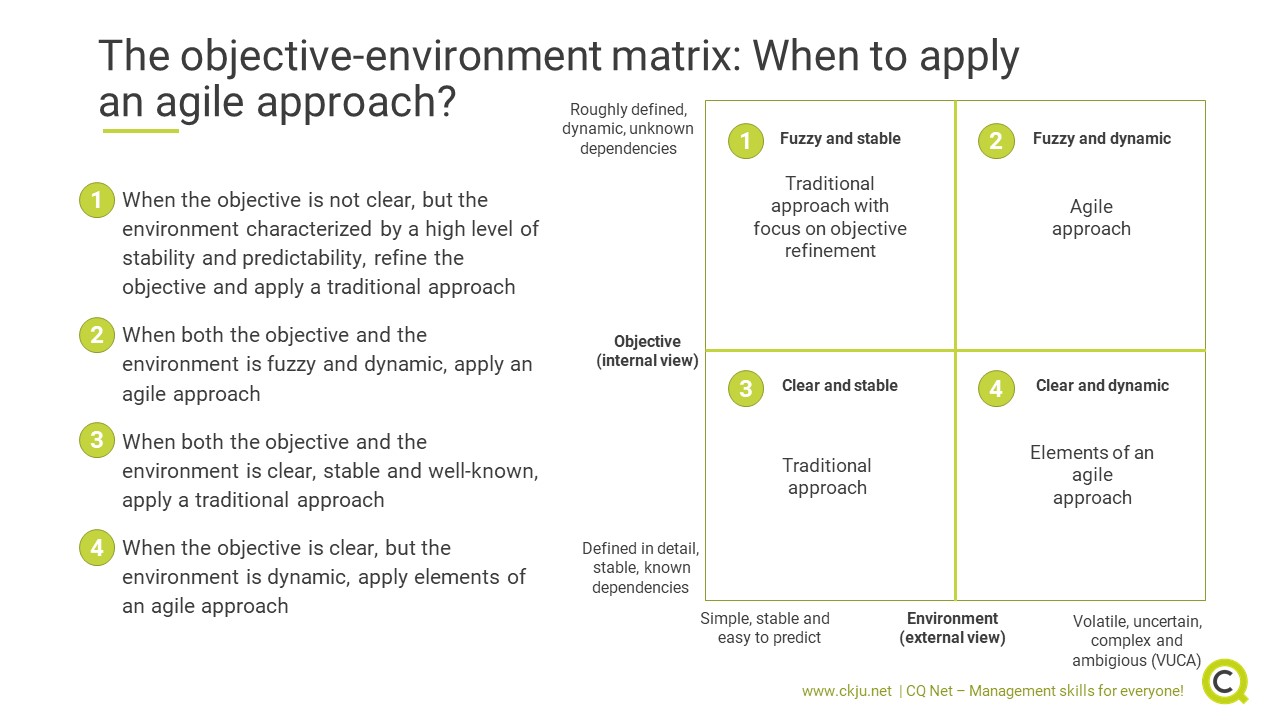 Dimension 1: What do you want to achieve with your task, project, management intervention or change initiative?
It all starts with your objective: What do you want to achieve with your task, project, management intervention or change initiative? In its extremes, your objective can be roughly defined and still be subject to change, or it can be defined in every single detail and is likely to remain stable over time. In reality, your objective is unlikely to truly fit one of those extremes but will be somewhere in between them. Another important questions you need to ask is whether your objective is complex or rather easy. When it is complex, it consists of a set of sub-objectives that depend on each other, whereas it is not yet fully clear how those dependencies look in detail.
Dimension 2: What does the environment look like?
The second dimension is about the environment you want to change. This, in turn, influences whether you achieve your objective or not. Again, there are two extremes whereby one is defined as an environment that is simple, stable and easy to predict, and the other is an environment that is volatile, uncertain, complex and ambiguous, also referred to as VUCA. In a VUCA environment, it is hard to make the right decision without being aware of most recent environmental developments (Joiner, 2019).
How much agility: The four categories of the objective-environment matrix
The objective-environment matrix consists of four different categories that help you to decide on how much agility is appropriate for your particular situation. We will take a look at each of the four categories in detail:
Fuzzy and stable (1): Traditional approach with focus on objective refinement
When the objective is not very well defined, but the environment is characterized by a high level of stability and predictability, it is most appropriate to refine the objective and to apply a traditional approach. The emphasis however should be on getting a clear understanding what you want to, why you want to achieve it, and how you want to achieve it.
While this might sound straightforward at first glance, reality tells a different story. This especially applies when emotions and politics are involved, and people tend to prioritize fast results over sound planning and strategy. In addition, once you make your objective more specific, you might also find that it is not as simple and as loosely coupled with the environment as you expected it to be at the beginning. Consequently, things get more complicated you it could even be the case that you must move to categories 2 or 3.
Problem-solving processes are one example that usually start as "fuzzy and stable". Let's assume you face an issue with a piece of machinery. You can observe the malfunction, but you don't know yet where it comes from and what you can do to solve it. In such a situation, you can apply problem-structuring tools such as "five whys" or an Ishikawa Diagram to get to the root cause of the malfunction and to gain a better understanding of what you want to achieve. Assuming the environment is stable and not too complex, you just can implement your solution and the problem is solved.
Fuzzy and dynamic (2): Agile approach
When you face a situation with an objective that is not well-defined and a VUCA environment, an agile approach is most appropriate. Instead of investing a lot of energy into planning, you should focus on implementation, learning, and adjustment. Depending on your specific situation, this requires you to go through several iterations of the OODA-loop. How long one iteration takes depends on the speed of change of your environment.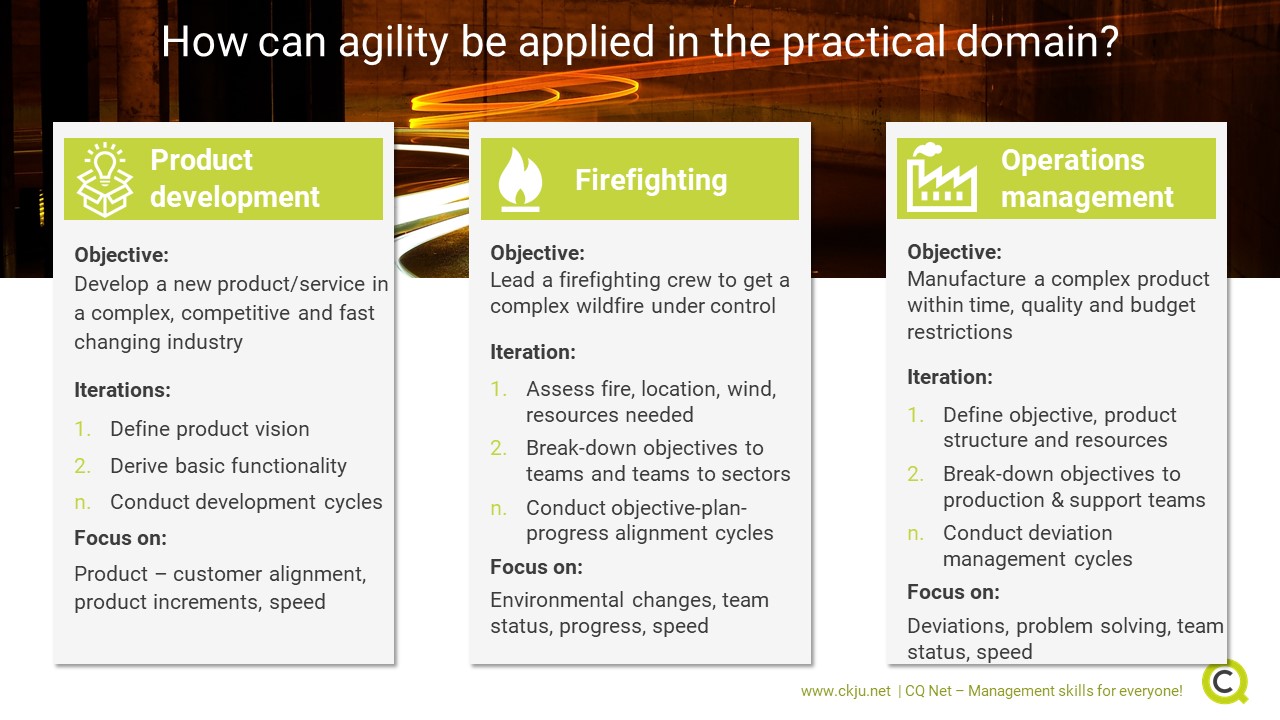 Complex natural disasters (Lubitz, Beakley, & Patricelli, 2008) such as wildfires usually unfold in a way that is best described by the VUCA concept. This makes an agile approach the only viable choice to manage such a situation in an effective way. It all starts with an assessment of the fire, its location, environmental factors (e.g. weather), and the resources needed to achieve the desired objective. Going through the OODA-loop, you could conclude that the objective defined first is already outdated and must be changed.
Other examples of category 2 tasks include complex product development initiatives or the introduction of new regulations.
In a large, complex project you will go through the OODA-loop multiple times on different levels and with different teams. All the information collected, real-time lessons learned, interventions strategies developed, and actions taken are fed into the different OODA-loops on different levels. This allows you to adapt the objective and the interventions taken in the most effective and efficient way.
You can imagine that this is a very intensive process which can't be implemented without a proper team or organizational setup. Or to phrase it differently: Organizational agility cannot be enacted. You need to work both on the structural and behavior level to enable your team or organization to be agile.
Clear and stable (3): Traditional approach with continuous improvements
When the objective is clear and the environment is stable and predictable you might choose a traditional approach. As it is clear to you what you want to achieve and which levers you have to move, you don't need to put much effort into planning, learning, and adjustment. This usually applies to routine tasks in a well-known environment.
Tasks in category 3 can easily be standardized and formalized. For instance, you could create checklists and standard operating procedures to efficiently implement them. Once you went through them a couple of times you can ask yourself where and how to improve the process to the next quality level. Going through such a continuous improvement process (also referred to as CIP) can also be considered as a basic form of agility. You take one step back and work on the process rather than in the process. You do this again in a set of CIP iterations.
Clear and dynamic (4): Elements of an agile approach
The fourth and last category 4 refers to a well-defined objective, but a dynamic environment. You know what you want to achieve, but you have to adjust your actions to environmental changes. In such a situation you will put even more emphasis on your "sensors" to understand how the environment changes and why it changes. Once you get this sensory feedback, you will adjust your intervention strategies accordingly. This makes an agile approach the tool of choice for category 4 as well. However, as your objective is quite clear, you do not need to gear your team or organization towards the same level of flexibility as you would need for a full-agile approach. What does that mean?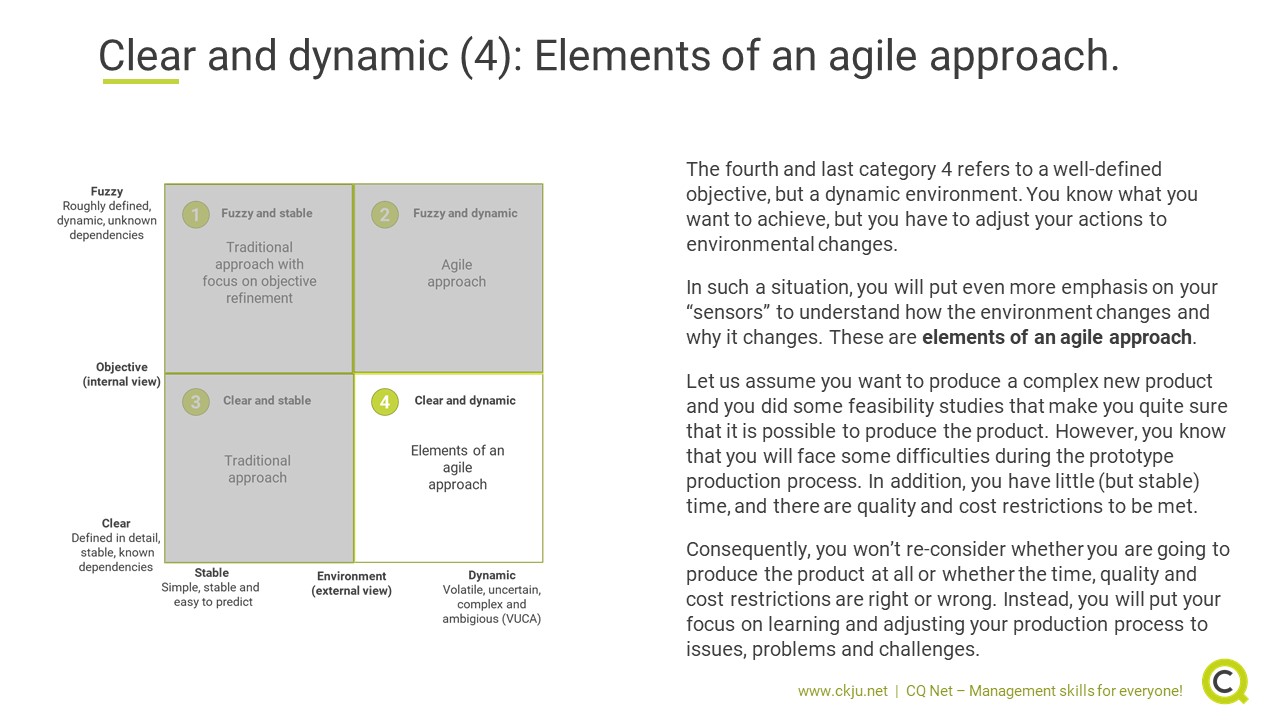 When you apply a full-scale agile approach, you will always consider the objective-environment relationship when going through the OODA-loop. The key question is: How do the environmental changes impact whether I have to update my objective or not? When you know precisely what you want to achieve, you do not have to spend too much time on that process.
Let us assume you want to produce a complex new product and you did some feasibility studies that make you pretty sure that it is possible to produce the product. However, you know that you will face some difficulties during the prototype production process. In addition, you have little (but stable) time, and there are quality and cost restrictions to be met. Consequently, you won't re-consider whether you are going to produce the product at all or whether the time, quality and cost restrictions are right or wrong. Instead, you will put your focus on learning and adjusting your production process to issues, problems and challenges that might come up during the production process. As you don't know them at the beginning, you will choose elements of an agile approach, but not a full-scale agile setup.
Organizational agility is a powerful tool to improve organizational performance
Organizational agility is not another management fad but a powerful tool to improve organizational performance. Agility combines a set of evidence-based management practices into a holistic concept that can add value in various situations. However, as with most management tools, it strongly depends when and how you apply it.
References and further reading
Enck, R. E. (2012). The OODA Loop. Home Health Care Management & Practice, 24(3), 123–124. https://doi.org/10.1177/1084822312439314
Joiner, B. (2019). Leadership Agility for Organizational Agility. Journal of Creating Value, 5(2), 139–149. https://doi.org/10.1177/2394964319868321
Lubitz, D. K. J. E. von, Beakley, J. E., & Patricelli, F. (2008). 'all hazards approach' to disaster management: The role of information and knowledge management, Boyd's OODA Loop, and network-centricity. Disasters, 32(4), 561–585. https://doi.org/10.1111/j.1467-7717.2008.01055.x
Tags
:
Agility
,
OODA-loop
,
VUCA

Markus is a senior management counselor with CQ Net - Management skills at work! He combines more than 15 years hands-on leadership experience from the private sector with in-depth knowledge in the area of people and organizational development. Markus holds a MSc in Organizational Behaviour and a Doctoral Degree in Management.