Why should you care about organizational communication?
Organizational communication can play an important role in an organization's performance and survival, affecting critical issues like innovation, safety, and operational improvements (Ancona & Caldwell, 1987; Edmondson, 2003; LePine & Van Dyne, 1998; Scott & Bruce, 1994). Information delivered among professionals and from subordinates to leaders allows leaders to have sufficient knowledge to make good decisions and to keep a close eye on emerging issues (Dutton & Ashford, 1993). Employee silence about organizational problems, from medical errors to process improvements, can have an adverse effect on organizational learning (Edmondson, 2002, 2003; Weick & Ashford, 2001).
What is organizational communication?
Most people understand that good organizational communication is essential to maintaining good relationships inside and outside of work. Without good organizational communication, we fail to see issues that others can see, which prevents us from being able to make improvements.
Additionally, in the workplace, communication is vitally important in organizations where safety is an issue (e.g., hospitals, aerospace). Without organizational communication, we cannot learn or innovate. This CQ Dossier will give specific examples from the literature about the major areas where organizational communication is essential.  
How does organizational communication work?
Organizational communication is related to a set of positive outcomes with an immediate impact on performance. We will have a look at innovativeness, safety and process improvements in the following section.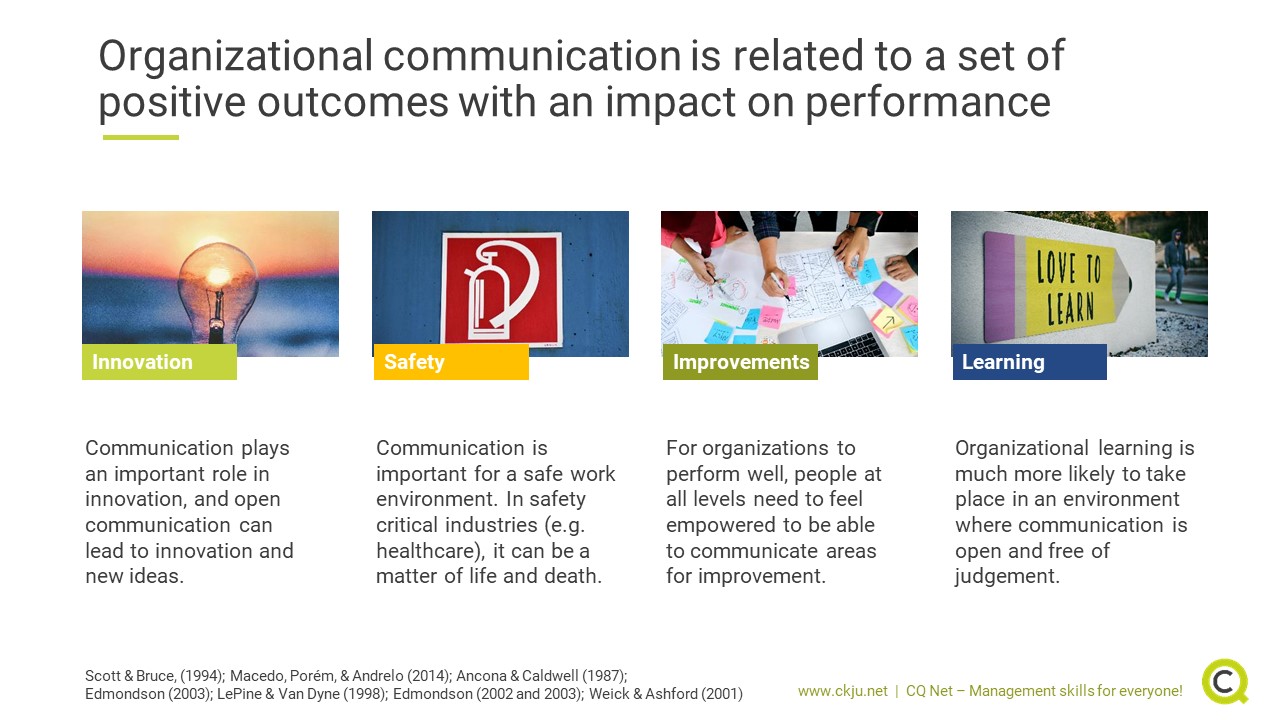 Organizational with good communication are more innovative
Communication plays an important role in innovation, and open communication can lead to innovation and new ideas in a number of ways (Scott & Bruce, 1994). Employees who understand what is important to their organizations can focus on making improvements and identifying opportunities for innovation that can help further success rather than simply just doing the bare minimum required by their job descriptions.
When employees know that their ideas will be valued and that company leaders will have open minds and are responsive to their feedback, they are more likely to share their ideas. Numerous studies have found that organizations with good communication are also more innovative (e.g, Macedo, Porém, & Andrelo, 2014).
Example: Communication in product development teams
New product development teams are particularly dependent on communication patterns and processes both within the group and with outsiders. These teams must obtain information and resources from other parts of the organization, interact internally to create a viable product, and transfer their work to other groups who will build and market the product (Ancona & Caldwell, 1987). Thus, in order to successfully complete a product, team members must be able to communicate with outsiders and to be able to work with one another.
In one example, a study of 32 small and medium-sized industrial enterprises explored communication and innovative performance. The results showed that intra-organizational aspects of communication, such as encouragement of initiatives and critical evaluation of performance, were associated with innovative performance.
In addition, communication and interaction between the personnel in R&D, marketing and production were related to innovation. Furthermore, interaction with clients and other firms increased the likelihood that a company would have more patents (Kivimäki et al., 2000).
Organizational communication in safety critical environments can be a matter of life and death
There have been many situations where failure to communicate has led to errors or oversights, and some of these have had serious consequences. In 2003, the American space shuttle Columbia was disintegrated upon re-entering Earth's atmosphere, killing all seven crew members due to defects in the design.
In an interview, Rodney Rocha, NASA engineer, can be seen explaining why he didn't speak up during the Columbia mission (Refer to the NASA case study for more information):
"I just couldn't do it [speak up in a meeting about the foam risk]. She [senior manager Linda Ham] was way up here [gestures with hand overhead] and I was way down here [gestures with low hand]."
In this case, the disparity between Mr. Rocha and his boss, combined with a hierarchical culture at NASA, made it very difficult for Mr. Rocha to speak up.
Communication failures can have severe consequences in healthcare
In healthcare, communication failures have been linked to 1,744 deaths in five years in the United States, according to a study by CRICO Strategies (2016), a research group that tracks lawsuits against healthcare organizations and staff. 
In one instance, a nurse failed to tell a surgeon that a patient experienced abdominal pain and a drop in the level of red blood cells after the operation. These are signs that the patient may have internal bleeding. The patient later died of a haemorrhage due to internal bleeding.
In another case, a generalist doctor referred a patient to a lung specialist but failed to mention lab results signalling possible early congestive heart failure, assuming that the specialist would see the results in the electronic medical record. Nine days later, the patient was rushed to the emergency room and died after his lungs filled with fluid.
These deaths, among 1742 others, could have likely been prevented with better communication between healthcare personnel. In these cases, communication is literally a matter of life and death.   
Organizational communication is key for process improvements
Speaking up at work can play an important role in an organization's performance and survival, affecting critical issues like innovation, safety, and operational improvements (Ancona & Caldwell, 1987; Edmondson, 2003; LePine & Van Dyne, 1998; Scott & Bruce, 1994).
For organizations to perform well, people at all levels need to feel empowered to be able to communicate areas for improvement. Junior employees may come in with new ideas and be less influenced by the pre-existing patterns in the existing organization.
Despite this possible advantage, not all senior members in organizations are receptive to suggestions from employees at junior levels. Information delivered from subordinates to leaders allows leaders to have sufficient knowledge to make good decisions and to keep a close eye on emerging issues (Dutton & Ashford, 1993).
Employee silence about organizational problems, from medical errors to process improvements, can have an adverse effect on organizational improvements (Edmondson, 2002; Weick & Ashford, 2001). Regardless of positive organizational effects of communication about improvements, individuals are generally reluctant to speak up at work due to a variety of social and psychological forces (Kish-Gephart, Detert, Trevino, & Edmondson, 2009).  
Organizational communication is critical for organizational learning 
Communication is critical for organizational learning, and numerous studies have demonstrated this effect (Edmondson, 2002, 2003; Weick & Ashford, 2001). In one notable study, Edmondson (2003) examined learning in interdisciplinary surgical teams.
Edmondson was interested in how members of teams had to coordinate action the uncertain, fast-paced environment of cardiac surgery. She wanted to understand the extent to which they are comfortable speaking up with observations, questions, and concerns – and how that would influence learning and patient outcomes.
How to implement effective organizational communication? The example of minimally invasive cardiac surgery (MICS) teams
Specifically, she studied teams of healthcare staff who were engaged in minimally invasive cardiac surgery (MICS), a new technology introduced in the early 2000s that was dependent on team function among all staff who played an equally important role in every procedure.
In the past, one cardiac surgeon essentially ran the entire operation with other staff playing a purely supportive role. The benefits of good team functioning in a MICS operation was that the patient could have a shorter recovery time and better outcome.
All MICS team members have to perform on the same high level
The cardiac surgeons were the "leaders" of these new MICS teams, but it was critical that each member of the operating team (from the techs to the nurses and anaesthesiologists) performed at the same level. They had to know exactly what to do at all times and to exchange the right information at the right time.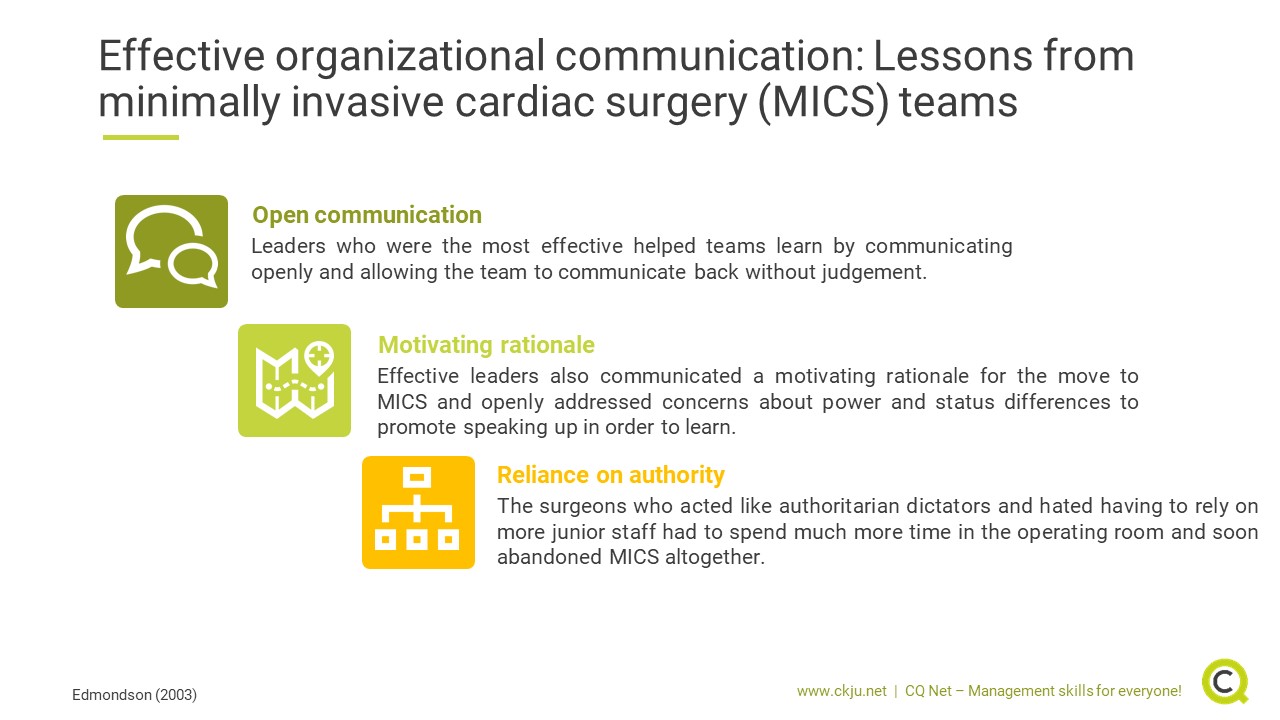 However, every patient was different and the complexity was high. They all had to work together and learn this new technology effectively, in order to flexibly adjust to each patient. It was important that they communicated about how to work together more effectively and minimized their learning curve.
Leaders who helped teams learn by communicating openly improved team performance
Edmondson analysed what leaders of teams did to promote communication in 16 separate hospital teams learning the new MICS technology. She found that team leader coaching and ease of communication were associated with successful learning of the new technology. Leaders who were the most effective helped teams learn by communicating openly and allowing the team to communicate back without judgement.
Leaders who facilitated open communication had shorter operating times
Effective leaders also communicated a motivating rationale for the move to MICS and openly addressed concerns about power and status differences to promote speaking up in order to learn. The surgeons who were able to facilitate open communication inside and outside of the operating room had significantly shorter operating times (4 hours versus 8 hours) and fewer patient complications.
Leaders who acted like authoritarian dictators abandoned MICS 
The surgeons who acted like authoritarian dictators and hated having to rely on more junior staff had to spend much more time in the operating room and soon abandoned MICS altogether to go back to the old methods of cardiac surgery (Edmondson, 2003).
They were no less capable of performing MICS on a technical level (in fact, some were among the most famous cardiac surgeons in America), but their inability to communicate made it impossible for their teams to learn and function properly to execute a successful surgery in a reasonable amount of time.
Organizational communication is an important element to improve performance
Organizational communication has many effects on performance, and this CQ Dossier summarized some of the more significant examples in the literature. For example, in order for organizations to innovate, they must communicate effectively.
Additionally, organizational learning is much more likely to take place in an environment where communication is open and free of judgement. Last, safety is highly dependent on proper communication between members of an organization in industries ranging from healthcare to aerospace.
Communication is critical for an organization to function well, and leaders should work to remove barriers that stifle communication in order for an organization to flourish. 
Key recommendations for professionals
Communication increases innovation, safety, and operational improvements in organizations
Communication allows leaders to know what is happening at all levels of the organization and to keep an eye on emerging issues
Employees who have open minded leaders and know that their ideas are valued will communicate and contribute to innovation
Failures of communication have led to death in NASA and healthcare environments
Communication is necessary for organizational learning and growth, particularly in complex and high-pressure environments
Management skills newsletter
Join our monthly newsletter to receive management tips, tricks and insights directly into your inbox!
References and further reading
Ancona, D. G. & Caldwell, D. (1987). Management issues in new product teams. Advances in Industrial Relations. Greenwich, CT: JAI Press.CRICO Strategies (2016).
Failures in Communication Lead to Medical Malpractice. Retrieved from https://www.rmf.harvard.edu/About-CRICO/Media/Press-Releases/News/2016/F....
Dutton, J. E. & Ashford, S. J. (1993). Selling issues to top management. Academy of Management Review,18, 397-428.
Edmondson, A. C. (2002). The local and variegated nature of learning in organizations: A group-level perspective. Organization Science, 13, 128-146.
Edmondson, A. C. (2003). Speaking up in the operating room: How team leaders promote learning in interdisciplinary action teams. Journal of Management Studies, 40, 1419-1452.
Kivimäki, M.,  Länsisalmi, H.,  Elovainio, M., Heikkilä, A., Lindström, K., Harisalo, R.,  Sipilä, K.,  & Puolimatka, L., (2000). Communication as a determinant of organizational innovation. R & D Management, 30, 33-42.
LePine, J. A. & Van Dyne, L. (1998). Predicting voice behavior in work groups. Journal of Applied Psychology, 83, 853-868.
Macedo, A.M., Eugêni, M.E., & Andrelo, R. (2014). Organizational communication and innovation in micro and small companies: a study on the application of the "Innovation Radar." Comunicação e Sociedade, 26, 136-161.
Scott, S., & Bruce, R. (1994).  The influence of leadership, individual attributes, and climate on innovative behavior: A model of individual innovation in the workplace. Academy of Management Journal, 37, 580-607.
Weick, K. & Ashford, S. J., Communication and Organizational Learning. In F. M. Jablin & L. Putnam (Eds), New Handbook of Organizational Communication. (2001). 704-731
About the Author
Aaron has been a management consultant in organizations for over ten years. He previously earned his PhD in organizational behavior focusing on communication and organizational culture. He is focused on improving organizations through positive culture change and teaching strategies to improve communication.