Mangement teams determine organizational performance.
The management team has a huge impact on whether an organization performs well or not. Whenever the management takes a business-related decision, it affects the organization. This is very clear for strategic decisions which have by their very nature an impact on the long-term development of an organization. However, the impact of a management team on organizational performance goes much further than strategic decision-making.
It is the small decisions and daily interactions that count at least as much when it comes to organizational performance. How can you identify whether a management team undermines organizational performance? Look at the following six signs.
Withholding information.
When individuals in a management team withhold information from their peers it is a red flag you should worry about. It is a sign of mistrust and a lack of transparency in the management team.
Withholding information breaks the management's team mental model as not all bits and pieces relevant for leading the organization are available to all team members. Therefore, decision making speed and quality deteriorates and organizational performance is decreases.
There is also a considerable risk that other members of the organization start to withhold information from their peers as they adapt the behavior of their managers. A vicious circle starts that hurts an organization's potential to innovate and grow when you don't initiate countermeasures.
Putting individual interests before organizational ones.
Human beings tend to put their individual interests first. This behavior is deeply rooted in human nature. Teams and organizations emerged as means to bundle forces and survive in a potentially deadly environment.
While the environment of contemporary teams and organizations is not as deadly as it was in ancient times, not much of the basic principles changed. Teams and organizations are all about bundling forces to achieve a shared objective. When managers start to put their individual interests consistently and continuously before organizational ones, it hurts organizational performance.
One area you should look for in such a situation is leadership. It is the leader's responsibility to create a clear picture of an organization's future and gather the management team behind it.
Fear of addressing problems.
Open communication is an important driver of organizational learning. When management team members don't address problems because they fear of being rejected, it is another red flag you should worry about.
In a high-risk environment a lack of upward communication can have severe consequences. Think of a problem that undermines the safety of a mission critical system which could lead to a loss of life. In less risky situations not speaking up can lead to important process improvements not being recognized and implemented.
The reason for management team members not speak up could be a lack of psychological safety. A group-level phenomenon, psychological safety describes whether individuals feel accepted within their teams and are willing to take risks without being judged in a negative way.
Lack of strategic alignment.
As mentioned earlier, teams and organizations are about bundling forces to achieve a shared objective. When there is a lack of strategic alignment in the management team, the individual team members don't coordinate their activities in a way such that synergies are realized. This is a weak point compared to competitors who manage to focus their energy on a set of key objectives and thus better coordinate their efforts.
When you get the feeling that this is the case, look for something that describes your organization's future orientation (strategy, mission statement, strategic goals, key objective vision etc.) the organization is heading for. When you don't find anything, your management team most properly lacks strategic alignment. When you find something check whether the organization (management team and beyond) knows about it. A strategy does only add value when people are aware of it and use it in daily business.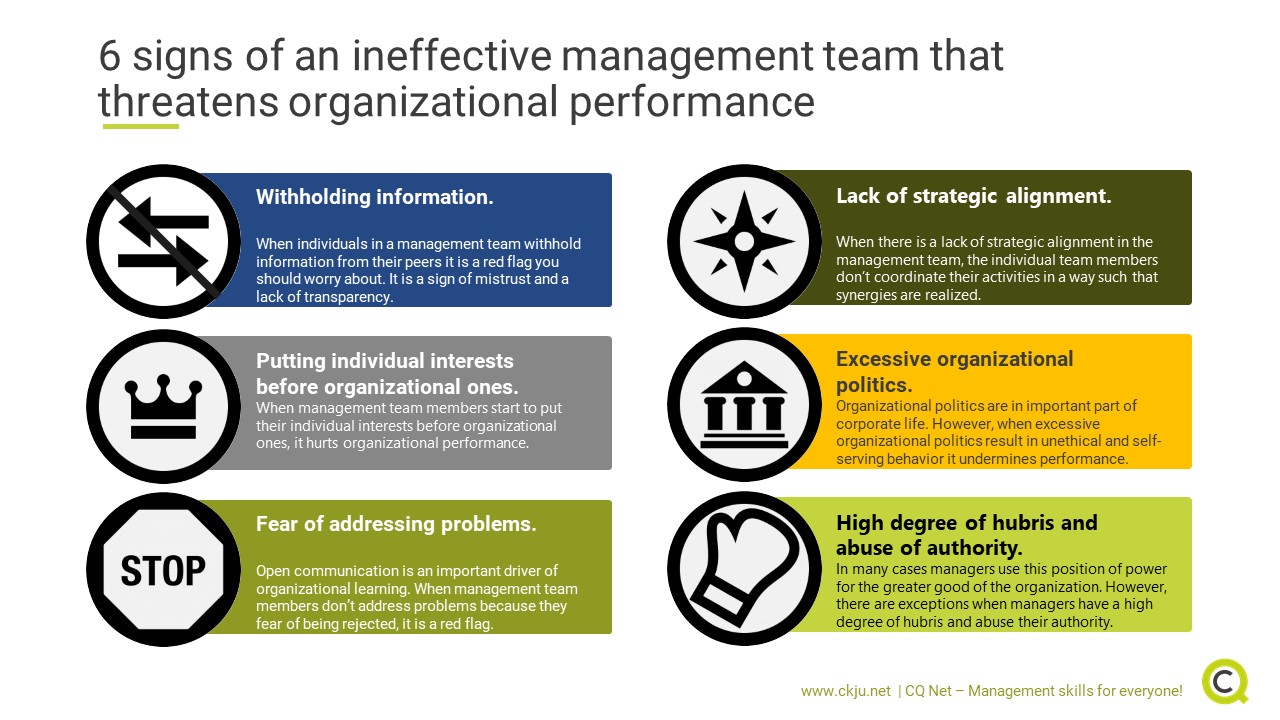 Excessive organizational politics.
Organizational politics are in important part of corporate life. Politically skilled individuals tend to be more effective in the workplace than less politically skilled ones. However, when excessive organizational politics result in unethical behavior, infighting and self-serving behavior organizational performance declines.
The utilization of power is an important part of corporate politics and pervasive in a management team. Look whether team members use their power in a self-serving manner or to achieve goals that are in line with the mission of the firm.
How much time do you and your management team members spend to manage the political game?
Does it distract you from getting the important things done?
While there are certain measures you can take to reduce the risk of excessive organizational politics, there are people who tend to put more energy into destructive politics than other ones.
High degree of hubris and abuse of authority.
Management teams and their members are in a position of authority by their very nature of the role they embody in an organization. In many cases managers use this position of power for the greater good of the organization. However, there are exceptions when managers have a high degree of hubris and abuse their authority which has a negative impact on organizational performance.
When managers develop a high degree of hubris and abuse their authority, it could be a sign for destructive or toxic leadership. Managers with dark leadership traits such as Narcissism, Hubris and Machiavellianism have a higher likelihood to derail and undermine their followers. Management teams composed of individuals with dark traits foster a toxic work environment which leads to a lack of psychological safety and fear.
Ineffective management can be avoided and mitigated
Ineffective management undermines organizational performance and has to be avoided at all. In case it is already an issue, you should implement appropriate countermeasures to mitigate the negative side effects. A strong management team is the result of a set of well thought through decisions and development interventions. It all starts with selecting the right individuals.
Once the team is defined, you need to setup an appropriate leadership process. Such a leadership process should incorporate measure to foster psychological safety in your management team, establish team mental models and develop a strategy.
During this journey you should always watch out for any of the above-mentioned signs on the horizon and counter them with the right team development measures.
There is more than management teams in organizations
Management teams are an important building block of any organzation. However, there are many more teams in organizations that contribute to or undermine organizational performance. In a world characterized by a high level of volatility, uncertainty, complexity and ambiguity (also refered to as VUCA) teams are the tool of choice to solve problems, develop new products and implement major change initiatives.
Ineffective teams undermine organizational performance
The 6 signs presented above do not just apply to management teams but to almost any other team. A lack of information sharing, selfish behavior, fear of speaking-up, no clear direction about the team's purpose, excessive politics and toxic personalities do harm team performance in general. It is up to you to recognize whether your team is in harm's way and initiate the right activities to get your team back on track.
Tags
:
Leadership
,
Team Building
,
Team Performance Management
,
Toxic leadership

Markus is a senior management counselor with CQ Net - Management skills at work! He combines more than 15 years hands-on leadership experience from the private sector with in-depth knowledge in the area of people and organizational development. Markus holds a MSc in Organizational Behaviour and a Doctoral Degree in Management.