Executive summary
The terms change agents, change champion or change catalyst have become an integral part of jargon in almost any type of organization. In this CQ Dossier we provide a definition of change agents, describes the role of change agents within organizations, the way in which change agents support change management initiatives, characteristics of effective change agents and provides practical tips on how to best utilize change agents and the strengths and limitations of use.
What are change agents?
A change agent also referred to as change champion or change facilitator is someone who is employed to improve organizational effectiveness through utilizing planned, deliberate strategies (Kendra & Taplin, 2004).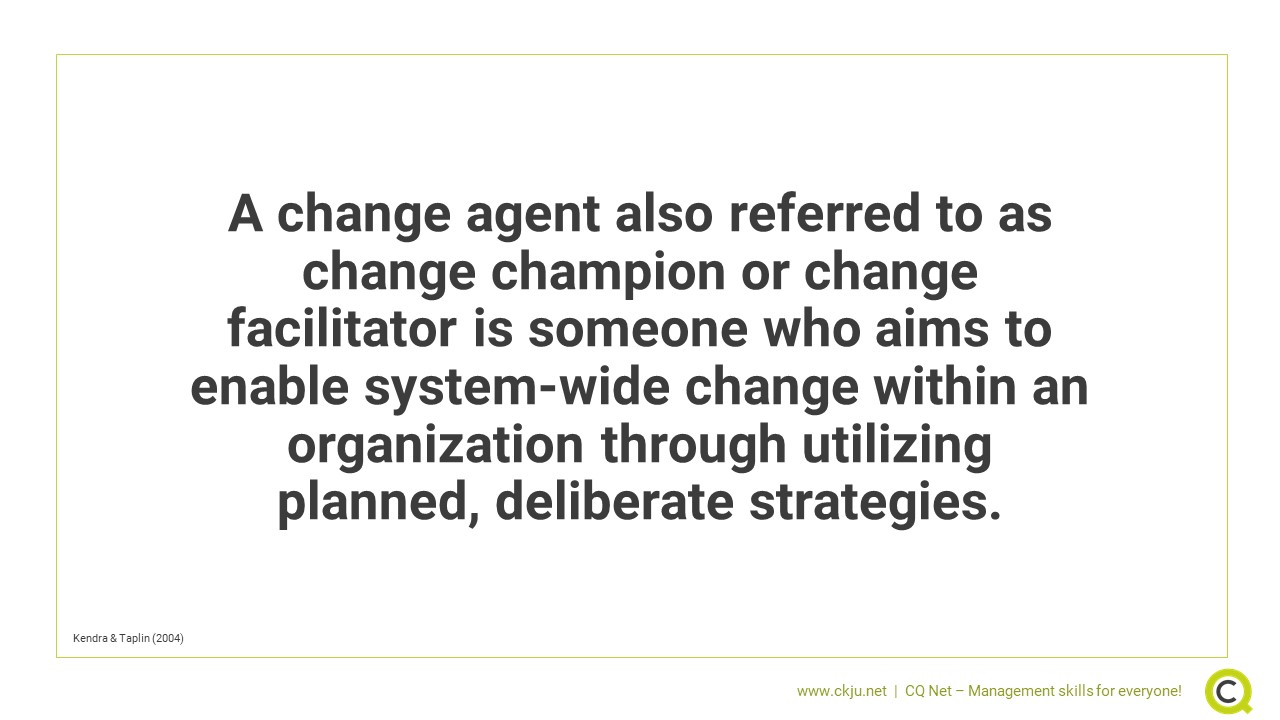 The change agent aims to enable system-wide change within an organization (Kendra & Taplin, 2004). Several organizational science researchers have argued that the ability of change agents to stimulate change within organizations is an integral dimension of organization success (Tichy, 1974).
Organizations appoint change agents to transform the methods used to manage the way in which business is conducted. These change agents can be managers, employees, or external consultants, who are hired to facilitate change initiatives.
How do change agents support change management initiatives?
If an organization utilizes internal change agents then these individuals can be effective through having a knowledge of the organization's history, operations, and human resources. External change agent can also enable change management initiatives through providing a novel perspective to the firm and not showing bias based on previous knowledge of the organization's history (Anderson, 2011).
However, this lack of knowledge of the firm can hamper an external change agent's effort. One way to overcome this limitation is for the organization to pair an external change agent with an internal change agent. This internal agent can, for instance, be recruited from within the human resources function (Lunenberg, 2010). In Fortune 500 or large organizations, the firm might have an internal change agent who can work directly with senior management to facilitate change (Lunenberg, 2010).
Change agents support change inititatives through consulting, training and research
Change agents can support change management initiatives in three ways: consulting, training, and research (Stephen, 2010):
In the role of consultant, the change agent can connect employees with critical data external to the organization or can involve employees in data collection from within the organization. Data can be a useful source of information in creating change within the organization because it allows employees and management to build predictive models. Change agents can enable employees to solve problems through statistical analysis of valid and reliable data (Lunenberg, 2010).
In the role of trainer, the change agent can facilitate learning, through educating employees how to use the data to initiate change (Lunenberg, 2010). As a trainer, the change agent can help employees initiate action through data analysis and provide employees with a new skillset such as the ability to collect and use new data to solve organizational problems (Lunenberg, 2010).
The change agent can also take the role of researcher through development of evaluation systems that assess the effectiveness of action plans (Lunenberg, 2010).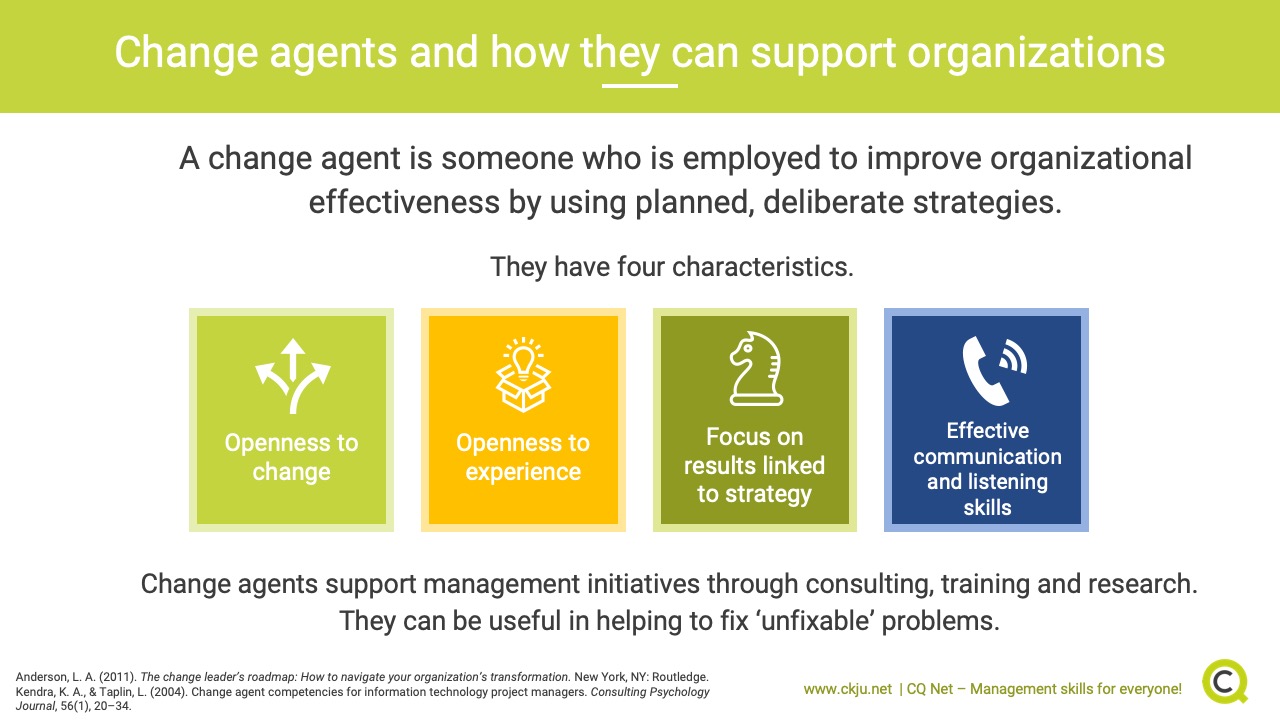 What are the characteristics of an effective change agent?
Researchers have identified several characteristics of effective change agents (Anderson, 2011).
Openess to change
First, effective change agents are flexible in that they are open to change and are able to be creative through identifying non-traditional methods to help organizations grow. Through being flexible, change agents can connect with people of different generations, hierarchical levels and business (functions) to identify the skillset of each employee.
Openness to experience
Second, effective change agents display diversity in their knowledge and are not rigid in their thinking. Instead, they gain knowledge through finding techniques that are appropriate for their industry and organization.
Focus on results linked to strategy
Third, successful change agents are efficient in that they prioritize and have a results focus. Moreover, this results focus is tied to the firm's objectives and is integral to the strategic plan. This focus on outcomes enables change agents to demonstrate clear and transparent expectations to employees and enables more effective decision-making.
Effective communication and listening skills
Fourth, effective change agents also have effective communication skills such as good listening and are able to empathize with employees (Lunenberg, 2010). Effective change agents are also open and are willing to listen and take advice from people within the organization (Lunenberg, 2010).
Empirical research also suggests that the language used by change agents is important in tackling resistance to change. When change agents use autonomy-restrictive utterances, employees tend to resist change, so it is important that change agents consider the language that they use in fostering change (Klonek, Lehmann-Willenbrock, & Kauffeld, 2014). The three basic psychological needs autonomy, relatedness and competence provide a possible theoretical foundation for this finding.
Where should you use change agents?
In deciding where to use change agents, it seems that change agents are most effective when they are placed in situations where problems need to be fixed. In a Harvard Business Review article, the authors suggest that change agents can work on business problems that appear unfixable such as conflicts between departments and employees' demotivation. They suggest utilizing current employees as agents of change and for them to be integral to the change needed within the organization.
They suggest that the community should become the experts and state, "…problem identification, ownership, and action begin in and remain with the community." In this way, internal agents within the community can reframe a problem through fact and also feel safe because the action to be taken is within the control of the community. Utilizing this approach can merit the use of external change agents who can work with the community as facilitators and use a fresh perspective.
What are the limitations of change agents?
As mentioned previously, there are limitations in using external change agents because although they bring a fresh perspective, they are less familiar with the background, culture, and history of the firm.
Internal change agents also can demonstrate bias in bringing change to the organization because they are part of the cultural environment. The other limitation of using external change agents is that eventually, they finish the change initiative and move onto to other projects.
One of the benefits of having an internal change agent is that they are still part of the organization and can monitor progress even after implementation of a change intervention.
Practical tips on how to use change agents
It is important that organizations identify the issues within the organization before recruiting a change agent. Performing a needs analysis allows organizations to identify the type of change agent that is required. For example, an organization might identify a need for an organizational transformation and can recruit an external change agent who can exert pressure that evolves into radical change within the firm (Lunenberg, 2010).
The recruitment of change agents should also be part of a larger scheme that focuses on system-wide organizational change to implement strategies and to help people to adapt to change. Involvement of change agents should be part of this overall plan. John Kotter (1995) provides a useful model in his book 'Leading Change' with an 8-stage plan.
Change sustainability is a key concern especially when external change agents are involved. With a strong link to senior executives, external change agents can exert a considerable amount of power to change processes, structures, and behaviors. However, there is a risk that those changes are not accepted by employees and once the external change agents leave the organizations the change initiative fails.
In conclusion, change agents can be useful in enabling organizations to manage innovations and changes through adopting several roles within the organization.
Critical appraisal of change agents: Solidity Level 3
Based on the empirical evidence for the role of change agents, this CQ Dossier is assigned a level 3 rating, (Based on a 1- 5 measurement scale). A level 3 is the mid-way mark in demonstrating support for the effectiveness of change agents. Most of the literature is based on practical recommendations from scholars and practitioners. There is a need for more empirical, longitudinal research on how change agents can enable transformational change within an organization.
Key take-aways
The change agent aims to enable system-wide change within an organization
Change agents can be managers, employees, or external consultants
Change agents can support change management initiatives through consulting, training, and research
Effective change agents are flexible, open and willing to listen
Change agents are effective when problems need to be fixed
Change agents should be recruited as part of a larger organizational development scheme
References and further reading
Anderson, L. A. (2011). The change leader's roadmap: How to navigate your organization's transformation. New York, NY: Routledge.
Kendra, K. A., & Taplin, L. (2004). Change agent competencies for information technology project managers. Consulting Psychology Journal, 56(1), 20–34.
Klonek, F. E., Lehmann-Willenbrock, N., & Kauffeld, S.  (2014). Dynamics of Resistance to Change: A Sequential Analysis of Change Agents in Action. Journal of Change Management, 14,3, 334-360
Kotter, J. P. (1996). Leading change. Boston, Mass: Harvard Business School Press.
Lunenberg, F. C. (2010). Managing change: The role of the Change Agent. International Journal of Management, Business and Administration, 13, 1, 1-6.
Stephen, T. (2010). Successfully managing change in organizations. New York, NY: Industrial Press.
Tichy, N. M. (1974). Agents of planned change, congruence of values, cognition's and actions. Administrative Science Quarterly, 19(2), 164–182.
About the Author
Annette was born in England and now lives in the United States. She has a PhD in Industrial and Organizational Psychology and has taught at several institutions. Annette has published in several journals, including Journal of Applied Psychology, Personnel Psychology, Human Resource Development Quarterly, and Organizational Research Methods. She worked in the public and private sector for many years, primarily as a management trainer.