Executive summary
Psychological research has consistently demonstrated that one of the largest influences on employee performance, satisfaction, motivation, and collaboration ability is organizational culture (Belias & Koustelios, 2014). Hence, culture change is one of the focus areas in change management. Organizations that are warm, interdependent, and dynamic are typically healthier, more thriving organizations. Conversely, organizations that are cool, judgmental, or alienated typically have negative workplace outcomes, low retention, and low employee satisfaction. The existing research suggests that changes in culture can come about three ways: by identifying issues, by making small, bottom-up changes, and by large, top-down shifts (Alvesson & Svenningsson, 2015). 
Checking the temperature: Knowing your organizational culture
Good management should make sure to "take the temperature" of their workplace from time to time, to ensure the emergent climate and culture is a beneficial, productive one. When an organizational culture needs a significant shift, the responsibility for that often falls to management, too. If changes to organizational culture are on your horizon, it is your responsibility as a professional to first identify and describe the current culture as it exists. There are a number of ways to formally and informally assess organizational culture (Flowers et al, 2015).
Understanding organizational culture based on psychological surveys
A variety of psychological surveys exist that measure the climate of a workplace – that is, how warm and supported employees feel. Other measures assess how safe and appreciated an employee feels within the organization, and how connected they feel to peers and management. If you use such measures, make sure to administer them anonymously, and promise employees that their responses will not be tied to their name or any other identifying information. When such surveys are administered by a manager, response bias can be a concern – individuals may feel pressure to give more positive responses, and mask complaints. Reassure employees that you are seeking honest appraisals, and that you are interested in improving the organization, to help ameliorate this issue.
Understanding organizational culture based on observations
In many cases, it is more beneficial to assess organizational culture using observational means. Here are several outcomes to look at, and to evaluate (by yourself, and with the assistance of other managers & HR):
Are employees quick to seek out help and to collaborate with others?
Do employees raise concerns publicly, and freely?
Does management have to work to motivate employees, or are most people self-driven?
How does your employee retention rate compare to the average for your field?
How much fraternization do you witness between colleagues, and across levels in the hierarchy of your organization?
A workplace that has a beneficial, warm culture will feature high retention, high collaboration, free expression of concerns, and strong communication within and across status levels in the organization (van Hoorn, 2017)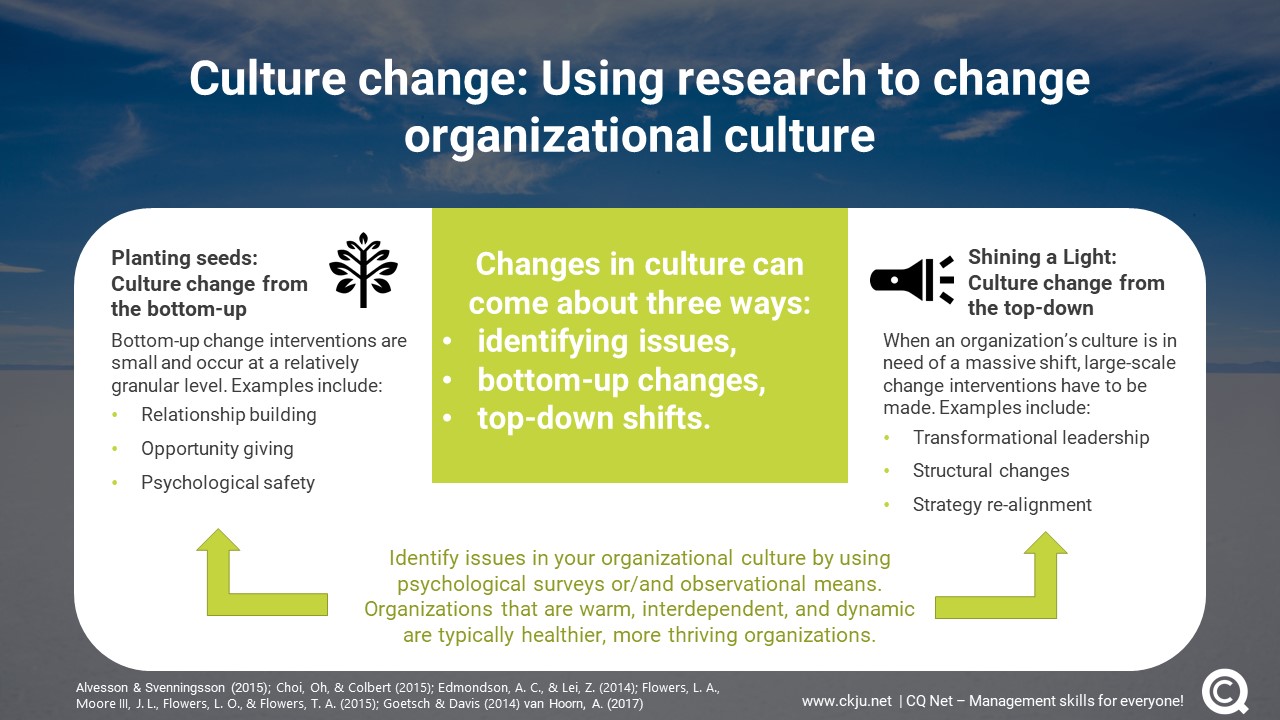 Planting seeds: Culture change from the bottom-up
If you identify issues within your organization's culture, there are many steps you can take to improve relationships and foster growth. Many impactful changes are small, and occur at a relatively granular level. These changes are typically quicker, and cheaper, to enact than large-scale shifts. These small changes can be organized into two categories: relationship building, and opportunity giving (Goetsch & Davis, 2014). On top of this we will also have a look at psychological safety as another important factor that impacts organizational culture. 
Management skills newsletter
Join our monthly newsletter to receive management tips, tricks and insights directly into your inbox!
Bottom-up culture change with relationship building
First, you can work to improve your organizational culture by making small, bottom-up changes to relationships within the organization. One way to improve relationships is by purposefully scheduling more quality, one-on-one time with your employees (Goetsch & Davis, 2014). Schedule meetings, or go out with employees for lunch or coffee, and make it clear the purpose is to establish a rapport, not to reprimand or judge. Ask about employee concerns and disclose an appropriate amount of personal information. Provide a means for employees to easily, safely share concerns with you – such as a suggestion box – and have open, low-stakes discussions about issues.
In addition, work to foster close connections between employees – provide more opportunities for peers to work together, schedule more socially bonding activities such as group lunches, workplace outings, or for-fun events that are optional, but enjoyable (Banker & Bhal, 2018). These steps will help you to tear down walls that divide individuals, and help foster the bonds that make a workplace warm.
Bottom-up culture change with opportunity giving
 You can also improve your organizational culture by giving new opportunities to employees, beginning at a small-scale level. Based on your newfound, close knowledge of your employees, grant new responsibilities and opportunities for growth that fit where an employee is in their career. Allow employees from lower in the hierarchy to sit in on meetings where higher-level decisions are being made. Grant employees opportunities to grow their skills, and allow greater independence, to demonstrate that you trust your employees to be productive and invested in their own success (Choi, Oh, & Colbert, 2015). When individual employees are granted agency, they are more invested in their work – and their workplace.
Bottom-up culture change by fostering psychological safety
When people feel safe in an organizations (team, group department etc.) the tend to say what they think without worrying too much about negative consequences. Referred to as psychological safety (Edmondson, 1999), this concept is an important building block of a speak-up culture many organizations are striving for. You can support your organization to develop an organizational culture that values psychological safety by encouraging active listening, leading by example and creating a safe environment (Edmondson, A. C., & Lei, Z., 2014). Besides specific bottom-up measures to drive culture change, there are a set of top-down measures that will help you to develop your organization's culture to the next level.
Shining a Light: Culture change from the top-down
When an organization's culture is in need of a massive shift, large-scale changes probably have to be made. The research on transformations to organizational culture have yielded many recommendations for engaging in this process: transformational leadership can have a massive impact on how an organization runs, and how employees feel; furthermore, changes to how an organization is structured can have a massive impact.
Top-down culture change with transformational leadership
When members of an organization feel demotivated, unsupported, and alienated, management needs to rise to the occasion, and become a source of encouragement and guidance. Research has consistently demonstrated that energetic, encouraging leaders can revamp an organization, breathe new life into employees, and develop a network of meaningful bonds that help an employees collaborate and innovate (Khan et al, 2014). Such leadership must be actively involved, passionate, and well trained in best practices for their field.
How can a manager become more "transformational"? A great deal of personal and interpersonal work is required to move from transactional to transformational leadership. To be an effective, inspiring manager, you will need to work on developing your own skills, improving your own mental health, and harnessing your motivation for, and love of, your workplace (Matthew & Gupta, 2015). Effective transformational leaders are warm, high energy, and responsive to concerns; they also espouse a positive outlook, but show sensitivity to other people's concerns and problems. High emotional intelligence is essential to having this kind of impact –  so make sure to focus on developing or practicing active listening and mediation skills.
Top-down culture change with structural changes
Strict hierarchies can destroy rapport within an organization (Pilch & Turska, 2015). As a result, one massive, impactful change that you can make to improve your organization's culture is to make the workplace less vertical, and more horizontal. Horizontally organized workplaces feature a great deal of communication between employees of all levels. Very few divisions keep "higher ups" away from those "lower down" – in fact, employees are unlikely to think of their relationships in terms of hierarchy very often.
To encourage this dynamic, make sure the workplace is organized in a manner that allows incidental, comfortable contact between employees of all levels (Lee, Shiue, & Chen, 2016). Do not relegate higher-status employees to one floor or area, and lower-status employees to another (De Been & Beijer, 2014). Hold regular meetings that update lower-level employees on the organization's performance and goals, and demonstrate that you value the opinions and questions of all people. Dismantle work systems that maintain the hierarchy – especially work processes that rob employees of agency and independence.
To craft an organizational culture of warmth and respect, management should trust lower-level employees to self-regulate, and focus your management on providing support and guidance, rather than reprimands. Such a massive alteration in workplace culture and organization will require time, and may be met with some resistance by higher-status employees, but it will help dismantle barriers and create a more vibrant, warm space.
Key take-aways
Organizational culture can be assessed using surveys, or by assessing collaboration, retention, and employee self-motivation.
To change your organizational culture from the bottom-up, foster close personal relationships with employees and give them opportunities to grow.
To change your organization from the top-down, engage in transformational leadership strategies and reorganize the workplace to make it less status-based.
Changes to an organization's culture may initially be met with resistance, and may take a while to be fully absorbed.
References and further reading
Banker, D. V., & Bhal, K. T. (2018). Understanding Compassion from Practicing Managers' Perspective: Vicious and Virtuous Forces in Business Organizations. Global Business Review, 0972150917749279.
Belias, D., & Koustelios, A. (2014). Organizational culture and job satisfaction: A review. International Review of Management and Marketing, 4(2), 132.
Choi, D., Oh, I. S., & Colbert, A. E. (2015). Understanding organizational commitment: A meta-analytic examination of the roles of the five-factor model of personality and culture. Journal of Applied Psychology, 100(5), 1542.
De Been, I., & Beijer, M. (2014). The influence of office type on satisfaction and perceived productivity support. Journal of Facilities Management, 12(2), 142-157.
Edmondson, A.  (1999). Psychological Safety and Learning in Work Teams. Administrative Science Quarterly. 44 (2): 350–383.
Edmondson, A. C., & Lei, Z. (2014). Psychological Safety: The History, Renaissance, and Future of an Interpersonal Construct. Annual Review of Organizational Psychology and Organizational Behavior, 1, 1, 23-43.
Flowers, L. A., Moore III, J. L., Flowers, L. O., & Flowers, T. A. (2015). Assessing organizational culture and engaging faculty diversity in higher education. Positive Organizing in a Global Society: Understanding and Engaging Differences for Capacity Building and Inclusion, 163.
Goetsch, D. L., & Davis, S. B. (2014). Quality management for organizational excellence. Upper Saddle River, NJ: pearson.
Khan, M. I., Awan, U., Yasir, M., Mohamad, N. A. B., Shah, S. H. A., Qureshi, M. I., & Zaman, K. (2014). Transformational leadership, emotional intelligence and organizational commitment: Pakistan's services sector. Argumenta Oeconomica, 33(2), 67-92.
Lee, J. C., Shiue, Y. C., & Chen, C. Y. (2016). Examining the impacts of organizational culture and top management support of knowledge sharing on the success of software process improvement. Computers in Human Behavior, 54, 462-474.
Mathew, M., & Gupta, K. S. (2015). Transformational leadership: Emotional intelligence. SCMS Journal of Indian Management, 12(2), 75.
Pilch, I., & Turska, E. (2015). Relationships between Machiavellianism, organizational culture, and workplace bullying: Emotional abuse from the target's and the perpetrator's perspective. Journal of Business Ethics, 128(1), 83-93.
van Hoorn, A. (2017). Organizational culture in the financial sector: Evidence from a cross-industry analysis of employee personal values and career success. Journal of Business Ethics, 146(2), 451-467.


About the Author

Dr. Devon Price is a social psychologist, writer, activist, and professor at Loyola University of Chicago's School of Continuing and Professional Studies. Price's work has appeared in numerous publications such as Slate, The Rumpus, NPR, and HuffPost and has been featured on the front page of Medium numerous times. They live in Chicago, Illinois.