Why should you care about Motivational Interviewing?
Over the last two decades, organizational change practitioners and researchers have focused on how to stimulate organizational change within institutions. Stimulating change at the individual, team and organizational level can be a challenge for many professionals particularly when employees are reluctant to shed ingrained practices and procedures. One approach to stimulating change is through motivational interviewing. The practice of motivational interviewing is well-established in the field of counseling yet is also relevant to those seeking to foster change.
What is Motivational Interviewing?
Motivational interviewing is a directive, client-focused style aimed at behavior change (Miller & Rollnick, 2013). Motivational interviewing is focused and goal-directed with the client taking responsibility for making changes. It is best applied when an individual is ambivalent about changing their behavior.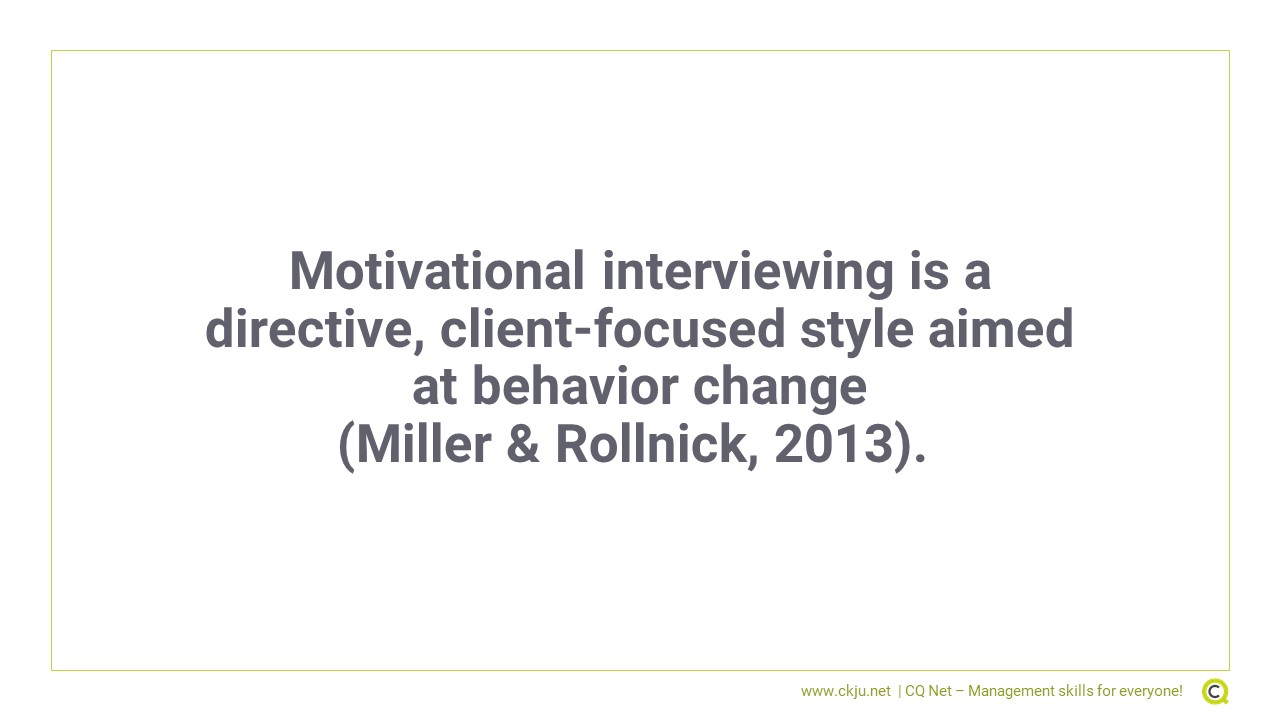 How does Motivational Interviewing work?
Motivational Interviewing uses several techniques to assist clients (for example employees) in making changes. The incorporation of Motivational Interviewing helps clients to resolve their hesitancies and uncertainty in changing their behavior. It is a useful technique when institutions need to enact change, yet employees are hesitant to change.
It is useful for practitioners when individuals are reluctant to accept change and it also affords techniques that encourage collaboration rather than confrontation. Motivational Interviewing works when practitioners use the following principles:
Express empathy
The practitioner is effective when using reflective listening. This involves listening to the client and rephrasing what the client has said rather than telling the client what to do. This provides support to the client and is effective in increasing trust.
  

Develop discrepancy
The practitioner assists the client in developing discrepancies between their current state and their ideal state. For example, if an employee has not been promoted due to problems with time management, the practitioner can assist the employee in recognizing that there are consequences to their behavior. It is important that the practitioner enables the client to recognize these discrepancies rather than telling the client where the problems lie.
Avoid arguments
The practitioner does best when avoiding arguing with the client especially when the client is resilient and unwilling to change. If the client becomes defensive, it is best for the practitioner to change the plan of attack. Overall, Motivational Interviewing is effective when the client makes their own arguments rather than when the practitioner presents a set of arguments.
The practitioner can encourage the client to change through increasing self-efficacy. Self-efficacy directly impacts client change because the client believes they have the capability to change. For example, if an employee believes they don't have the ability to lead, then the practitioner can help increase self-efficacy through indicating to the client that they have strengths.
What are the benefits of Motivational Interviewing?
There are tangible benefits to using Motivational Interviewing (MI) that are of use for professinals of all sorts. In this section, we will take a look at the main advantages.
MI improves change initiatives
The use of MI is effective in increasing the success of planned change within organizations (Grimolizzi-Jensen, 2018). Employees who participated in three MI sessions over a 30-day period were more accepting and ready for change in the organization compared to a control group who did not receive the training (Grimolizzi-Jensen, 2018).
Preparation for change is an important predictor of actual change and the change within this organization was important encompassing major strategic changes in operation management processes (Grimolizzi-Jensen, 2018). External practitioners can enact large-scale changes within organizations through basic MI sessions.
MI focuses is on maximising employees' strengths
Professionals who engage in executive coaching can enable and motivate clients to change through utilizing MI. One way in which MI techniques are useful is the focus on helping the client appreciate their strengths. MI can be useful to professionals who coach, because coaching is a strategy that focuses on developmental issues and helps increase performance (Harakas, 2013).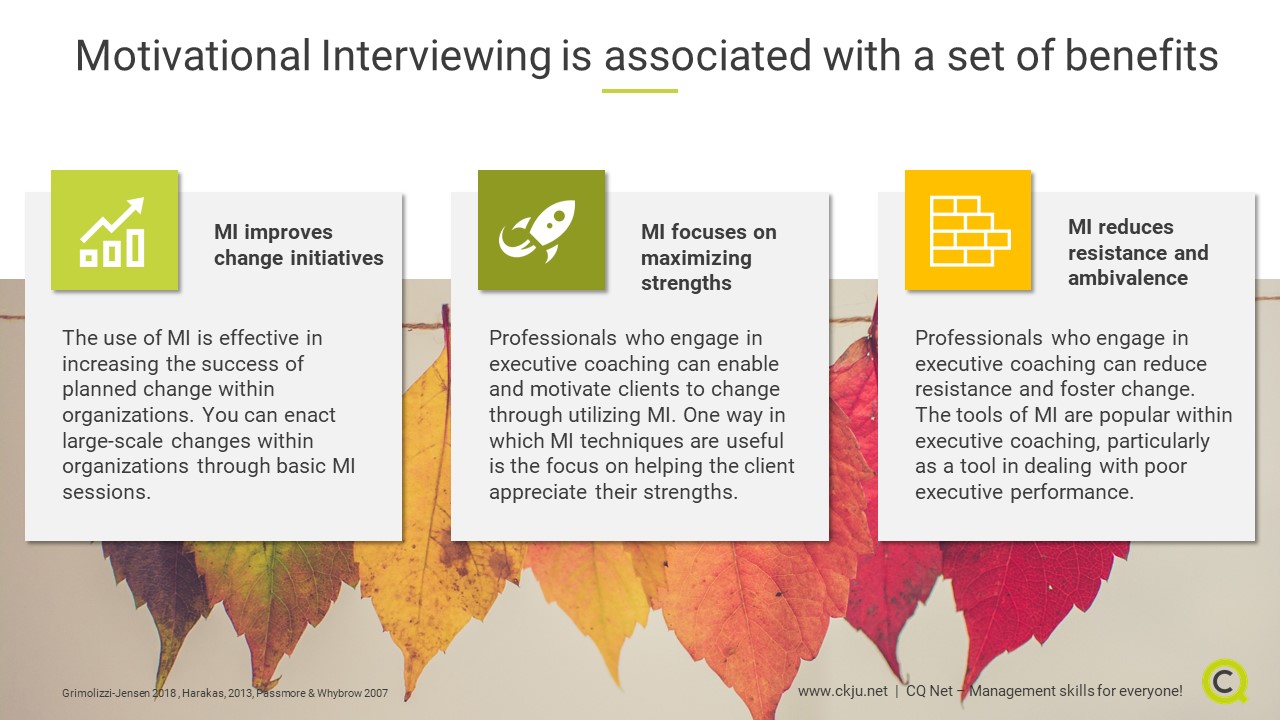 MI reduces resistance and ambivalence
Professionals who engage in executive coaching can reduce resistance and foster change. The tools of MI are popular within executive coaching, particularly as a tool in dealing with poor executive performance (Passmore & Whybrow, 2007) when the executive is resisting feedback about their performance.
When done correctly, MI can reduce resistance and is largely an interpersonal phenomenon that reflects the relationship between the coach and the client. When a client resists change such as discounting valuable feedback, this is an opportunity for the coach to change tactics and to use MI techniques such as reflective listening and developing discrepancy.
What are the shortcomings of MI?
As is typical for management tools, there is no universal tool that can solve every problem. Below, we will take a look at some of the shortcomings of using MI.
There is limited empirical support
The majority of empirical research on the effectiveness of MI has been within the field of counseling, particularly substance addiction recovery (Harakas, 2013). Early advocates of motivational interviewing within executive coaching have provided case studies to illustrate its effectiveness (Passmore & Whybrow, 2007). However, there are few controlled studies of its effectiveness apart from treatment within the field of substance addiction.
MI does not consider individual differences
There is also evidence that although MI might be effective for resistance and ambivalence, MI might not work for everyone. In a meta-analytic review, individuals who had high levels of trait resistance responded better to MI due to its non-directive approach; however, individuals with low levels of trait resistance preferred a directive approach (Beutler et al., 2011). Overall, motivational interviewing works well with individuals who are resistant to change rather than those who are motivated to make changes in their professional lives.
MI can be time-consuming
The techniques of MI reflect the establishment of a relationship between the professional and the client. Fostering a strong, interpersonal relationship can take time as can the results of MI where the individual reduces their resistance to change. Thus, MI can be time-consuming and also expensive for organizations.
MI can help professionals to manage organizational change
In dealing with organizational change and early periods of resistance to change, MI is an important concept that can enable professionals to engage employees who are reluctant to relinquish ingrained yet negative ways of working. MI includes several key dimensions that enable an effective relationship between a coach and employee such as empathic listening and highlighting discrepancies.
Critical appraisal of Motivational Interviewing: Solidity Rating 3
Based on the importance of MI, this CQ Dossier is assigned a Level 3 rating (based on a 1- 5 measurement scale). A level 3 is the third highest rating score for a dossier based on the  importance of MI. MI can be very useful when professionals are resistant to change. However, the concept requires more empirical evidence within the field of organizational change and executive coaching.
Key recommendations for professionals
When dealing with a client who is resistant to change, do not tell the client what to do. Use a non-directive approach.
Use reflective listening so that the client realizes there is a discrepancy between what they want and their current behavior.
Do not argue with clients but change direction if the client is showing extreme resistance to change.
Increase a client's belief in themselves so that they use their set of strengths to change and overcome hurdles.
Be empathic and supportive of the client's needs and be considerate when they push back with resistance.
References and further reading
Beutler, L. E., Harwood, T. M., Michelson, A., Song, S., & Holman, J. (2011). Resistance/Reactance level. Journal of Clinical Psychology, 67, 133–142.
Grimolizzi-Jensen, C. J. (2018). Organizational change: Effect of motivational interviewing on readiness to change*. Journal of Change Management, 18(1), 54–69
Harakas, P. (2013). Resistance, motivational interviewing, and executive coaching. Consulting Psychology Journal: Practice and Research, 65(2), 108–127
Miller, William R.; Rollnick, Stephen (2013). Motivational interviewing: helping people change. Applications of motivational interviewing (3rd ed.). New York: Guilford Press.
Passmore, J., & Whybrow, A. (2007). Motivational interviewing: A specific approach for coaching psychologists. In S. Palmer & A. Whybrow (Eds.), Handbook of coaching psychology (pp. 160 –173). London, United Kingdom: Brunner-Routledge
About the Author
Annette was born in England and now lives in the United States. She has a PhD in Industrial and Organizational Psychology and has taught at several institutions. Annette has published in several journals, including Journal of Applied Psychology, Personnel Psychology, Human Resource Development Quarterly, and Organizational Research Methods. She worked in the public and private sector for many years, primarily as a management trainer.