Project teams are short to medium-term groups of individuals nominated for specific tasks based on their abilities and suitability to a project goal.
What is a project team and when does it makes sense to setup one?
Project teams are short to medium-term groups of individuals nominated for specific tasks based on their abilities and suitability to a project goal. They are defined as social entities whose members share a high degree of task interdependence, common goals, and information (Salas, Cooke, & Rosen, 2008). Any task that requires a variety of skills, demands knowledge of various kinds, and needs the input of several individuals, is best accomplished through teams. After all, no single individual has the required skills to complete a project (Rogers, 2019). However, as a project leader, you may or may not have much influence in choosing your team members. Therefore, teams definitely being the answer for firm performance, however, there are several challenges in realising their potential:
40-86% projects fail to meet their goals and remain within their budgets (Mersino, 2018; Papke-Shields, Beise, & Quan, 2010; Pulse of the Profession 2017, 2017).
Relationship conflicts like differences in preferences and values and task conflicts like issues due to distribution of resources, procedures, and judgments can impact team performance (De Dreu & Weingart, 2003).
Task and relationship conflicts can strongly undermine team members' satisfaction and their performance.
As a result, project leaders need to be mindful while managing teams. We will show you how to do that in this article.
What makes a high performance project team?
Project team performance is a function of the realization of goals in the most efficient manner. This efficiency is measured by the time taken to achieve the goals and the expenses incurred during the project. Some measurables for project team performance can be:
Project goals
Quality of output
Degree of innovation
Time taken for each milestone
Budgetary considerations
Team members satisfaction
Attendance in meetings
Initiative and helpfulness of members
Personal development of members
You can retain all above metrices for measuring performance during, as well as, at the end of the project. For instance, presence and taking initiative in meetings is a good transient indicator for team members' performance while efficiency and quality will determine their final performance. Using transient short-term and separate long-term measurables will help project leaders to keep their fingers on the pulse of their teams' performance at all times.
What can be done to increase project team performance?
With the organizational performance itself riding on projects, it is imperative that project teams do well. Research has shown there are several evidence-backed practices that can improve team performance:
Select the right project team members
Teams are made of individuals. Unless each team member has the right attitude, skills, and knowledge that suit the team's goals, their presence will have no effect on the team performance (Mickan & Rodger, 2000). As mentioned above, as a project leader, you may not have the utmost control on who gets assigned to your team. In such cases, paying attention to the team's performance in terms of transient measurables can help you to decide if each team member fits and is able to contribute to the team goals. Social loafing, a phenomenon where individuals perform worse when in teams, is also a concern which if not addressed can bring the performance down. Having a basic understanding of what determines job performance and which selection methods do really make a difference are the basis to select the right employees for your project team.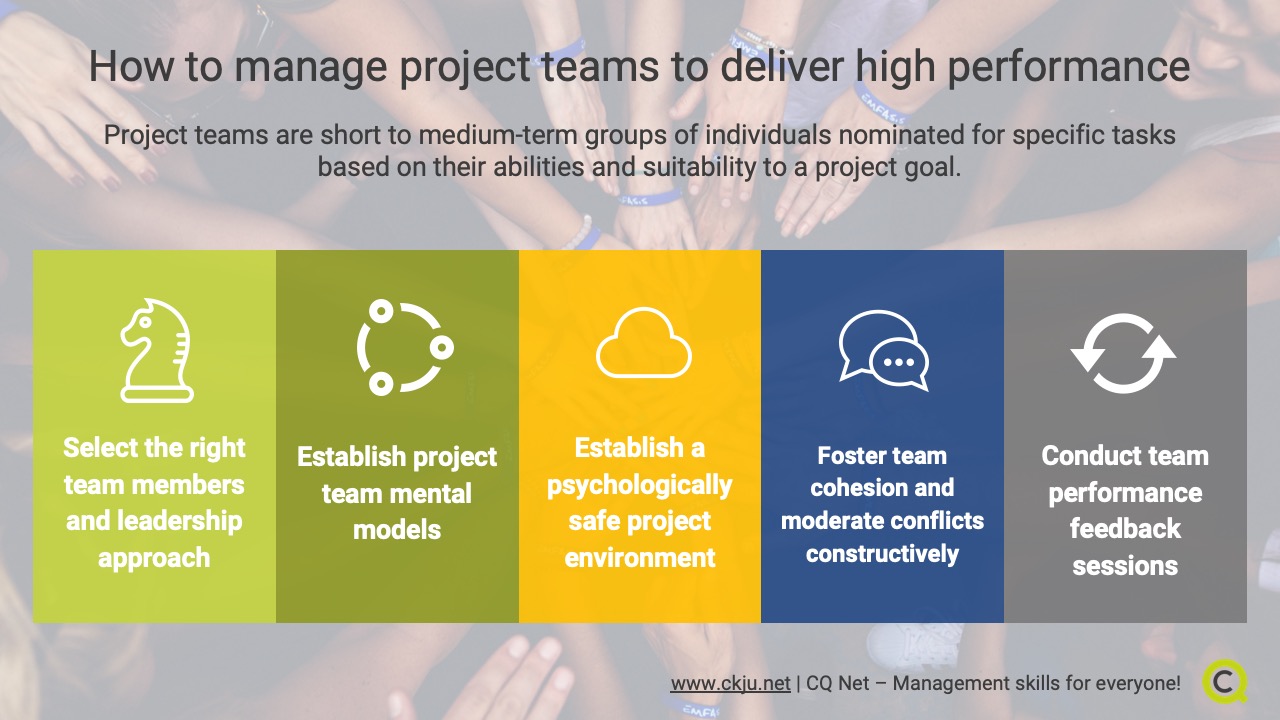 Establish project team mental models
Paying attention to team mental models or how team members organize information into patterns and make sense of concepts, can predict team performance (Rogers, 2019). Team performance is more strongly predicted when team members share accurate mental models that reflect the real task environment more than when they are similar. As a project leaders, hence, you need to see if the team as a whole has the same cognition of the measurables, the goals, and the level of efforts required of them.   
Foster team cohesion within the project
Project managers and sponsors need to motivate team members so they commit to the team and its goals (Turner & Müller, 2005). Team cohesion develops over time and is an invisible connection between the team members that makes them work together on a high level of performance. Cohesive teams will have a better chance to share similar and accurate mental models and a higher team performance in general.
Establish a psychological safe project environment
Without trust between team members and with project managers, teams cannot achieve cohesiveness, and reach their optimum performance levels (Mach, Dolan, & Tzafrir, 2010). When members feel secure and not threatened, they are more likely to invest themselves in the project tasks. You need to foster the right level of competitive spirit to make sure negative emotions are kept at bay.
Select the right project team leadership approach
Organizations that are able to satisfy their team members' personal and professional needs through the choice of the right project leadership are able to achieve cooperation and commitment, minimize risks, and improve their performance (Thamhain, 2004). There is no one fits all leadership approach, but a plethora of different leadership concepts. Which one is best depends on the situation. For example, an R&D project team in a complex environment will most properly be better of with an agile leadership approach which allows maximum scope for decision-making to the team members while a task-oriented approach is better suited to routine tasks.
Moderate project team conflicts in a constructive way
Conflicts foster negative emotions and impact project performance adversely (Mickan & Rodger, 2000). It is important to note here that some degree of conflict is associated with better performance and creative solutions but this is limited to strategic teams and not project teams (Porter & Lilly, 1996). As project leaders, therefore, you will need to amend your leadership style and conflict management approach as per the situation. 
Management skills newsletter
Join our monthly newsletter to receive management tips, tricks and insights directly into your inbox!
Conduct project team performance feedback sessions
Team feedback sessions and training promotes better team work, building of shared cognition or team mental models, and leads to higher performance (Salas, DiazGranados, et al., 2008). Feedback can provide valuable information about what resources and support is needed by members. This information can build insights for you about how best to support your team. For example, some team members may need frequent, clear, and detailed feedback on their performance while others will resent such hand-holding and may be looking only for support in resources. This judgment of how best to support team members will determine their satisfaction with your performance as a project leader.
Project teams need careful selection and meticulous nurturing for their best results
Project teams can be seen in all organizations today. Their universal presence is matched by the confusion in deciding what kind of individuals should be a part of them, how their performance should be judged, and what can be done to improve it. Teams perform best when individuals are selected with care, they share a common cognition, form a cohesive group, and trust each other and their leaders. You need to support your team by motivating team members, choosing the right leadership approach, providing frequent feedback, supporting through training sessions, and managing conflicts constructively.
References and further reading
De Dreu, C. K. W., & Weingart, L. R. (2003). Task versus relationship conflict, team performance, and team member satisfaction: A meta-analysis. Journal of Applied Psychology, 88(4), 741–749. https://doi.org/10.1037/0021-9010.88.4.741
Mach, M., Dolan, S., & Tzafrir, S. (2010). The differential effect of team members' trust on team performance: The mediation role of team cohesion. Journal of Occupational and Organizational Psychology, 83(3), 771–794. https://doi.org/10.1348/096317909X473903
Mersino, A. (2018, April 1). Agile Project Success Rates 2X Higher than Traditional Projects (2019). Vitality Chicago. Retrieved from https://vitalitychicago.com/blog/agile-projects-are-more-successful-trad...
Mickan, S., & Rodger, S. (2000). Characteristics of effective teams: a literature review. Australian Health Review : A Publication of the Australian Hospital Association, 23(3), 201–208. https://doi.org/10.1071/AH000201
Papke-Shields, K. E., Beise, C., & Quan, J. (2010). Do project managers practice what they preach, and does it matter to project success? International Journal of Project Management, 28(7), 650–662.
Porter, T. W., & Lilly, B. S. (1996). The effects of conflict, trust, and task commitment on project team performance. International Journal of Conflict Management, 7(4), 361–376.
Pulse of the Profession 2017. (2017). Success Rates Rise: Transforming the high cost of low performance. Retrieved from https://www.pmi.org/learning/thought-leadership/pulse/pulse-of-the-profe...
Rogers, T. M. (2019). Project success and project team individuals. European Project Management Journal, 9(1), 27–33.
Salas, E., Cooke, N. J., & Rosen, M. A. (2008). On teams, teamwork, and team performance: Discoveries and developments. Human Factors, 50(3), 540–547.
Salas, E., DiazGranados, D., Klein, C., Burke, C. S., Stagl, K. C., Goodwin, G. F., & Halpin, S. M. (2008). Does team training improve team performance? A meta-analysis. Human Factors, 50(6), 903–933.
Thamhain, H. J. (2004). Linkages of project environment to performance: lessons for team leadership. International Journal of Project Management, 22(7), 533–544.
Turner, J. R., & Müller, R. (2005). The project manager's leadership style as a success factor on projects: A literature review. Project Management Journal, 36(2), 49–61.
Tags
:
Team Dynamics
,
Team Performance Management

Sumbul is a freelance academic writer with a PhD in Human Resource Management. She has several research publications in the areas of organizational behavior, management, statistics, business environment, and Sustainability. She has also authored a textbook on Human Resource Management. Her passions include travelling, sampling different cuisines, and being a life-long learner.