Executive summary
Lean management is a philosophy with a proven track record of improving efficieny and performance in organizations. In this CQ Dossier, we have a look at the foundation of lean management, the principles behind it and and its benefits. In addition, we introduce the building blocks of lean management and review the evidence supporting the relationship between lean management and performance. 
What is lean management?
Lean management is a philosophy that has been extensively used since the 80s by Japanese automotive manufacturers to gain a competitive advantage over their Western rivals (Womack, Jones, & Roos, 2006). One of the most prominent and widely known implementations of a lean management approach goes back to the Toyota Motor Corporation (Dekier, 2012). Many academics and practitioners consider the "Toyota Way" as one of the first lean management frameworks implemented in an organization.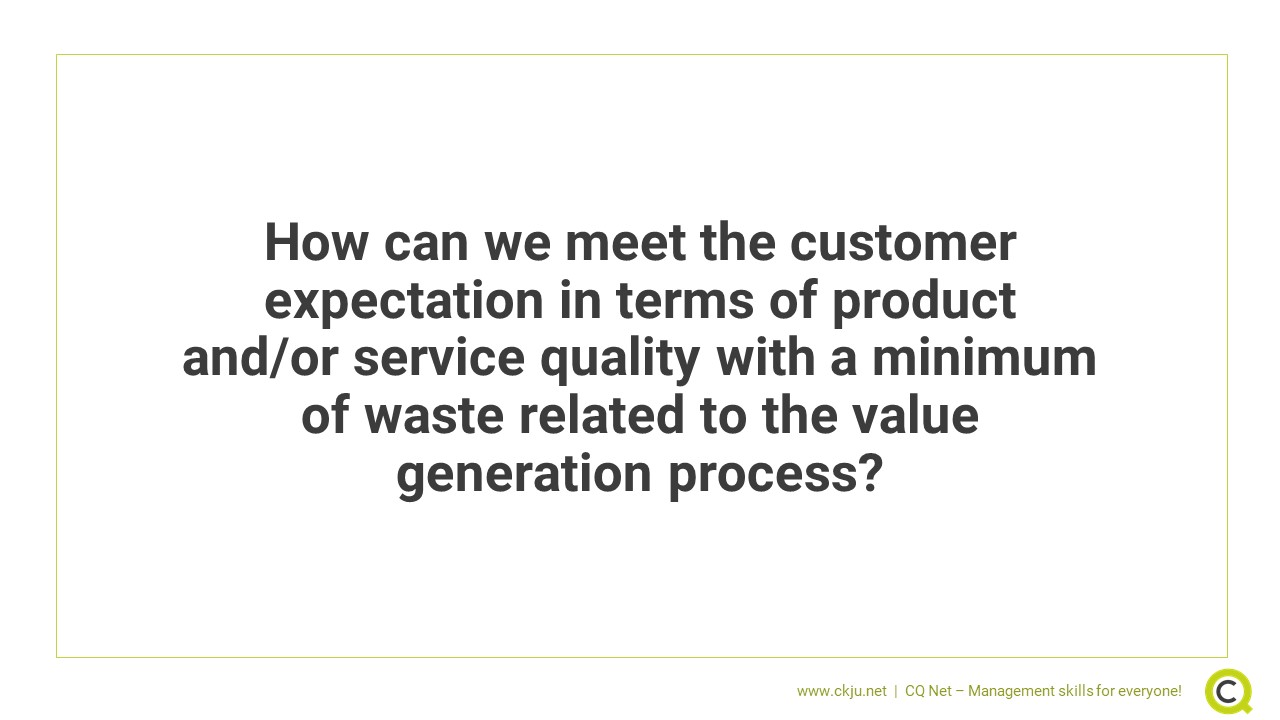 However, the principles behind lean management have been around for much longer. For instance, the foundation of lean management is closely related to efficiency considerations as applied in physics, systems theory and cybernetics. The key theme behind lean management is reflected in the following question:
How can we meet the customer expectation in terms of product and/or service quality with a minimum of waste related to the value generation process?
At its core, lean management is about aligning all activities in an organization in such a way that customer expectation in terms of product and/or service quality is reached (Rotter et al., 2019). All other activities are considered as waste and must be minimized or avoided altogether. How can this be achieved?
What are the building blocks of lean management?
Lean management is not just about increasing productivity by getting most out of a limited set of resources. On a more detailed level, lean management consists of a set of building blocks that rely on principles derived from social sciences and systems theory. Those building blocks make lean management a powerful tool to increase competitiveness beyond traditional means to increase productivity.
However, which of the lean management building blocks are the most important ones or even the "right" ones is still subject to discussion (Tan, 2011). We will have a look at four lean management building blocks in the following section.
Lean management distinguishes between value added and waste
Even though it sounds simple and straightforward, one of the most important building blocks in lean management is the distinction between value added and waste. The point of departure for this differentiation is the customer expectation in terms of product and/or service quality. It allows to categorize all activities into waste or value added, which opens up discussion about how to increase the share of value added activities and reduce waste.
Lean management relies in the universal principle of flow
Already Heraclitus recognized that flow (he referred to it as pahta rhei) is an elementary principle in nature. The most efficient way to move from one state into another one is a continuous and effortless flow. Once things stop, accelerate, or break apart, it requires additional energy to move them into the desired target state. In addition, a disruption of something that is in a continuous and effortless flow indicates a deviation. Solving the deviation is key to moving back into the desired flow.
Lean management requires introducing a rhythm (Takt)
Almost all organizations rely on some sort of rhythm as means to align activities. For instance, in an orchestra the conductor defines the rhythm that gives orientation to all members. In a company specialized on software development, the release cycle for new features is the rhythm used by all other functions to align their activities. In lean management, the rhythm is defined by the so-called takt time.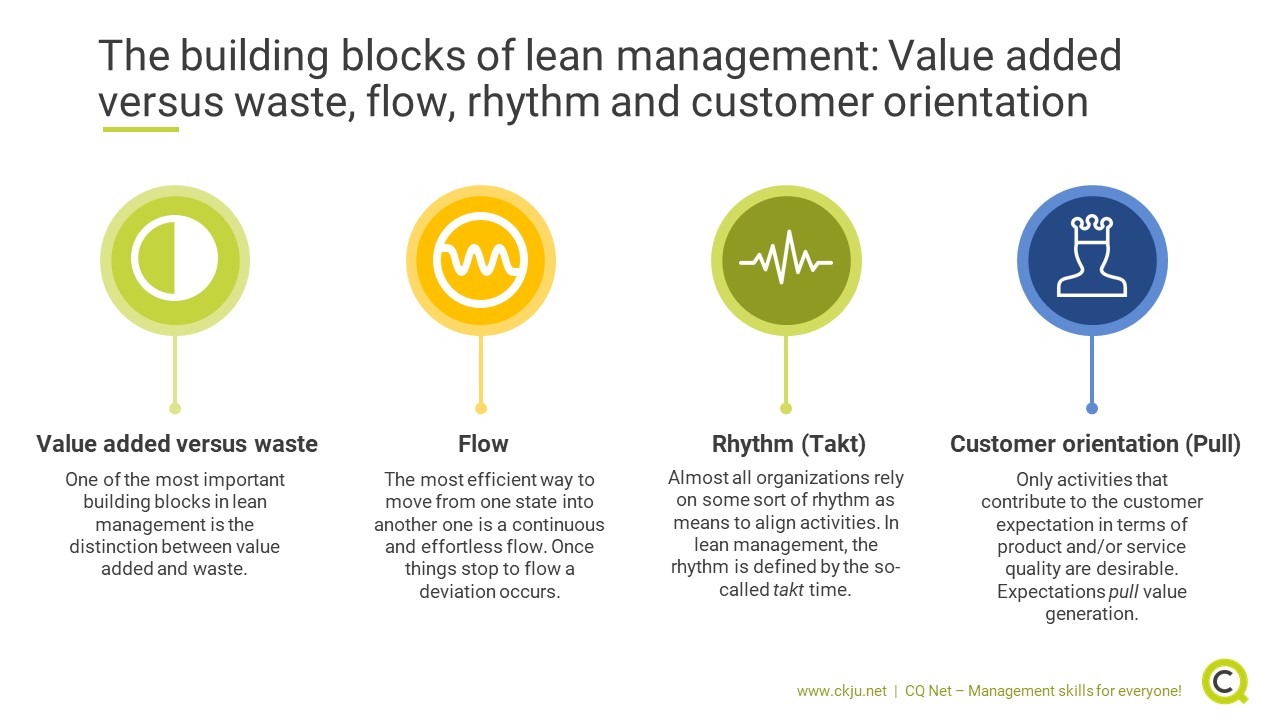 Lean management relies on pull rather than push (customer orientation)
Customer orientation is another building block of lean management. As reflected in the definition of value added, only activities that contribute to the customer expectation in terms of product and/or service quality are desirable. As a consequence, lean management relies on a pull rather than a push approach. What does that mean?
In lean management, all relationships between process partners is considered a customer – supplier relationship. A pull approach requires the supplier to have a clear understanding of what the customer expects. Being aware of this expectation is key to avoiding waste related to a push approach not in line with customer expectations.
What are the benefits of a lean management approach?
Introducing lean management in an organization is associated with a set of benefits. We will have a brief look at some of them in the following section.
Lean management drives efficiency
First of all, lean management drives efficiency. On a process level a lean management approach prioritizes value added activities in line with customer expectations. This helps to identify and avoid waste that hampers efficiency. There is evidence that lean management increases both operational and non-operational performance (Liu, Niu, & Li, 2018)
Lean management fosters respect
Second, lean management differentiates between customer – supplier relationships outside an organization as well as inside an organization (internal customer – supplier relationships).  However, this distinction does not come along with different levels of importance or status. Instead it helps to clarify roles and responsibilities between interfaces and fosters mutual respect.
Lean management increases process stability
Third, lean management can lead to an increased process stability as a result of ongoing improvement activities. This requires a strong focus on deviation management and finding solutions to sustainably mitigate them. Even though it may sound counter-intuitive, organizations that start to implement a lean management approach will face a decline of process stability during their first implementation phase. However, once deviations are identified and mitigated, the process stability will increase.
Where can you implement lean management?
Lean management is a management tool that can be applied in almost any type of organization. We will have a look at some examples in the next section.
Lean management in operations
The origin of lean management goes back to operations with an emphasis on production and manufacturing (Rotter et al., 2019). Lean management helps to align production process with customer expectations and reducing waste while increasing efficiency. Depending on the specific organization, lean management in operations is also referred to as lean production, operational excellence or lean manufacturing.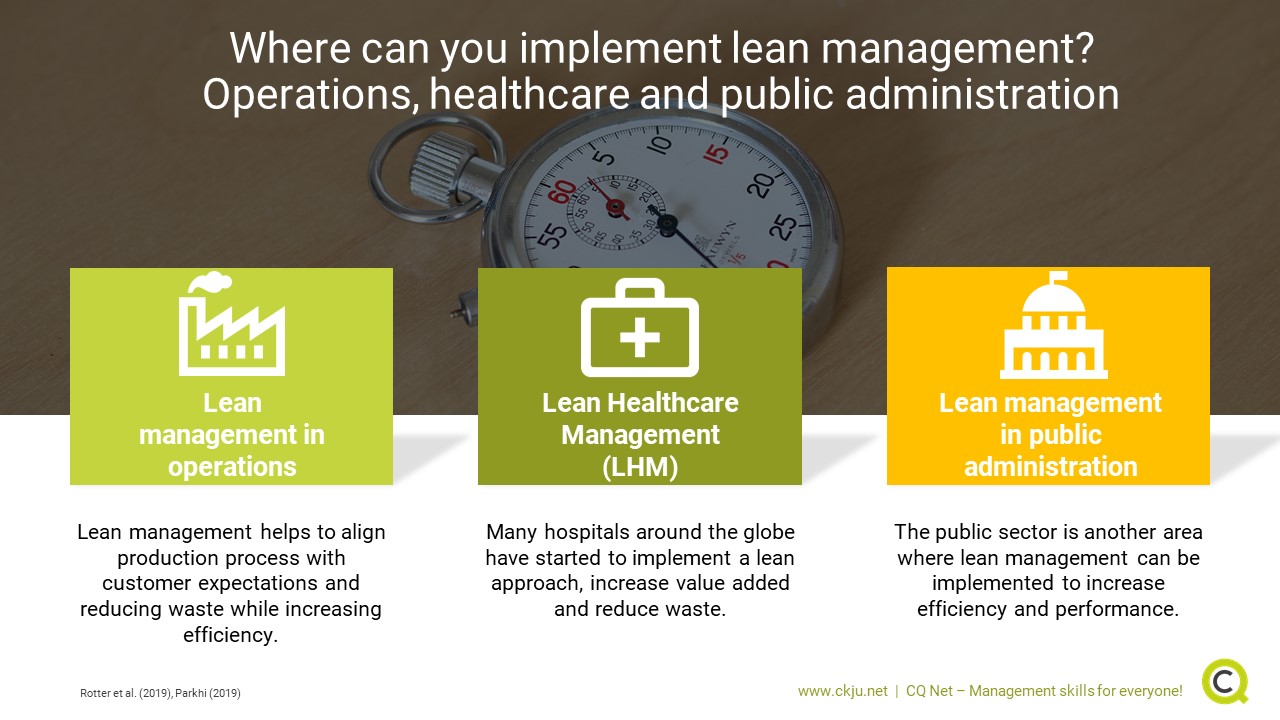 There are various lean management tools such as shop floor management, value stream mapping, single minutes exchange of die (SMED), which are usually implemented as part of a lean production initiative.
Lean management in healthcare
Lean Healthcare Management (LHC) (Parkhi, 2019) is another application of lean management outside the private sector. Many hospitals around the globe have started to implement a lean approach, increase value added and reduce waste. The lean management tools applied in LHC are similar to the ones applied on other areas and industries but customized to the specific requirements of the healthcare sector.
Lean management in administration
The public sector is another area where lean management can be implemented to increase efficiency and performance. In most public sector settings, lean management will focus on services and other intangible products. This requires the adjustment of lean management methods to the specific case.
What is the evidence behind lean management?
In a recent meta-analysis, Liu et al. (2018) found a positive relationship between lean management and operational performance. In addition, they also scrutinized the relationship between lean management and non-operational performance. Looking at financial and market performance as well as some other non-operational performance indicators, Liu et al. (2018) could also confirm the positive impact of lean management activities.
In a recent literature review that examined the connection between Lean Healthcare Management (LHM) and Clinical Risk Management (CRM), Crema and Verbano (2015) found that both approaches are related to quality and safety improvements in the healthcare sector. However, they also point out that both concepts are somehow overlapping and additional research is needed to better understand their relationship (Crema & Verbano, 2015).
How to implement lean management?
There is no one-size-fits all approach to implementing a lean management approach in an organization. Depending on the size of the organization and the implementation scope, introducing lean management can be done as a full-scale change initiative or a small pilot project in one department. Change and project management tools provide the required framework to successfully implement lean management.
Critical appraisal of lean management: Holistic concept
Lean management is a rather broad concept that covers a wide range of evidence-based practices such as team mental models, goal setting, effective communication, transformational and complexity leadership. As a consequence, there is no single Solidity Level that can be assigned to lean management. However, most of the concepts and theories underlying lean management have a sound empirical basis which makes lean management leadership a holistic concept that can be considered as having a positive impact on organizational performance when implemented in the right way.
References and further reading
Crema, M., & Verbano, C. (2015). Investigating the connections between health lean management and clinical risk management. International Journal of Health Care Quality Assurance, 28(8), 791–811. 
Dekier, Ł. (2012). The Origins and Evolution of Lean Management System. JOURNAL of INTERNATIONAL STUDIES, 5(1), 46–51.
Liu, C.‑c., Niu, Z.‑w., & Li, Q.‑l. (2018). The impact of lean practices on performance: based on meta-analysis and Bayesian network. Total Quality Management & Business Excellence, 28(1), 1–18.
Parkhi, S. S. (2019). Lean management practices in healthcare sector: a literature review. Benchmarking: An International Journal, 26(4), 1275–1289.
Rotter, T., Plishka, C., Lawal, A., Harrison, L., Sari, N., Goodridge, D., . . . Kinsman, L. (2019). What Is Lean Management in Health Care? Development of an Operational Definition for a Cochrane Systematic Review. Evaluation & the Health Professions, 42(3), 366–390.
Tan, W. (2011). Managing Lean Projects: Understanding the Structures of Lean Production. International Journal of Construction Management, 11(3), 67–78.
Womack, J. P., Jones, D. T., & Roos, D. (2006). The machine that changed the world: How Japan's secret weapon in the global auto wars will revolutionize Western industry ([Nachdr.]). New York, NY: HarperPerennial. 
About the Author

Markus is one of the founders of CQ Net - Management skills for everyone!. He holds a Master and Doctoral Degree from the Technical University of Vienna and a MSc in Organisational Behaviour from Birkbeck College, University of London. Being a dedicated "Knowledge Worker", Markus has continued his career with various private sector assignments in the management consulting, automotive and mechanical engineering industry.