Corporate Social Responsibility means acting in a way that aligns an organization's practice and outlook with philanthropic intent.
CSR means aligning practice and outlook with philanthropic inclination.
Corporate Social Responsibility (CSR) is increasingly becoming a critical part of the puzzle when it comes to making organizations successful today. Both in theory and practice, being socially responsible is rapidly becoming a criterion for consumers, stakeholders and business partners according to which organizations are evaluated.
However, CSR is not one single tool or strategic choice to make - rather, it can be conceived as part of a broader strategy for meaningful impact beyond initial company goals. CSR can not only help companies align their strategies, but it also helps to create value in every action and decision.
What is Corporate Social Responsiblity (CSR)?
There is no real definition of CSR - it is only commonly agreed upon that it is a medium for organizations to undertake meaningful change. The most commonly agreed upon way to think of CSR was proposed by Carroll (1991): it encompasses the economic, ethical, and philanthropic expectations that society has of organizations.
Concretely, for companies this is the expectation that businesses can contribute financial and human resources that improve the community quality of life (Carroll, 1999). Usually, this commitment goes beyond the interests of the firm and that which is required by law (McWilliams and Siegel, 2001). In other words, CSR means acting in a way that aligns an organization's practice and outlook with philanthropic intent.
CSR is part of an organization's broader responsibility to the society it operates in.
CSR has long held its place in management literature: In 1999, Carroll coined the "Pyramid of Corporate Social Responsibility". This pyramid outlines organizational priorities and sees four distinct sets of responsibilities that help characterize businesses and their responsibility to the society they are part of. As shown in the image below (Carroll, 2016), these priorities are: economic, legal, ethical, and philanthropic.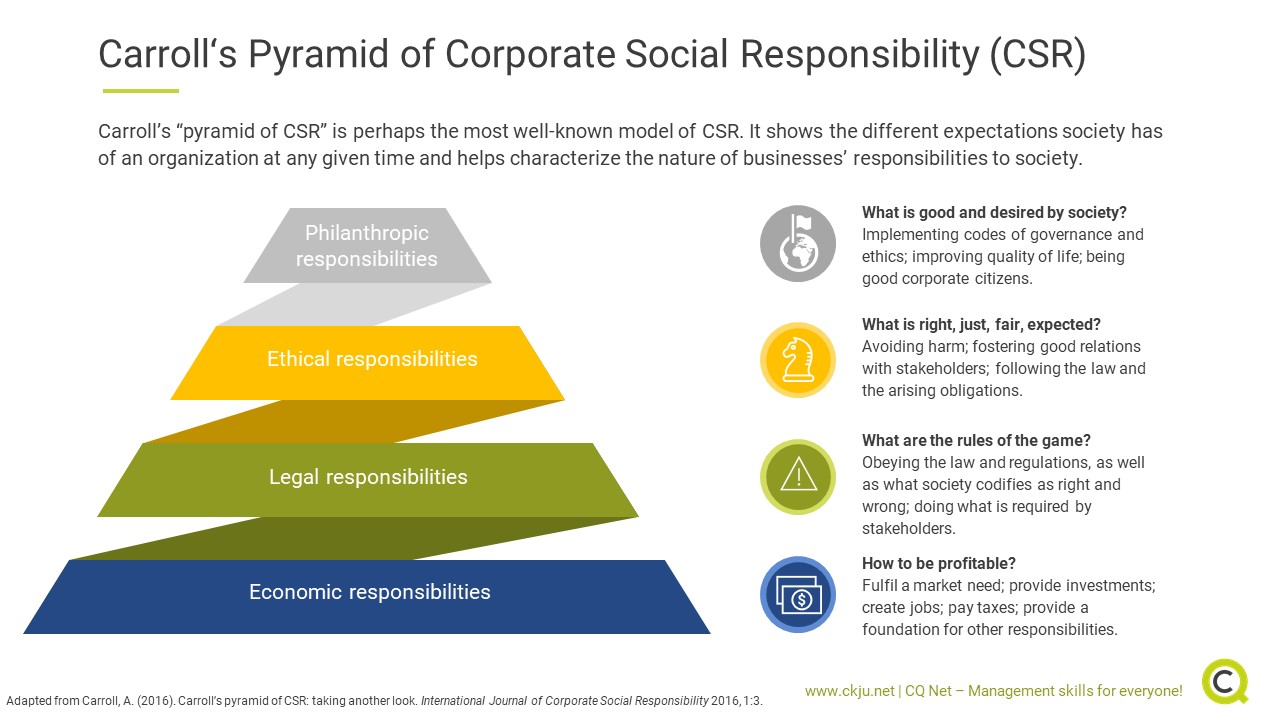 In their ideal form, balancing these responsibilities sees organizations acting profitably, obeying laws and obligations, and keeping in mind what is just and fair while being a good corporate citizen. Carroll posits that all businesses hold all four responsibilities, however choose to follow through with related obligations to varying extents. Adhering to this four-fold model and acknowledging that these responsibilities build on each other can help firms maximize profits, satisfy social values, and make contributions that improve societal welfare.

Management skills newsletter
Join our monthly newsletter to receive management tips, tricks and insights directly into your inbox!
Incorporating CSR into strategy and practice helps yield internal and external benefits.
Indeed, a growing body of empirical literature on CSR shows that there are indeed benefits to acknowledging the top of Carroll's pyramid and incorporating it into broader strategy. Research finds that firms see lower employee turnover, higher reputation, and improved customer satisfaction (Galbreath, 2010).
Nurn and Tang (2010) find that CSR leads to greater financial performance and helps firms attract better employees and operate at greater efficiency with lower operating costs. In addition, CSR can help employee motivation, trust, morale and commitment (see review by Siddique, 2015). Klará (2011) summarizes the benefits as:

In the commercial sector, CSR is considered a part of strategic planning for those companies that strive to be successful, that want to improve their reputation and especially those who want to be competitive. CSR is a competitive advantage for businesses, having as a source the intangible and human resources, and being executed by competences such as communication, management and corporate culture.

Which management practices help drive corporate social responsibility?
Tharp and Chadhury (2008) point out that a commitment to CSR can be integrated into any organization and supplement their goals, ending in a win-win situation. CSR thus becomes part of "organizational capital" and spans across operations, monitoring, targets, and incentives (Lev and Radhakrishnan, 2005). To align profit and philanthropy in practice, organizations can take small steps to embed social responsibility into overall mindset and organizational culture. This can help drive CSR in a consistent, determined, and all-encompassing manner and be a stepping stone for further steps.
Strengthening organizational capital and a culture of value.
Organizational capital plays an "intangible role in shaping corporate outcomes" (see Bloom and Van Reenen, 2007). In fact, having strong and good organizational capital can be a firm's competitive advantage in that it is difficult to imitate, replace, or transfer (Martin-de-Castro et al., 2000). 
In this vein, fostering a culture of value and commitment that underpins management, operations, incentives and monitoring activities alike is likely to boost productivity, commitment, and help create a sustainable mindset.
Often, a code of ethics can help guide relations within and outside the organization, reduce the risk ofirresponsible behaviour, and help avoid the appropriation of socially responsible commitments for personal gain (Green & Armstrong 2012).
Responsible management education helps foster profitable outcomes.
Ethical training can be conceived as a catalyst to establish socially and ethically managed organizations (Cornelius, Wallace & Tassabehji, 2007). There is ample evidence that management and leadership education matters, and that fostering such capacities is in turn likely to enhance sustainability outcomes (Jones & Kramer 2010). Business schools have long had the integration of "responsible management" into their curriculum to deviate from competition and profit-driven management.
Although this may still not be commonplace everywhere, it is widely established that having good management practices leads to improved social actions, and that management practices impact social outcomes (Attig & Cleary, 2014). Hence, leaders should take a pro-active approach towards getting informed about practices of leadership that help foster sustainable and authentic outcomes for employees, stakeholders, and leadership alike.
Reporting and transparency help identify risks and opportunities.
Practicing corporate social responsibility and a sustainable strategy also means communicating this well. Corporate social reports are a vital benchmark for accountability and help showcase economic data, as well as information about the environment and social field. With a growing number of companies worldwide using CSR reports, these can help boost reputation, authenticity and be a key component to a business' stakeholder strategy. Indeed, Bouten et al. (2011) find that the most successful forms of CSR reporting generally include an interplay of three broad themes:
vision and goals,
management approach, and
performance indicators.
These themes help organizations remain aware of advantages and disadvantages to strategy. Hence, they can help bring a systemic approach to management and also play a part in helping identify risks and opportunities for improvement (Moravcikova et al., 2015).
Creating shared value and establishing a shared vision with society can be part of any change-management strategy.
The methods above are a good starting point for embedding CSR into organizational culture and committing to socially responsible practices. This can be part of any change-management strategy and help organizations succeed on many levels.
Keeping in mind Carroll's pyramid and that all organizations hold social responsibility to some extent, it is vital to remember that CSR should not be seen as an isolated practice or as a means to an end. Rather, it permeates organizational culture and is a thread running through operation, strategy and practice.
A fruitful way to view CSR in company practices is to understand it as creating shared value (Porter and Kramer, 2011). Firms should inherently not seek to act as charities, but take on practices (using their knowledge, resources and tools) to help create a shared vision with the society in which they operate.
Hence, CSR does not have to mean fundamentally re-aligning an organization's goals. On the contrary, it means acknowledging the space in which business is being conducted and taking small steps towards responsibility in every action and practice.
There are several tools available that can help determine your company's commitment to CSR: check out the assessment tool by CSR Europe, fill out the checklist for CSR and let us know how your organization did in the comments below!
References and further reading
Attig, N. & Cleary, S. (2015) Managerial Practices and Corporate Social Responsibility. Journal of Business Ethics, 131: 121. 
Bloom, N., & Van Reenen, J. (2007). Measuring and explaining management practices across firms and countries. Quarterly Journal of Economics, 122: 1351–1408.
Bouten, L., Everaert, P., Liedekerke, L.V., Moor, L.D., Christiaens , J .(2011). Corporate social responsibility reporting: A comprehensive picture? Account Forum, 35: 187-204.
Carroll, A. (2016). Carroll's pyramid of CSR: taking another look. International Journal of Corporate Social Responsibility 2016, 1:3.
Carroll, A. B. (1991). The pyramid of corporate social responsibility: Toward the moral management of organizational stakeholders. Business Horizons, 34(4): 39–48.
Carroll, A. B. (1999). Corporate social responsibility: Evolution of a definitional construct. Business and Society, 38: 268–295.
Cornelius, N., Wallace, J., & Tassabehji, R. (2007). An analysis of corporate social responsibility, corporate identity, and ethics teaching in business schools. Journal of Business Ethics, 76: 117–135.
Galbreath, J. (2010) "How does corporate social responsibility benefit firms? Evidence from Australia", European Business Review, Vol. 22(4):11-431.
Green, K. & Armstrong, J. S. (2012). Evidence on the Effects of Mandatory Disclaimers in Advertising. Journal of Public Policy & Marketing, 31: 293-304.
Jones, G. and Kramar, R. (2010) "CSR and the building of leadership capability", Journal of Global Responsibility, Vol. 1 (2): 250-259.
Klará, P (2011) The Impact of Recession on the Implementation of Corporate Social Responsibility in Companies. Journal of Competitiveness, Issue 2/2011: 83-98.
Lev, B., & Radhakrishnan, S. (2005). The valuation of organization capital. In C. Corrado, J. Haltiwanger, & D. Sichel (Eds.), Measuring Capital in a New Economy (pp. 73–99). Chicago, IL: National Bureau of Economic Research and University of Chicago Press.
Martín‐de‐Castro, G., Navas‐López, J., López‐Sáez, P.,  Alama‐Salazar, E. (2006) "Organizational capital as competitive advantage of the firm",Journal of Intellectual Capital, Vol. 7 Issue: 3: 324-337.
McWilliams, A., & Siegel, D. S. (2001). Corporate social responsibility: A theory of the firm perspective. Academy of Management Review, 26: 117–127.
Moravčíková, K. & Stefanikova, L. & Rypáková, M. (2015). CSR Reporting as an Important Tool of CSR Communication. Procedia Economics and Finance. 26: 332-338.
Nurn, C. W and Tan, G. (2010). Obtaining intangible and tangible benefits from corporate social responsibility. International Review of Business Research Papers. Vol. 6(4): 360 – 371.
Porter, M. and Kramer, M. (2011) Creating Shared Value: How to reinvent capitalism - and unleash a wave of innovation and growth. Harvard Business Review, January-February 2011.
Siddique, M. (2015) CSR Practices and Competitive Advantages: A descriptive study. American Journal of Trade and Policy. Volume 2, Number 1/2015 (Issue 4)
Tharp, J. & Chadhury, P. D. (2008). Corporate social responsibility: what it means for the project manager. Paper presented at PMI Global Congress 2008—North America, Denver, CO. Newtown Square, PA: Project Management Institute.
Tags
:
Corporate Social Responsibility
,
Organizational fairness
,
Social good

Wanda works as a researcher at a human rights institute in Austria. She holds an MSc in Political Sociology from the London School of Economics and Political Science, and is currently finishing an MSc in Social Justice and Community Action at the University of Edinburgh. Her research interests revolve around political behaviour, civil society, and organisational sociology. Wanda describes herself as a wanderluster, curious mind and revolutionary at heart!