Executive summary
This CQ Dossier focuses on how organizations can effectively provide feedback to teams. Within performance appraisal research, attention has been paid on how best to provide feedback to individuals. It is less clear how to provide feedback to teams to help them be effective and efficient.  In this CQ Dossier we provide recommendations based on scientific principles on how best to provide feedback to teams.
What is team performance management? From individual to team performance management
Lately, top-performing companies like Google and Deloitte have changed their performance management systems. These systems focus on assessing future performance rather discussing past performance and the traditional annual appraisal review has been discarded by many organizations (Buckingham & Goodall, 2015).
Although there are pros and cons for these changes in performance management, there is a trend in assessing how best to evaluate team work, particularly as organizations are moving to team-based work. Consequently, team performance management has become an important management tool for professionals working in and with teams.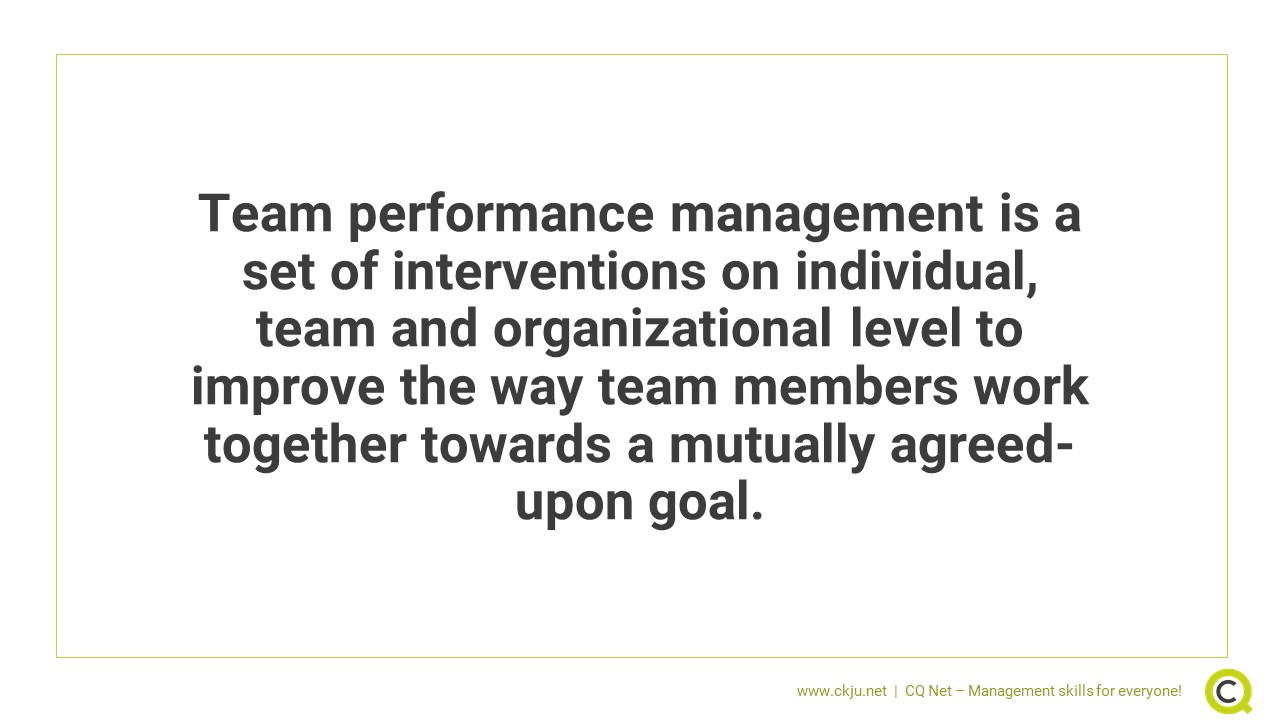 We define team performance management is a set of interventions on individual, team and organizational level to improve the way team members work together towards a mutually agreed-upon goal. Team performance is closely related to team effectiveness. Thus, team performance management interventions should be combined with team effectiveness interventions for best results.
Team performance management on individual level
There has been a debate concerning whether eliminating individual performance ratings is beneficial or deleterious to organizations (Adler et al., 2015). It is still important to provide feedback to employees yet one of the issues is whether individual performance should be assessed when most of the work done within an organization is through teams. However, research acknowledges that conveying recognition for effective performance is an important driver for human behavior.
Conduct individual performance appraisals
The ways in which an organization 'talks' to employees and how employees communicate with each other has an impact on employee attitudes and performance (Warman, 2004). Despite many organizations decision to reject individual performance appraisal, research still shows that it is valid and has an effect on team performance.
Acknowledge individual achievements
Li and colleagues found that acknowledging individual achievement is important because it has an impact on team performance (Li et al., 2016). Consequently, it is recommended that organizations also consider individual performance when evaluating teams.
Recognize high flyers who are able to increase team effectiveness
In an earlier study, Li and colleagues also conducted additional research to show that individual performance within teams matters (Li et al., 2015). Although team research focuses on what constitutes an effective team, it is important to recognize that teams are ultimately composed of individual members who contribute to the success of the team (Li et al., 2015).
In this earlier study, Li et al. (2015) demonstrated that one exceptional team member (termed an extra miler) was able to influence team effectiveness beyond all the contributions of other team members. This extra miler also played an important role in driving team processes such as team monitoring and backup processes. Consequently, this research shows that it is important for organizations to recognize high flyers who are able to increase team effectiveness.
Provide positive feedback to team members
It is important to provide feedback to individuals and research has shown that positive feedback can have an impact on team performance. High-performing teams share nearly six times more positive feedback than average teams. In comparison, low-performing teams share nearly twice as much negative feedback than average teams (Losada & Heaphy, 2004).
Highlight team member strengths
It is important to highlight team member strengths in order to generate a sense of accomplishment within the team. A recent Gallup survey found that 67% of employees whose managers focused on their strengths were fully engaged in their work, as compared to only 31% of employees whose managers focused on their limitations.
Use effective communication styles when giving feedback
It is important to give constructive feedback to team members and to show empathy when focusing on a weakness. However, it is also just as important to focus on the way in which feedback is conveyed to team members. In an article by Goleman and Boyatzis (2008), they describe a study conducted by one of their colleagues –Marie Dasborough.
She studied the effects of delivery on feedback when she observed two groups. In one group the team members received negative feedback accompanied by positive nonverbal feedback, such as smiles. In the second group the team members received positive feedback yet the communication style was negative with the appraiser frowning or narrowing their eyes.
Dasborough found that team members who received positive feedback accompanied by negative emotional signals felt worse than those who heard the negative feedback that was delivered in a positive way. So, the research shows that delivery matters as much, if not more so, than the content of the feedback.
Ensure that managers are coached in how to give effective feedback to team members
It is important to ensure that managers provide effective feedback because it is a crucial managerial competency. Teresa Amabile and Steven Kramer (2011) conducted a rigorous analysis of 12,000 diary entries provided by 238 employees in seven companies.
In assessing motivation, Amabile and Kramer (2011) state that a sense of progress is a more powerful motivator than personal recognition or pay. It is important that managers provide specific feedback to employees in how they are helping the team and organization.
In line with the basic psychological needs autonomy, competence, and relatedness, such a feedback can drive intrinsic motivation and boost individual and team performance.
Allow team members to provide feedback to each other
Organizations can also ensure that team member provide feedback to each other. One way in which to organize this feedback is through 360 degree feedback that includes input from various stakeholders, such as supervisors, peers, subordinate and individual self-evaluation (Foster & Law, 2006).
The organization must also assess whether a team is ready for a 360 degree review because it takes time for team members to become versed in each other's strengths and weakness. Anonymity and fairness should be established with a minimum number of raters agree upon prior to feedback (Morgeson et al., 2005).
In conclusion, it is important that organizations recognize individual contributions to teams and that feedback is provided both at the individual and team level. Organizations can provide employee training and feedback to managers to ensure that feedback is delivered to team members in an effective manner.
Key take-aways
Acknowledging individual achievement within teams
Reward high achievers who go beyond collective team effort
Be effective in delivering feedback to team members
Provide coaching to managers in how to deliver feedback
Allow team members to provide feedback to each other using a 360-degree review system
Management skills newsletter
Join our monthly newsletter to receive management tips, tricks and insights directly into your inbox!
References and further reading
Adler, S., Campion, M., Colquitt, A., Grubb, A., Murphy, K., Ollander-Krane, R., & Pulakos, E. (2015) Getting rid of performance ratings: genius or Folly? A Debate. Industrial and Organizational Psychology: Perspectives on Practice and Science, 9, 2.
Amabile, T.M., & Kramer, S. J. (2011). The progress principle: using small wins to ignite joy, engagement and creativity at work.
Buckingham, M., & Goodall, A. (2015). Reinventing performance management. Harvard Business Review.
Foster, C. A., & Law, M. F. (2006). How Many Perspectives Provide a Compass? Differentiating 360-Degree and Multi-Source Feedback. International Journal of Selection & Assessment, 14(3), 288-291.
Goleman, D., & Boyatzis, R. E. (2008). Social intelligence and the biology of leadership. Harvard Business Review.
Li, N., Zhao, H. H., Walter, S. L., Zhang, X.-a., & Yu, J. (2015). Achieving more with less: Extra milers' behavioral influences in teams. Journal of Applied Psychology, 100(4), 1025-1039.
Li, N. Zheng, X., Harris, B., Liu, X., & Kirkman, B. (2016). Recognizing "me" benefits "we": Investigating the positive spillover effects of formal individual recognition in teams, 101, 7, 925-939.
Losada, M., & Heaphy, E. (2004). The role of positivity and connectivity in the performance of business teams: A nonlinear dynamics Model. American Behavioral Scientist.
Morgeson, F. P., Mumford, T. V., & Campion, M. A. (2005). Coming Full Circle: Using  Research and Practice to Address  27 Questions About 360-Degree Feedback Programs. Consulting Psychology Journal: Practice and Research, 57(3), 196 -209.
Warman, D. (2004). Out box opinion. Employee Benefits, 7.


About the Author
Annette was born in England and now lives in the United States. She has a PhD in Industrial and Organizational Psychology and has taught at several institutions. Annette has published in several journals, including Journal of Applied Psychology, Personnel Psychology, Human Resource Development Quarterly, and Organizational Research Methods. She worked in the public and private sector for many years, primarily as a management trainer.