Why you should care about improving the safety climate
Safety climate is crucial in organizations as it ensures shared understandings of what constitutes safety at the workplace. High Reliability Teams (HRTs) use particular methods and share values that facilitate an effective safety climate. It is possible to learn from the best practices used by HRTs and to use them to maintain and foster a safety climate in an organization.
Organizations should balance effectiveness and safety
Effective teams are those that balance effectiveness and safety despite the complexities of the environment and these teams are referred to as High Reliability Teams (Wilson, Burke, Priest & Salas, 2005). These types of teams are typically found in complex environments such as the nuclear industry, healthcare, and the oil industry.
HRTs reflect the values of their organizations, which show a commitment to excellence and safety (Wilson et al., 2005). Placing a value on safety is a universal value that can be transmitted through acquisition of knowledge and a commitment to the mission of the organization.
HRT best practices help create a safety climate
High Reliability Teams use particular methods of working and going about day-to-day work that benefit organizations in creating a safety climate. HRTs provide useful insight on practices that can be used by other teams too in order to ensure common understandings of safe and dangerous behavior at the workplace. This, in turn, influences productivity, organizational culture, and performance. Learning from these practices can help develop HRTs and can provide the groundwork for creating a sustainable safety climate.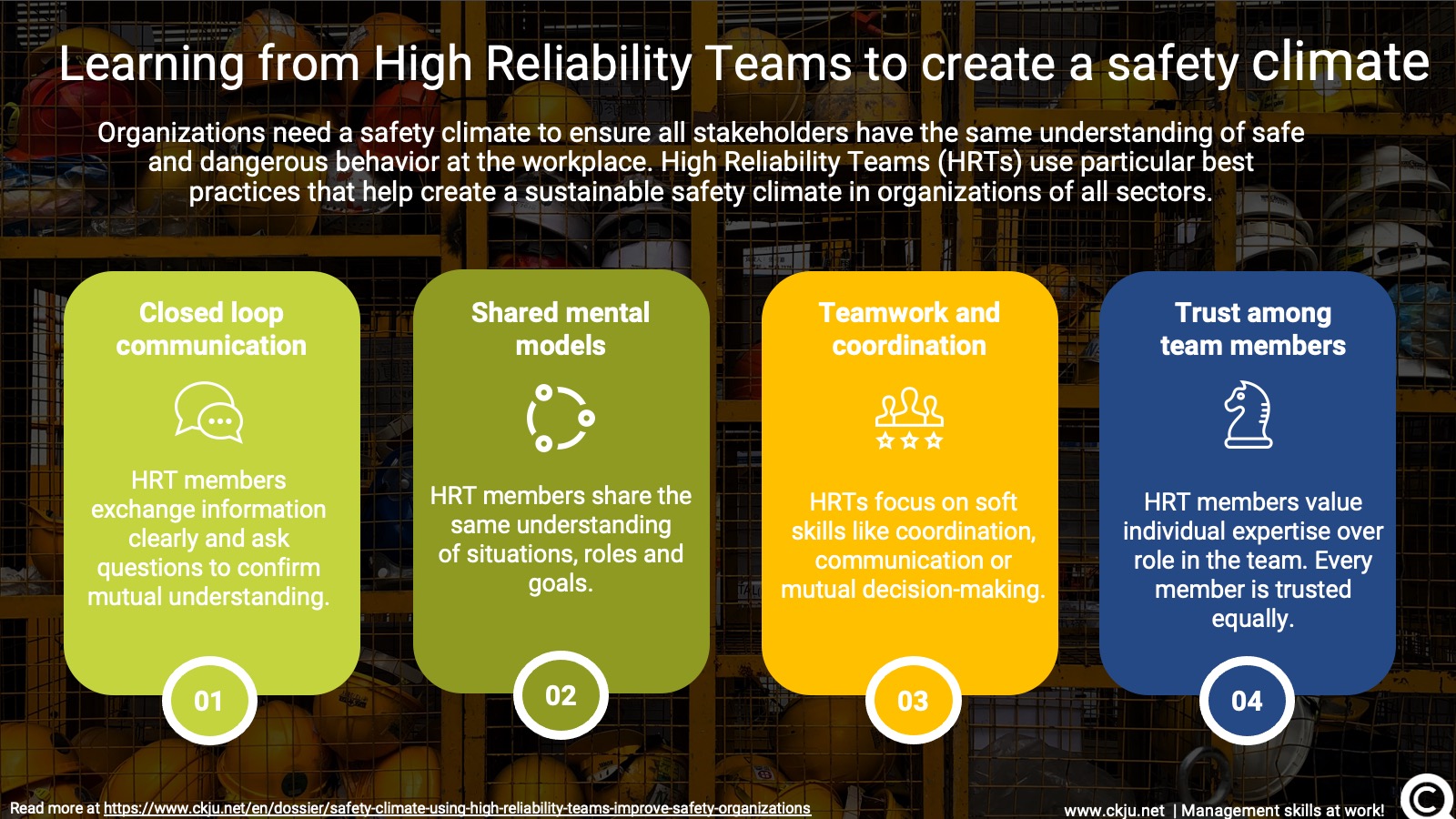 HRTs must use closed loop communication
To promote shared situational awareness regarding safety issues, teams must use closed loop communication regarding internal and external factors that are pertinent for team performance (Wilson et al., 2005).
Closed loop communication consists of the team's ability to exchange clear information, to acknowledge receipt of the information to confirm its understanding. For example, if a doctor prescribes medication for patients, it is important that the nurse acknowledges the request and verifies that the correct prescription is being obtained.
HRTs are trained to use shared mental models
When HROs experience errors, the consequences can be damaging. One way to counteract errors is through greater collaboration in teams. Greater collaboration can be realized through shared mental models. Shared mental models reflects a team's ability to share compatible knowledge pertaining to individuals' roles in the team (Cannon-Bowers et al. 1995) which has also a positive impact on team performance (DeChurch and Mesmer-Magnus 2010).
This type of training is extremely important in teams that deal with major emergencies because they are expected to coordinate well within the team but also across teams (e.g., police, fire, ambulance teams). Extreme situations that require strict safety measures, such as weather events or a fire incident, require a multi-agency response (Power, 2018).
HRTs focus on training soft, team-oriented skills
Many teams in complex environments undergo training that is focused on technical skills rather than on skills related to team work and decision making. However, in stressful and dangerous situations, this type of team work training is particularly crucial because it allows team members to coordinate behaviors. Coordination is an integral competence of HRTs because it allows for the balance of production and safety (Wilson et al., 2005).
Crew Resource Management (CRM) (Kanki et al. 2010) is an example of an effective training program in the aviation industry that covers soft factors such as leadership, team dynamics, task management and communication beside pure technical and functional skills. 
HRT members build trust
To create an effective safety climate it is important that team training focuses on the development of role-based trust. One of the characteristics of HRTs that excel in safety is that they value expertise rather the position of the person. In non-emergency HRTs, this affective trust builds over time yet is problematic in emergency teams. In teams that are reliant on 'swift' trust such as those in emergency situations, it is important that the teams understand the unique role of each team member (Power, 2018).
When HRTs understand the role of each team member, this can lead to collective self-efficacy, which is the team's shared belief in its abilities to be effective. This increase in performance self-efficacy is balanced with safety. Training sessions such as team building and team training interventions can help teams to quickly learn about each other's roles and gain the required team competencies (Shuffler et al. 2011).
How to foster and maintain a safety climate?
HRTs do not develop organically - they must be nurtured and fostered. Therefore, maintaining a healthy safety climate in an organization is dependent on pro-active choices when it comes to interventions both for HRTs and other organizational members.
Provide feedback and coaching to emphasize safety
One of the ways in which HRTs become effective safety advocates is through back-up behavior. This is the capability of team members to give, seek and receive task feedback and aiding team members in performing their tasks. One way in which back-up behavior can be increased is through verbal feedback or coaching within or outside HRTs.
Verbal feedback can take the form of constructive feedback in which the strengths and limitations of a person's performance are highlighted. Verbal feedback and coaching can also be useful for team cohesion and to enable team members to be faithful to the goals of effective and safe performance (Wilson et al., 2005).
Encourage error reporting in HRTs
One of the qualities of so-called High Reliability Organizations (HROs), which are made up HRTs, is the acknowledgment of human error in the workplace. It is important that HRTs understand the nature and extent of error to change those conditions which lead to mistakes. An analysis can be conducted that allows for the development and implementation of training that helps decrease human errors (Wilson et al., 2005).
Although human errors happen, well-trained HRTs provide constructive feedback to each other and team members seek feedback on their own and accept feedback from others. Also outside HRTs, team feedback is important after an event because the team can engage in debriefing sessions to discuss the positive and negative aspects of the event, particularly in terms of safety. An example is a surgical team who meet following a procedure to discuss ways to improve performance in the future (Cannon-Bowers et al.1995).
Use different types of training to ensure effective safety performance
There are several ways in which HRT members and others can gain safety expertise through training interventions. Cross-training is useful for team members to gain a clear understanding of how the team functions. Perceptual contrast training engages team members in active involvement in learning to create a deep understanding of the material.
One useful type of training that focuses on safety is team self-correction training where team members learn to assess the effectiveness of their own behavior. This can be useful in ensuring that safety standards are met (Wilson et al., 2005).
Developing and learning from HRTs helps create a safety climate
This CQ Dossier provides recommendations that enable organizations to create an effective safety climate by understanding and working with the best practices provided by HRTs. Safety should be aligned with the mission of the organization and should be aligned with the values and culture of all incumbents from management to lower-level staff. Common human resource management practices such as employee training and development initiatives enable acquisition of knowledge and skills that are relevant to the concern for safety. 


Key recommendations for professionals
HRTs are crucial in enabling a safety climate
HRTs in organizations should be nurtured and maintained as their practices can help entire organizations
Use closed loop communication and ensure everyone has understood the knowledge conveyed
Use shared mental models so all team members share the same understanding of situations and roles
Build trust through appreciating every team member's unique expertise rather than their role
Use a variety of training methods, such as cross-training, to increase a commitment to safety
Provide feedback and coaching to HRTs and others to improve safety performance
Management skills newsletter
Join our monthly newsletter to receive management tips, tricks and insights directly into your inbox!
References and further reading
Cannon-Bowers, J.A., Tannenbaum, S.I, Salas E, et al. (1995) Defining team competencies and establishing team training requirements. In: Guzzo R, Salas E, Associates, eds. Team effectiveness and decision making in organizations. San Francisco, CA: Jossey-Bass, 333–80.
DeChurch, Leslie A.; Mesmer-Magnus, Jessica R. (2010): Measuring shared team mental models. A meta-analysis. In: Group Dynamics: Theory, Research, and Practice 14 (1), S. 1–14. DOI: 10.1037/a0017455
Kanki, Barbara G.; Helmreich, Robert L.; Anca, José M. (Hg.) (2010): Crew Resource Management. 2nd ed. Amsterdam, Boston: Academic Press/Elsevier.
Power, N. (2018). Extreme teams: Toward a greater understanding of multiagency teamwork during major emergencies and disasters. American Psychologist, 73(4), 478-490.
Shuffler, Marissa L.; DiazGranados, Deborah; Salas, Eduardo (2011): There's a Science for That: Team Development Interventions in Organizations. In: Curr Dir Psychol Sci 20 (6), S. 365–372.
Wilson, K. A., Burke, C. S., Priest, H. A., & Salas, E. (2005). Promoting health care safety through training high reliability teams. BMJ Quality & Safety, 14, 303-309.


About the Author

Markus is a senior management counselor with CQ Net - Management skills at work! He combines more than 15 years hands-on leadership experience from the private sector with in-depth knowledge in the area of people and organizational development. Markus holds a MSc in Organizational Behaviour and a Doctoral Degree in Management.