More often than not, issues arise at the workplace. These issues make the daily routine difficult, stressful, and unpleasant. Common problems at work include:
how to deal with a toxic or narcissistic boss?
how to avoid stress at the workplace?
how to stop workplace bullying?
how to improve teamwork?
how to resolve conflict at the workplace?
how to improve communication in the workplace?
These are only a few examples of the many issues that come up in organizational settings. CQ Net - Management skills for everyone! is here to help you deal with your work problems in the best possible manner. We combine practical experience with sound, scientific knowledge to equip you with the best short-term and long-term strategies. Your success and well-being are our priorities.
Why should you consider career counseling to help solve problems at work?
Individual career counseling is particularly useful for complex and particular situations that need a hands-on, unique solution. Sometimes, one-off actions are not enough and a longer strategy is needed to alleviate problems. Often, the situation is so particular that generic advice will not help. Our career counselors will take time to understand your values and interests, and support you along the way of improving your situation.
Our career counselors are here to focus on your needs and use their expertise to help you deal with your problem in a professional, goal-oriented way. Our one-on-one counseling sessions can help you increase your sense of self-worth, and teach you valuable problem-solving skills and strategies you can use in various professional situations.
What will you learn in this step-by-step career counseling service?
Understanding the root causes of the problems you are facing
Pinning down and establishing your desired - and realistic - outcome
Guidance in dealing with day-to-day problems
Tactics and strategies to achieve long-term, sustainable change at work
Methods to evaluate success
What are the key outputs of this career counseling service?
a unique and individual counseling proposal (this can range from a single counseling session to several sessions over a longer period of time)
an action plan tailored to your particular situation and desired objective, based on cutting-edge science and practitioners' expertise
tools and skills to help you deal with daily situations
long-term strategies and tactics to help achieve fundamental, deep-seated change
How does this counseling work?
After registration, we will send you the link to our management counseling questionnaire. This short questionnaire will help us to create an individual counseling plan for you, based on the information you give us. We will contact you with our proposal, which outlines our counseling recommendation: how many counseling sessions are necessary? What will we do in each session? How much will it cost? Once you accept our offer, we will meet in a one-on-one setting online to discuss, strategize, evaluate and succeed.
Your job success consultants
Dr Markus Nini - Co-Founder of CQ Net - Management skills for everyone!
Dr Markus Nini is a management practitioner by day and a researcher of organizational behaviour at all times. He holds a Master and Doctoral Degree in Economics and Computer Science from the Technical University of Vienna and a MSc in Organizational Behaviour from Birkbeck College, University of London. Markus is a RQTU member and provides management trainings and career counseling services for professionals around the globe.
Wanda Tiefenbacher, MSc - trainer and project officer at CQ Net - Management skills for everyone!
Wanda is a political scientist and sociologist by training, who has a long background in the third sector. She holds degrees from King's College London, the University of Edinburgh, and the London School of Economics and Political Science. Having worked in a range of initiatives, non-profit ventures and start-ups for over a decade, Wanda is particularly interested in helping young professionals unlock their full potential combining her work experience, academic expertise and international background to provide career support.
Who is this step-by-step career counseling for?
No matter whether you are in the public or private sector, an established leader or just starting out: often there are issues in daily work that lead to stress and discomfort. This career counseling service is for anyone who is seeking support and guidance in dealing with severe problems at work, who is curious to try out new techniques to overcome these problems, and who is willing to commit to sustainable change. Everyone is welcome. We value diversity and hope to attract people from various backgrounds.
Our career counseling approach
CQ Net - Management skills for everyone! makes high-quality management education available and affordable for everyone. We base our counselings on cutting-edge science and ensure everyone can access our counseling offers through our competitive pricing. Our sessions are one-on-one to ensure that you receive answers to your specific questions that you can use straight-away. We want to understand your concerns and support you in becoming your best, professional self.
Once you have signed-up for one of our career counseling sessions, we will get back to you personally to welcome you and send you the questionnaire. We are looking forward to hearing from you!
Satisfaction guarantee
Your success is our priority. If you are not happy, we are not happy. Make use of our 14-day satisfaction guarantee and claim your money back if you are not satisfied with our services. 
How do the counseling sessions take place in detail?
Generally speaking, our counseling sessions usually cover four different phases. Such a structured approach is necessary to really understand the work problem and provide you the right support to cope with it and solve it. The four phases are:
Exploring situation and context
Developing management tools
Implementing management tools
Evaluating effects and re-adjustment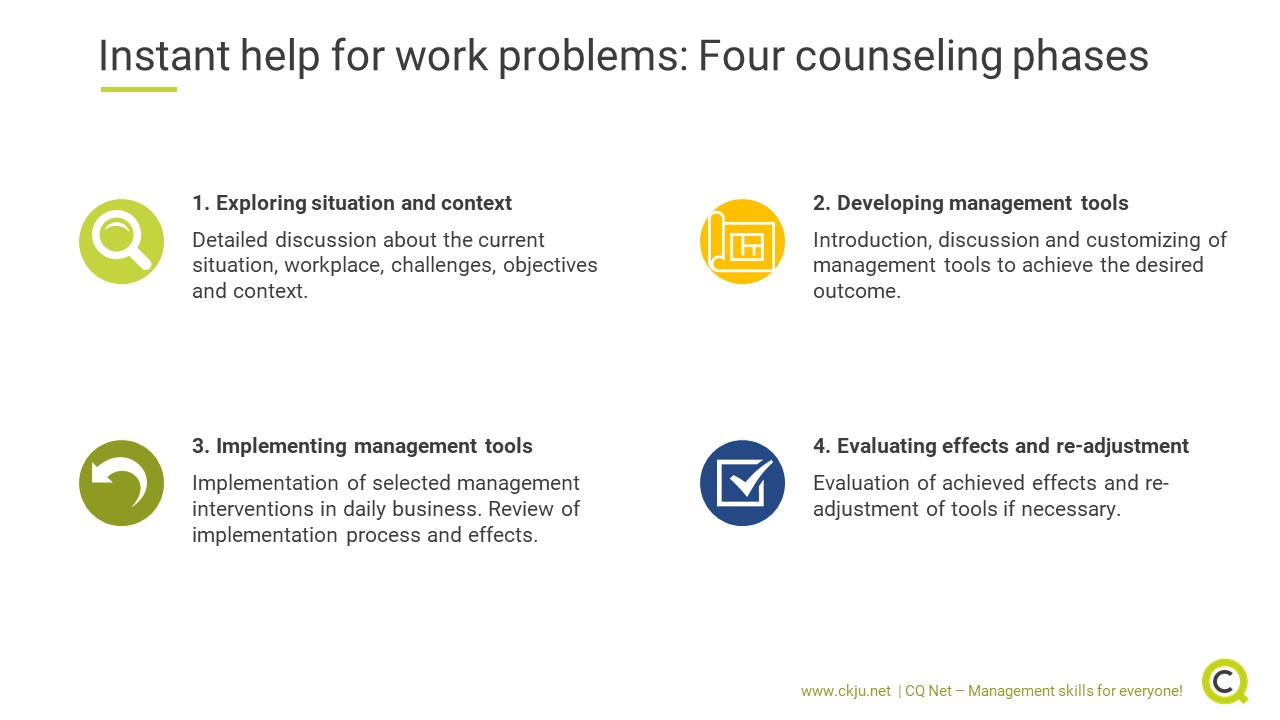 Understanding the work problem and your objective: Exploring situation and context
Everything starts with understanding the current situation you are in, the work problem itself, and the objective you want to achieve. Our management counselor will meet you in an online conference to discuss all relevant details to understand the work problem and your objective. This first phase also allows you and your management counselor to look at the work problem from a variety of different angles. As a consequence, new perspectives and insights about the work problem and what you want to achieve will come up. This is an important basis to move to phase two, which is about finding the right management tools to solve the work problem.
The management toolbox: Developing management tools
Once the current situation and your objective is clear, phase two starts: this is about developing the right management tools to solve your problem. Your management counselor will come up with a set of management tools with a proven track record of solving the same or similiar work problems. In a next step, your management counselor will help you to learn how to implement the management tool and customize it in a way such that it fits to your specific situation and work problem. Our collection of high quality mangement resources will be a supporting element in this second phase.
Getting things done: Implementing management tools
After phase two, you are perfectly equipped with the right management tools and knowledge to solve your work problem in a self-organized and self-responsible manner. Your management counselor won't leave you out in the rain. During the whole implementation phase, your management counselor will be available for you to answer questions, act as a soundboard, and give you tips in our online platform. Your counselor will be available for you throughout the whole process. Gradually you will experience how the management tools make a difference and move you towards the desired objective.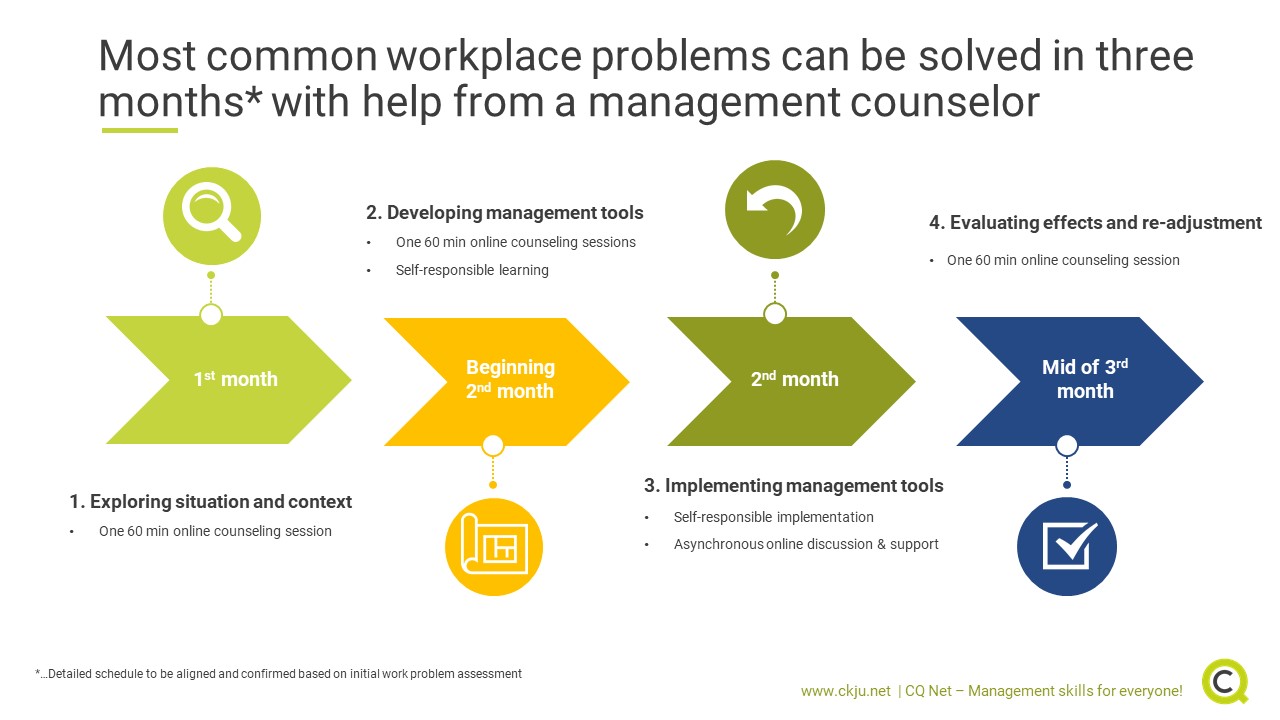 Looking back: Evaluating effects and re-adjustment
We at CQ Net - Management skills for everyone! focus very much on sustainable management counseling. This is why in phase four, you and your management counselor will evaluate the changes you achieved during implementation phase in detail and re-adjust the plan, tools and implementation if necessary.
How long will it take until I have solved the work problem?
The time you need to solve your work problem with the help of a management counselor strongly depends on the complexity of the issue. We made the experience that most common workplace problems can be solved in three months with professional help from a management counselor. We put together an exemplary time schedule that is based on the four management counseling phase introduced above. Please keep in mind that this schedule is just an example. Once we get a better understanding of your specific work problem, we will come up with a tailor-made time schedule and discuss it with you.
APPROACH & PRICING
One-on-One Online Counseling (279€)
Individual date and time arrangement
Right of return within 14 days
14 day satisfaction guarantee